On the Front Lines with the LTCC Fire Academy
News Center – July 2020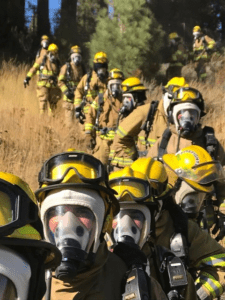 It's an unfortunate fact of nature that some of the most beautiful places in the world are also the most vulnerable to disaster. As denizens of the nation's wildfire capital, it's a paradox that Northern Californians know all too well.
From the Redwoods of the Lost Coast to the Ponderosa Pines of Plumas, the north half of the state depends on the bravery and versatility of firefighters to keep its forests safe. And for graduates of first-responder CTE programs like Lake Tahoe Community College's Fire Academy, that first trial by fire can happen pretty fast.
Just one day after the Academy's very first cohort graduated in 2007, the Angora fire broke out, quickly spreading to become the biggest wildfire the basin has ever seen. Among those heeding the call to protect the community was Jenny Alustiza, among the first female grads from LTCC's Fire Academy.
"She has saved lives," says retiring LTCC instructor and Academy Coordinator Leona Allen. For the professor, who lost her home in the horrendous Angora fire, the pride in her courageous students is not just palpable, but personal.
"That's the cool ripple effect about this program… we know they're out there being heroes."
Today, Alustiza is a firefighter, paramedic, and the only woman at the Tahoe Douglas Fire Protection District. Last year, out of hundreds of nominees, the Tahoe Daily Tribune named her "Most Remarkable Woman" in the first responder division.
"I was kind of shocked, but it was really pretty awesome," recalls Alustiza, who credits her LTCC mentor – by her side at the ceremony – for inspiring her to persist. "[Allen is] one of the biggest reasons why I am where I am."
Alustiza began her training at the LTCC Fire Academy in 2008 and knew right away that she had found her calling. Though she says had to work harder than "some of the guys" to develop her upper body strength, the challenge fueled her to become even stronger. From schlepping hose, to firing up chainsaws and performing live fire tower demos, Alustiza spent her time in the Academy learning the fundamentals… and then some.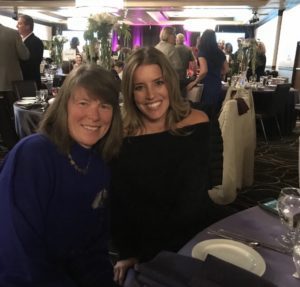 "Every day is different," beams Alustiza. "One day, you're doing a wildland fire, and the next day, maybe you're doing a rescue on Tahoe."
The LTCC curriculum also covered certifications in ice, swiftwater and high angle rescue, each unique to the region. In these supplemental courses, students learn how to save hikers, skiers and swimmers stranded on slopes or in the backcountry.
Equipment for the classes, including rope rescue essentials and self-contained breathing apparatuses, are supported by Strong Workforce Program funds. There is even a vehicle extrication course, not often taught at other academies but crucial for crashes on Tahoe's winding roads.
From saving overturned kayakers to being first on the scene at a car accident, Alustiza says her community college made her well-rounded and ready: "It gives you a lot so that when you do get a job, you'll be so much more prepared for anything that gets thrown at you."
Cadets travel from throughout the United States to take the Academy's specialized courses. The certifications are also appealing for the area's smaller departments, which often need to do more with limited personnel.
Says Allen, "We know that our fire chiefs are more apt to hire somebody who has this kind of training under their belts."
Alustiza says the toolbox she developed at the Academy made her a valuable asset to the Douglas district, where she has found not only a rewarding career, but a firefighting family. And her brothers and sisters from her LTCC family are never far away. In fact, Douglas Fire regularly helps train Academy cadets on the District's roof prop, with Alustiza at the helm showing students how to ventilate for fire.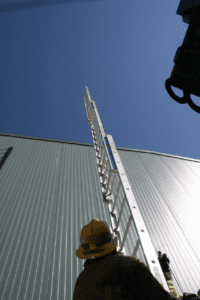 "I definitely try to get in as much teaching as I can when they come," says Alustiza, who considers this duty a repayment of the favor granted by all of the captains and engineers from surrounding departments who helped train her at LTCC. She says the students are "intrigued" that Alustiza is a female firefighter, and that she is happy to inspire them.
"I hope that I'm a role model for other women."
The College has made a persistent effort to recruit more women to help fill the burgeoning need at local and statewide agencies. The number of women in the Academy is already higher than the national average for firefighters, and Allen says the program will continue to produce heroes of all genders.
"With the current climate, I believe change is in order," predicts Allen. "The College is very committed to this and supports it 100 percent."
LTCC grads go on to local fire departments, including those in the South Lake Tahoe, North Lake Tahoe and Lake Valley Fire Protection Districts. They also end up with CalFire and the Forest Service, or working for departments as far away as Reno, Sacramento and El Dorado Hills.
"The Reno fire chief called us once and said … 'I want every one of your cadets to apply for my agency,'" recalls Allen, who remains proud of the program's reputation for producing high-quality firefighters.
The Academy boasts 313 grads and counting, 84 percent of whom are employed within the public safety sector. On top of the ever-present demand for firefighters, Allen credits the cadets' experience in the job interview skills class — where students polish their job-seeking skills with fire chiefs from throughout the Basin – for their overwhelming success in the industry.
"They've reached across the table with a business card and said, 'When you graduate the Academy, I want you to call me,'" says Allen. From municipal to wildland fire and law enforcement agencies, these "mock interviews" allow students to make critical connections to regional employers.
Current program Co-Coordinator Kileigh Labrado was one of these students. The LTCC alum says it was the interview skills class that stoked her confidence and put her on the fast-track to fighting fires for a living.
"I interviewed with the fire chief … and he called me and offered me a seasonal spot," says Labrado about the job skills class, which she would go on to help teach at the College. "I actually had two other offers as well."
A member of the eighth academy class, Labrado ditched a career in sales and marketing, moved to Lake Tahoe and pursued her love of the outdoors.
"I remember being on my first wildland fire," recalls Labrado. "I said, 'I want to do this every day of my life!'"
While raising three kids made it difficult to be on call during a busy fire season, Labrado pursued her passion by becoming a senior administrative assistant for Lake Valley Fire. This year, she has also returned part-time to her alma mater to help run the Academy.
"When I was a cadet, I don't feel I was treated differently … because I was female," reminisces Labrado about her LTCC days. "I have never felt more part of a team as I did in the Fire Academy."
Like her fellow LTCC alumna Alustiza, Labrado has left some pretty big boots to fill.
"I would encourage anyone, regardless of gender, to become a firefighter," she says. "It is one of the greatest careers on the planet."