Siskiyous' SOAR Plan Achieves Liftoff
College of the SIskiyous and SOAR – September 2020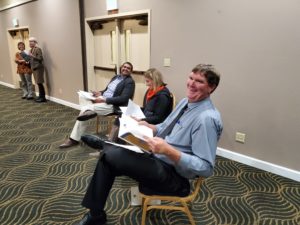 When it comes to sustaining local talent pipelines, most rural areas face a similar problem: young adults migrate away because they think there are better job opportunities elsewhere.
But in Siskiyou County, not only are there plenty of possibilities right in students' backyard, but as district supervisors have long lamented, there is also a booming regional demand for skilled workers that, if left unfilled, will hurt local businesses.
That's why College of the Siskiyous is working hard to turn Far-North towns into workforce development hubs, keeping talent close to home.
According to Christina Van Alfen, Program Grant Manager for Career and Technical Education at the College, "The idea came together that we needed to engage with industry partners even more and really look at the whole package of how we can start to work with our employers locally to keep our students here."
The journey began in 2015 with the California Career Pathways Trust (CCPT) grant, awarded to COS and its high school partners to promote pathways in Career and Technical Education. When the College convened with industry partners and realized they were losing young workers, improving career pathway strategies became an immediate priority.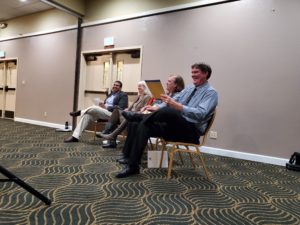 The powerful synergy managed to outgrow the original CCPT grant's scope, as industry partners engaged above and beyond their traditional roles on advisory councils. The College met with local high schools, industry, nonprofits, and the city economic development council. Together, the team secured a grant from the Ford Family Foundation to take things even further.
With financial backing and the determination of Strong Workforce-funded staff members, the partners developed the Siskiyou Occupational Advancement Roadmap (SOAR). By unanimous vote last November, it became the official workforce development strategic plan for the county.
"We are fortunate that the roadmap process and development of SiskiyouWorks came directly from the partnership with College of the Siskiyous," says Marie Caldwell, Director at SiskiyouWorks, the agency overseeing the roadmap's implementation. From the initial asset mapping to aligning with industry needs, she says, "College of the Siskiyous has been a consistent and supportive partner of the project and process."
As the lead fiscal agent for the CCPT grant, and an active member of the SOAR steering committee, COS has remained committed to the roadmap's success throughout.
"We've been on the forefront of it with everybody," says Van Alfen. "It really has been a collaborative effort."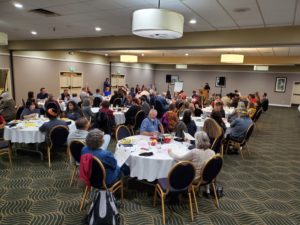 The roadmap includes six goals for workforce development. From sustainability to fostering career exploration, critical skill development, real-world experience, recruitment and hiring, and retention, SOAR is set to create more robust career pathways and increase employer engagement from kindergarten to college.
"It's not just developing those skills, but getting some experience," explains Van Alfen. According to the program manager, work-based learning from primary to post-secondary levels starts with inviting employers into classrooms, having students shadow employees at the workplace, and offering internships and apprenticeships.
After years of work and input from industry and community partners, SOAR is hitting the ground running, aiming to reach its goals by December 2024. Exciting developments include more than 1,000 internship placements, in which community college and high school students will take part in hands-on learning in manufacturing, health care, business and more.
With placements supported by Strong Workforce funds, the internships are set to start in the spring, pending the lift of COVID restrictions. To extend career exploration opportunities to younger students and accommodate social distancing, partners are also developing a local workforce video library. SiskiyouWorks plans to post a combination of information on positions, recorded interviews and virtual tours on its website.
"As we connect students through pathways and internships, we help them develop connections and experiences while changing the vision and conversation around the talent pipeline for our employers," says Caldwell.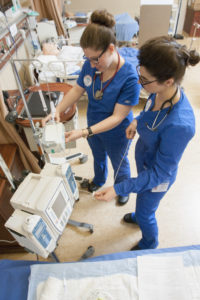 One of the essential pathways bolstered by SOAR is health care. "With what's happening with the coronavirus, health care is definitely a priority," says Van Alfen
For Deborah Howell, Assistant Director of Nursing at the partnering Fairchild Medical Center, the COS nursing programs are critical in providing enough qualified employees for the hospital.
"Due to our remote location, it is extremely challenging to recruit new nurses," explains Howell. "Nurses continue to be in high demand, and it's often difficult to find qualified candidates to fill open positions."
Committed to priming a healthy talent pipeline, the College offers affordable and stackable training, starting in high school and designed to launch graduates directly into health care careers. Thanks to dual enrollment opportunities, students explore numerous health disciplines and gain exposure to clinical settings. The hope is to expand these pathways as SOAR is implemented.
For students, the transition is stress-free. After high school, a six-week training course at the College paves the way to CNA certification, with state testing offered conveniently on-site. That certification can count toward the College's 18-month LVN curriculum, which in turn provides the foundation for the LVN-RN Step-Up program.
The outcomes speak for themselves. The Strong Workforce-supported nursing programs at COS boast a 95-100% pass rate on the NCLEX LVN and RN exams. Meanwhile, the College bears a special articulation agreement with California State University, Chico, giving grads priority access to its Bachelor of Science in Nursing (BSN) program.
"We see our graduates employed in outpatient and specialty jobs after a year or two," beams COS Interim Director of Nursing Rhonda Brown.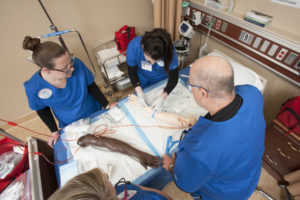 Their secret? The College's outstanding partnerships with local hospitals, as well as health organizations like Siskiyou County Public Health, Mercy Hospice and more. With these connections in place, students not only perform their clinical work with partners but also secure employment.
"All agencies are very open to hiring our new graduates," says Brown.
Fairchild Medical Center is just one partner employer that keeps coming back to COS for its experienced and well-prepared graduates.
"Over the many years, we have found that the [COS] graduates have an excellent clinical base and have far exceeded our expectations," effuses Howell. "Fairchild Medical Center values the supportive and collaborative relationship we share with COS."
Thanks to proactive efforts like SOAR, College of the Siskiyous is also improving pathways in public service. High school health programs feed into the College's Emergency Medical Services programs, where EMT certification can stack up toward paramedic training, increasing employment skills right along with earning potential. High school students who wish to get an early start can become CPR certified, take EMT classes, and can even receive EMT certification once they turn 18.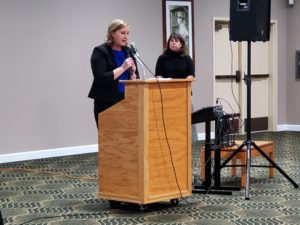 "We include courses that give students an opportunity to explore a lot of health-related disciplines, so they can go in and see what it's like to be an EMT," says EMS Coordinator Kirk Thomsen about the dual enrollment program. After high school, students can continue at the College and build their careers.
From the 192-hour EMT training in partnership with local ambulance companies to learning advanced paramedic techniques like operating cardiac monitors, students receive hands-on training for future employment. And with Strong Workforce support, classes employ industry-standard equipment, so future first responders are well-prepared to save lives.
While some paramedic programs can cost more than $10,000 to complete, tuition at COS rings up at less than $2,000. The best part? Many instructors in the program are also active employers, representing fire departments, ambulance companies, and more, affording students a direct on-ramp to internships and employment.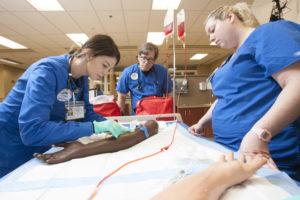 For COS alum and instructor Brian Witherell, also a paramedic and Operations Manager for Mt. Shasta Ambulance Service, the College is critical to building his workforce.
"The majority of our staff here are either EMTs or paramedics that were trained at College of the Siskiyous," says Witherell.
Industry partners like Witherell are optimistic that workforce-aligned CTE programs are set to "SOAR" in the region. With the new roadmap in place, and COS committed to its success, new opportunities for young people to launch healthy careers close to home have never been stronger.
"The quality of College of the Siskiyous is by far unmatched compared to the other schools," shares Witherell. "For high-quality programs and the lowest cost that I know of, it's an unbeatable system."