News Center – June 2021
It's hard to have a healthy California without some serious muscle in the healthcare workforce. And with more than 11 million residents living in an area with a shortage of primary care providers, it's time to flex.
That estimate by the California Health Care Foundation spells trouble for places like Gridley, which experienced a population boom of more than 28 percent since the last census. With demand for qualified health care workers spiking, some Northern California communities are just beginning to get creative. Others, like Gridley, have been at it for a while.
In response to its community's shifting needs, Gridley High School launched its Health Sciences and Medical Technology Academy in 2017, giving students a unique head-start for in-demand health careers. With the situation now critical in Northern California, the Academy is proving to be the right remedy at the right moment.
"Right now, every facility is facing staffing challenges," says industry partner Lyndi Little Wallace, Director of Marketing & Community Outreach at Orchard Hospital, just down the street from the high school. The medical pathway, meanwhile, is "just a perfect opportunity for our program and community."
About 100 students each year use the three-year pathway to jump-start futures in the field. They start with a Health Career Exploration class, which affords a comprehensive industry overview while touching on foundational skills. Next is the Medical Terminology course, where students put their studies to work in job shadowing shifts at the hospital, earning college credit all the while. Finally, in the Nursing Services capstone course, intensive work-based learning in the hospital prepares participants for college and entry-level medical jobs.
"Orchard Hospital is the single largest employer in Gridley," says program instructor Robert "Bob" Schofield. According to the teacher, the synergy between the school and the health care giant is a win-win when it comes to training the next generation of professionals.
By next year, Strong Workforce funds will have helped expand dual enrollment options in the pathway through Butte College, allowing learners to secure 12 credits for completing all three classes. Future collaborations with the College include career-ready certifications in Certified Nursing Assistant (CNA) and Emergency Medical Technician (EMT), to be offered over summer breaks.
"What better way to start trying and taking the classes to see if that's really what you want before you even get to college?" posits Little Wallace. "Honestly, it's the best opportunity — I wish it would have been there for me!"
When students couldn't do work-based learning in the hospital this past year due to social distancing restrictions, the hospital came to them. Little Wallace traveled to the high school twice a week to teach in a brand-new, state-of-the-art learning lab, created with Strong Workforce support.
With access to 11 different college- and career-ready labs from real-world tech learning company Paxton/Patterson, students didn't lose a moment of hands-on instruction. Stations included practical training in nursing, dentistry, mental health and more. In the phlebotomy lab, students practiced drawing fake blood from a mannequin arm. Meanwhile, in medical imaging, learners dislodge stuck matter like paper clips from a model stomach.
"In my emergency medical technician station, I actually have an arm that physically bleeds that you have to wrap up," says Schofield, relishing the unique opportunity to help students apply their studies. While cycling through the 11 stations throughout the year, they "are truly getting an introduction to different health careers," according to the instructor. "The idea is: it hopefully helps them focus as they move forward."
In a normal year, students would also gain practical experience in work-based learning sessions at the hospital. From skilled nursing to physical therapy, cardiopulmonary and even acute care, says Little Wallace, "We try to get them all over the place so that they really understand different areas."
Students work closely with nursing staff while putting their medical know-how to work by updating charts, taking vital signs and assisting with day-to-day activities. The director says learners' enthusiasm and willingness to pitch in makes all the difference.
"The patients love it," she says. "Having students here is helpful for us, especially when our area has been hit hard from fires."
When the Camp Fire struck in nearby Paradise, Gridley housed FEMA trailers as patient volume soared at the hospital. While waiting rooms were backed up, stressing out patients even further, the high school students came in to offer assistance, smiles and reassurance. "They were able to be like, 'Hey, we're coming,' and just soothe our patients," recalls Little Wallace. "And then, they helped us clean rooms and get things ready."
But it doesn't necessarily take a crisis to engage participants. Gridley's budding health care professionals also assist in the annual Health Ambassador program to combat the region's high levels of childhood obesity. Students visit middle school classrooms once a week to teach healthy habits. What makes the program so effective, according to Little Wallace, is that "Kids look up to and admire these high school kids … It allows students to feel comfortable learning healthy eating and fitness tips from their own peers."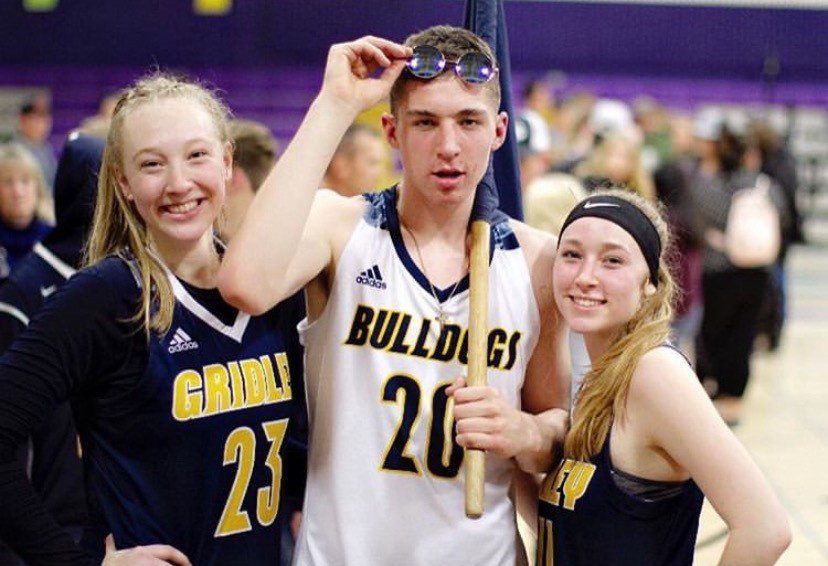 While the medical pathway program is relatively new, Little Wallace has already seen it change her own family: her niece took the pathway and went straight from high school into the Navy to become a nurse. She also relates the story of Kennedy Tull, "a bright student" graduating this spring and bound for Oregon Institute of Technology on a basketball scholarship.
Set to enroll in the university's pre-dental hygiene program, Tull says she is already way ahead of her prerequisites, thanks to the dual credit under her belt. Looking back, though, she says she would never have made it without the health care pathway to show her what was possible.
"I've always known that I wanted to go into medicine, but I'm definitely afraid of shots," confides Tull. In the Nursing Service class, she confronted her fears, exploring her many options and discovering dental hygiene.
In particular, she loved practicing real-world skills like cleaning plaque, drilling cavities and making molds on model teeth in the dental lab. Meanwhile, the medical imaging station taught her how to take x-rays of patients' mouths, a crucial skill for her future career. The best part, according to Tull: "It's honestly so fun."
That passion for healing runs in the Tull family… right alongside a love of shooting hoops. Her older sister Maddyson was a basketball star and among the first students to graduate from the medical pathway. She is now studying Respiratory Care at Oregon Tech and will be working at Orchard Hospital over her summer break. Meanwhile, Kennedy's twin brother Grant found a knack for nursing in the pathway, and he'll also be joining in the new family tradition.
"All three of us are there hoping to study the medical field and play basketball at Oregon Tech," says the grateful grad, who believes the magic all started at Gridley High School.
"My hands-on experience in the classroom … really helped prepare me for what I'm going to do in the future."
Little Wallace couldn't be prouder of the Tull family and the future of the region's health care.
Says the director: "These kids are getting a better opportunity than some of the freshmen already at college."
Sources:
Gridley, California Population 2021
https://worldpopulationreview.com/us-cities/gridley-ca-population
Shortchanged: Health Workforce Gaps in California, California Health Care Foundation
https://www.chcf.org/publication/shortchanged-health-workforce-gaps-california/