STEP-UP Program Fulfills Promise of Positive Change at Shasta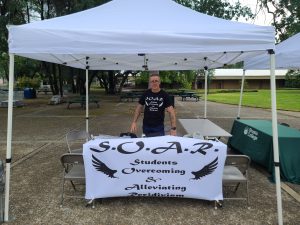 Shasta College student Raymon Curtis has a lot in common with the Californian-native Redwood Trees that he grew up with in Mendocino County. They're both rooted in resilience – tested by tough times, yet determined to stand tall in the face of adversity.
By the time Curtis joined the Shasta Technical Education Program-Unified Partnership, more commonly known as STEP-UP, he'd been through it all – homelessness, a few stints in jail, and finally, a court order from a compassionate judge. Today, his story stands as one of the program's most shining successes, with the Fort Bragg native planting roots in his community as a proud father, prize employee and honor student.
"Because of the guidance [STEP-UP] provided me, I came to realize there was a tremendous amount of resources available at college," Curtis reflects. "And if you're resourceful and diligent, you can figure out which tree to bark up to get your needs met."
For students like Curtis, that 'tree' includes an always-growing network of stalwart support. The STEP-UP program aims to make the transition into college as seamless as possible through accessible resources and expert faculty. STEP-UP, among other similar initiatives across the North and Far North, offers resources funded directly and indirectly by Strong Workforce dollars. Thanks to ongoing public support, nontraditional students are putting down roots in California's most verdant industries.
"STEP-UP gives students the support and encouragement they need to make their dreams of a fresh start a reality," says STEP-UP Interim Program Director Robert Bowman. "[Curtis] is the perfect example of how Shasta College is preparing the future leaders of our community to make a positive impact in society.
"STEP-UP is proud to be part of that legacy and of giving students a second chance at a first-class life."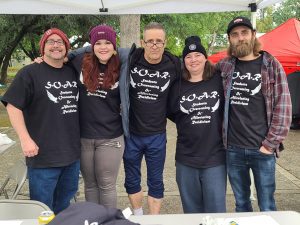 Curtis spent his childhood along the Pacific Coast Highway in Mendocino County, in a town best known for its historical roots in logging and the California Western Railroad, or 'Skunk Train' — a popular tourist attraction operating since 1885. The railway, which takes visitors on a ride showcasing the beauty of the surrounding woodlands and breathtaking redwood trees, would later prove an inspiration for the NorCal native.
"I spent a lot of time by myself in the forest," reflects Curtis on his childhood. "Then one day, Georgia Pacific came through and they trashed that forest … getting logs. And they didn't do it in any kind of sustainable way back then. 
"That's where I kind of started to take a turn for the worse as far as my perception of authority." 
Little did Curtis know, his passion for the forest would inspire his career years later. After serving a 120-day jail sentence to "get his head straight," Curtis says the judge on his case assigned him to the Behavioral Health Court Program rather than going back to prison, which subsequently led him to Shasta College. 
"When I was coming up on the end of the program, the Tehama County Probation Department told me, 'Well, when your program is over, you've got one of two choices," remembers Curtis. 
"You can either get a job, we don't care what …. Or, if you're smart, we're part of the Shasta Technical Educational Program Unified Partnership, the STEP-UP program … maybe you can go to school and learn something." 
And Curtis committed. Thanks to the STEP-UP program, the hardworking Knight is now a graduate of not only the Shasta College Heavy Equipment and Heavy Logging Equipment program, but also the Truck Driving program. Meanwhile, he's balanced a 4.0 GPA, launched a Forest Science and Technology degree and completed a Firefighter 1 Academy course. 
"I started realizing … I was a lot smarter than I thought I was," says Curtis. "And it turns out the adult brain is wired differently than the adolescent brain. So, stuff was making better sense this time around."
The STEP-UP program offers connections to helpful resources like the Partners in Action to College Education (PACE), in which students can get specialized learning resources to stay on top of their classwork. Curtis also utilized Extended Opportunity Programs and Services (EOPS) to help cover textbook costs and get additional educational grants for assets like specialized counseling, transportation assistance, tutoring, and more.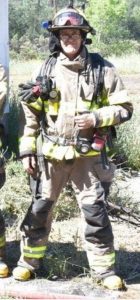 Through Curtis's firefighter aspirations, he's been employed both as a volunteer and a seasonal employee for the California Department of Forestry and Fire. Currently, he's pursuing full-time employment with CalFire and hoping to get some additional experience in the upcoming season. 
"When it's not fire season, that's almost one-hundred percent about going and helping people," explains Curtis. "Answering people when they're in their most need.
"There's a freedom from self in it, where it's one hundred percent about this other person who is having the worst day of their whole life and how I can help them." 
Nicholas Hitchko, Shasta County Adult Probation Case Manager for the STEP-UP cohort, works with STEP-UP students to determine what they need to succeed in their educational goals. Hitchko recently started working closely with Curtis, describing him as "voraciously resourceful," an attribute no doubt bolstered by his past struggles.
"He has a decorated list of achievements, [including] honor society, EOPS Student of The Year, Fire Academy graduate, President of Club SOAR, Behavioral Court grad," lists Hitchko. "He has maximized every rehabilitative and reentry behavioral program at his disposal to make him the best student, employee, teammate, father, husband, and citizen he can be." 
Curtis's experiences are bound to inspire others who may be in the same situations he once found himself in. Through his work with STEP-UP and the additional resources and support available at Shasta College, Curtis has come upon some wise words of advice: 
"Don't sell yourself short. You're a lot smarter than you think you are," says the grad. "Fronting like a tough guy didn't get me very far.  
"Asking for help in the right ways, learning how to articulate my need for help, and figuring it out. Like I say, 'which tree to bark up." 
Learn more about the Shasta College STEP-UP program by visiting their webpage. 
March 2023