Mendocino College's Rebecca Martinez
NFNRC – May 2020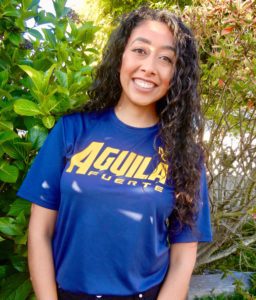 When a sports injury forced Rebecca Martinez to sit out her entire senior season of softball in high school, she discovered the magic of physical therapy. On a quest to help herself – and then others – overcome injuries, Martinez majored in Athletic Training at Mendocino College, started playing ball again, and ultimately scored a bachelor's in Kinesiology and Fitness from San Diego State University.
When she heard about the new PTA program back home, she couldn't resist returning to her alma mater for an additional specialization. Now, not only is she closer to her family and able to save money, she's also thrilled to be back in the tight-knit Mendocino community.
"Now, going into this field, I want to reassure not just athletes but every kind of individual," says Martinez. "I would love to go into pediatrics and help little kids."
When it comes to the versatile hybrid classes, Martinez appreciated the option of completing the online portion at her convenience and then driving to Ukiah to connect with her cohort and stay inspired. But even after the coronavirus hit, and the class had to move entirely online, she says it's the virtual camaraderie that kept her "in the game."
"I still have that motivation because we are meeting weekly with Zoom," says the future physical therapist assistant, who is staying connected to her community and her passion during the crisis. Before, Martinez was part of a study group of students who live in Fort Bragg. Now, they can continue to be study buddies via FaceTime and have invited even more students to join them.
Martinez is right on time to finish her degree. She plans to move back to Southern California, and she is exploring rewarding specializations working with children who have cerebral palsy and muscular dystrophy. She attributes her inspiring new focus directly to her community college.
"We have an amazing director," Martinez says, noting Bogner's commitment to standing by students as they adapt to the abrupt changes. "Anything that we need help with, she's ready to guide us."
That dedication extends to the Mendocino College professors, all of whom bring extensive industry experience to the program. Thanks to these connections, Martinez feels more than prepared for her new path.
"They know how to give us that foundation and also to help build our confidence."
For Martinez, that first-semester "COVID curveball" has not only spawned an opportunity to become closer to her teachers and fellow students, but also provided a real-world exercise in overcoming adversity.
"This is definitely something that we're all going to come out and learn from and take a step further into our careers."