Folsom Lake College Music Entrepreneurship Program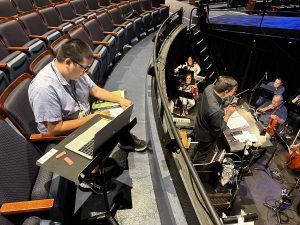 Alex Tyree's professional goals are already approaching a crescendo — and his career is just beginning.  
Thanks to the Music Entrepreneurship program at Folsom Lake College, Tyree is composing his own pathway as Assistant to the Music Director for the nationally recognized Music Circus, part of Broadway Sacramento. The fast-paced production runs six different musicals in the span of three months, demanding those involved to be highly skilled in their field. 
The Music Entrepreneurship certificate program provides students with a comprehensive set of skills that are necessary in nearly every position in the music industry. These points of expertise include performing and recording music, as well as promoting, marketing, and managing musicians. 
Before he landed the gig, Tyree attended a prestigious four-year university in the Pacific Northwest. After a year at the university, the musically inclined student says he didn't feel connected to the curriculum. 
"I enjoyed my studies there a lot, but I struggled quite a bit as a student," explains Tyree. 
"The realization hit that I'm already in debt and things aren't going exactly how I thought. So, I decided to just … focus on the community college level where things are going to be cheaper, and things are going to be actually affordable, and I can still pursue my goals and aspirations."
Tyree took courses across multiple colleges within the Los Rios Community College District before enrolling at FLC. Many of the music-focused courses Tyree was enrolled in were directly funded by the Strong Workforce Program. 
"Some Folsom Lake College classes supported by Strong Workforce funding include Applied Music, The Business of Music courses, Live Sound Reinforcement, and Introduction to MIDI," explains Francis Fletcher, Dean of Visual and Performing Arts and Language and Literature at Folsom Lake College. 
Ready to change his tune, Tyree landed at Folsom Lake College, after learning about some of its impressive music specs. The state-of-the-art Harris Center of the Arts and Three Stages, which opened in 2011, is a $50 million project offering 80,000 square feet of venue, recording studio, multiple classrooms, and practice rooms. The Harris Center/Three Stages provides FLC students and the community with a space to perform, create, and be entertained. 
"It was very [close] to what I was dealing with at the four-year college that I went to, which had a lot of amazing amenities, but I wasn't expecting to find that at the community college level," says Tyree. "It was honestly great to see just all the different things that I would still continue to have access to … not only in my studies, but just in my development as a musician." 
Though Tyree felt confident in his FLC-powered skillset, the employment opportunity with Music Circus took him by surprise. The connection would come as the result of a mentorship with FLC professor and Music Department Chair Phillip Angove. 
After completing a majority of credits in the Music Entrepreneurship program at Folsom Lake College, Tyree took a brief hiatus in the wake of the global pandemic. That's when he reached out to his music department instructor and mentor, Phillip Angove. 
"I called him up one day and said … 'I have a lot going on in my life, can we just get coffee? And he was kind enough to accept that," recalls Tyree. "For a couple of months, every week on a Thursday morning, we would go to get coffee and just chat, and I would bring my laptop and play him a lot of the stuff I had been working on." 
Angove would offer advice to Tyree about the pieces he would compose and play. Even when he was not actively taking courses, Tyree was clearly dedicated to his craft. And when a position at the Music Circus for Broadway Sacramento opened up, Angove knew exactly who to recommend. 
"Alex is responsible for making all of the edits to the musical scores, on the fly, during the intensive rehearsal process and publishing entirely new parts for the orchestra in time for the next dress rehearsal or performance," Angove says about Tyree's role at Music Circus. "He is also charged with programming many of the MIDI instruments in the orchestra, ensuring that they align with the demands of each musical." 
Tyree's position, which combines the roles of Music Assistant and Keyboard Programmer, tends to be fast-paced, harnessing nearly every skill he learned at FLC. As he begins his second year working for the acclaimed Music Circus, the virtuoso already knows he's ready for a bigger challenge. 
"I can already see I have more work this year than I did last year," reflects the proud programmer. "But at the same time, I'm not even worried in the slightest. I knew exactly what it took, and I know I am really prepared for that." 
With confidence in his craft, Tyree is continuing to build connections at Broadway Sacramento. He credits his time at FLC for helping him achieve more than he thought possible. 
"I don't have theater experience, I didn't have professional music experience, I don't have the four-year degree, and at the time, I didn't even have the two-year degree," Tyree admits. "But it was these classes that actually did it. 
"I didn't need all that other experience or the bachelor's diploma. What I did need was all of the things I learned in those classes." 
With the support of Angove and the entire Music Entrepreneurship program, Tyree continues to make strides in his career and education. He's expected to complete credits for his Music Entrepreneurship certificate and associate degree at the end of the summer. 
"[Tyree] found his unique musical voice as a composer, and now regularly writes original music for a wide variety of narrative compositional genre," says Angove. "In this sense, Music Circus was an ideal fit for Alex to begin his career.
"Alex has become an inspiration and a mentor of sorts, to current FLC students who hope to follow in his footsteps."
October 2023