Folsom Lake College Viticulture Pathway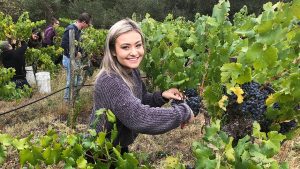 When you think of California's Wine Country, the first places that come to mind are probably the lush vineyards of Napa Valley and Sonoma County. The truth is: great grapes grow all over the state – and Folsom Lake College is stomping on old standards by supporting an overlooked but vital viticulture region in the Sierra Nevada Foothills. 
"Many may not have heard about El Dorado, Amador, Lodi, or Clarksburg," says Lisa Meline, a recent graduate of the Viticulture program at Folsom Lake College. 
"All are within 45 minutes of Sacramento, and each have their own unique wines due to their unique growing conditions and vineyard management practices." 
The region is especially fruitful for growing high-quality grapes, which are then processed into wine sold worldwide. The Sierra Nevada Foothills are a one-of-a-kind region for cultivating these fine grapes thanks to the rich soil and climate conditions. This expansive American Viticulture Area (AVA) stretches over eight counties, including El Dorado County — home to FLC's El Dorado Center and more than 70 award-winning wineries. 
"Because we're geographically located in the wine region, [this program] makes a ton of sense for us," touts Greg McCormac, Dean of Instruction, Math, Science, and Engineering at FLC. "The wine making industry specifically is evolving from family farms making a couple hundred cases of wine, to successful ones having now become a little bit more of a corporate model. 
"It's moved beyond just a family business thing," 
Folsom Lake College's job is to keep up. To that end, the burgeoning program is employing Strong Workforce Funding to support faculty, obtain equipment, and afford additional supplies, such as analytical equipment to analyze the chemistry of wine samples contributed by local vineyards. 
"We've purchased some industry-level equipment, which has been really good because it's fueled a collaboration between industry partners and our program," notes McCormac. "It's a great experience for our students, and [local vineyards] get some information that's useful for them in the back end." 
The funding is helping construct a consistent pipeline of workers from FLC's Viticulture program directly into in-demand positions vital to the year-round persistence of local vineyards. 
"We offer all of our viticulture courses on an annual cycle for summer, fall, and spring," explains McCormac. "The offerings align with the seasons of the industry … the teachings align with what folks in the industry are doing at the moment." 
The Viticulture program at FLC was originally developed back in 2013, with the pilot cohort launching a few years later. After a few roadblocks — including challenges posed by virtual learning in the midst of a global health crisis and devastating regional fires — the program returned in full swing last spring. 
The program offers two separate pathways: an associate degree in Small Vineyard and Wine Management; and a certificate program in Small Winery Marketing. The latter curriculum focuses on marketing and management training for growers, winery event coordinators, marketing associates, and tasting room managers at vineyards in the region. 
Meanwhile, the associate degree pathway prepares students to transfer into a four-year program in Viticulture and Enology at UC Davis, Cal Poly Luis Obispo, or Fresno State. With course topics ranging from plant biology to skills for cultivating the best grape crop, students learn from industry experts to further develop their budding viticulture skills. 
"The main viticulture series of courses learning about biology, phenology, and integrated pest management among many other things really helped me understand just how amazing grapevines truly are," Meline recalls about her time in the FLC program. 
"The final project of designing a vineyard from site selection, rootstock and scion selection, spacing, to irrigation schedule, was a great way to tie all this knowledge together in a single assignment."
Partnerships amongst regional entities are vital, especially in a small agricultural region like El Dorado County. McCormac notes that partnerships with local wineries help provide students with access to essential enology tools and hard-to-access machinery in their field. One requirement for all students in the Viticulture program, for example, is a forklift driving certification. 
"Our graduates go through a two-day workshop to learn how to safely operate a forklift, which is super important in the viticulture industry," continues McCormac. 
The program's versatility is key to producing well-rounded graduates, according to the Dean. And to hear one recent grad tell it… grape minds think alike. 
"While I wasn't as interested in the wine making side of the program, I found the wine making course to be very helpful in understanding more precisely how, 'you can't make good wine from bad grapes, but can make bad wine from good grapes," says Meline. 
"I have really gained respect for those who are able to take freshly harvested grapes, a little science, and some artistic skill to create a great bottle of wine." 
Collaborations with local wineries are key to evolving FLC's Viticulture pathways.  Last year, the college launched a partnership with the Willamette Valley Vineyards, which helped contribute funds to boost the program's scope and reach. Meanwhile, the Willamette Wineworks micro-winery in Folsom donated about three percent of proceeds from a specialty wine label to fund scholarship opportunities for students enrolled in the program. 
Meline, a Sacramento native, says she discovered FLC's program after taking a few Viticulture courses at Las Positas Community College in Livermore, along with extension courses through UC Davis. With a solid foundation in the basics, Meline immersed herself in the hands-on learning that Folsom Lake College offered its students.  
"I found out FLC was starting a new program and was very excited to attend and support a program within my own area, which lies in the middle of several important AVAs in Northern California," explains the Viticulture grad. "My main interest in pursuing this education was to try to figure out how to grow wine and table grapes in California more responsibly and sustainably in the future with the added challenge of cyclical drought and now climate change." 
In response to worsening climate concerns, California requires professionals in the viticulture industry to be prepared with predictive and proactive solutions. With near-constant environmental challenges, like wildfires scorching vineyards and droughts preventing grapes from growing to full ripeness, FLC's curriculum aims to help prepare the next generation of viticulture and enology professionals.
"I have been fortunate to meet a lot of very kind people in the industry along the way and would like to somehow continue to work with them to educate the next generation of growers and to help solve some of the bigger challenges the industry faces," Meline reflects. 
The ever-growing list of challenges includes cultivating wine grapes during drought years, developing virus-tolerant rootstocks, and innovating economic solutions to sustain local vineyards. It's an undertaking that promises plenty of frustration in a place like California, but also powerful potential for success. As Meline continues to pursue her goals in the industry, the proud Viticulture ambassador is making headway and blazing a trail for other students to follow. 
"On this journey I have learned about regenerative agriculture and feel strongly that this has to be the way forward not just for better quality food but to heal our soils and provide carbon sequestration for our planet." 
Sources: 
https://visit-eldorado.com/visiting-el-dorados-wineries/#:~:text=With%20over%2070%20wineries%20within,quite%20the%20decision%2Dmaking%20process.
https://www.forbes.com/sites/stevensavage/2022/11/29/why-californias-46-billion-wine-industry-is-better-prepared-for-climate-change-than-some-of-its-competitors/?sh=47dcdcc67096 
May 2023