CRC Culinary Arts Gets Down to Business
NFNRC News Center – October 2019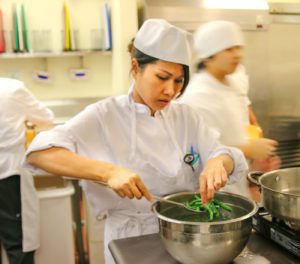 From sushi pizza to pad thai tacos, fusion cuisine is all about discovering unexpected combinations and pushing the boundaries of innovative eats.
It's that same creativity that inspires students in the Culinary Arts Management program at Cosumnes River College, where fusion curriculum is the order of the day.
Beyond dishing out delicacies, Culinary Arts Management students acquire critical business and leadership skills – key ingredients in the recipe for a successful culinary career.
"A lot of our students are actually very entrepreneurially minded," says Chef Michael Frigm, member of the Culinary Arts Management faculty at CRC. "A lot of them have aspirations of going off and opening their own restaurant, catering business, or food truck."
As they prepare cuisines from all over the world, CRC students are also cooking up confidence, learning the fundamentals of marketing, financial management, and business development. And the fusion goes even further. CRC's new Restaurant and Food Service Entrepreneurship Degree, offered in collaboration with the business department, is providing future chefs, restauranteurs, and entrepreneurs with the best of both worlds.
What's unique about the new degree is that students also use class time to complete a vetted business plan, building a firm foundation for their entrepreneurial ventures.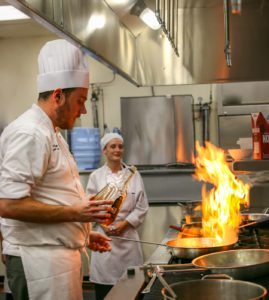 "We were the first in the district to collaborate with the business department to offer that entrepreneurship track," says Frigm, who says he is already seeing students from the 2018 debut class go on to launch successful businesses.
In just its second year, the Restaurant and Food Service Entrepreneurship program is already a hit with students, and is even inspiring other departments. With Culinary Arts Management opening the door, programs like Music and Photography are now investigating how to create similar entrepreneurial degrees for their students.
Whether students choose the management or entrepreneurship track or both, the Culinary Arts Management program highlights the extensive possibilities available in the field. In addition to in-demand kitchen positions, graduates are advancing to high-paying management careers in restaurants, hospitals, nursing homes, and schools. It's an industry with a growing hunger for skilled professionals, according to Frigm.
"Hospitality is the biggest industry in the country," he says. "The biggest industry in the world, really, when you look at all the segments."
The statistics agree, offering some hearty food for thought. The regional growth rate for culinary arts management positions is going strong at 10 percent, according to a January 2019 report by the North/Far North Center of Excellence. With nearly 53,000 annual job openings estimated for California, it's the perfect time to get cooking.
Students are heeding the call, and coming from all walks of life to CRC, where in-demand culinary careers are on the menu. Take CRC student Gabriel Najera, for example, who is overcoming some significant obstacles and spicing up his life with a whole new career path.
"When I was 15, I had to drop out of school. I had to become independent, to work and pay my rent," says Najera, who returned to college in his 50s to complete his GED, and ultimately, pursue an associate degree in Culinary Arts Management.
His passion for cooking is not only fueling a major career change, but also helping him overcome depression. According to Najera, his professors are helping him excel in his courses and redesign his life.
"[Chef Frigm] helped me the most," says Najera, who dreams of opening an authentic Mexican restaurant where 'everything is made from scratch'. "He told me, 'Don't worry! You'll make it, just keep on doing it.'"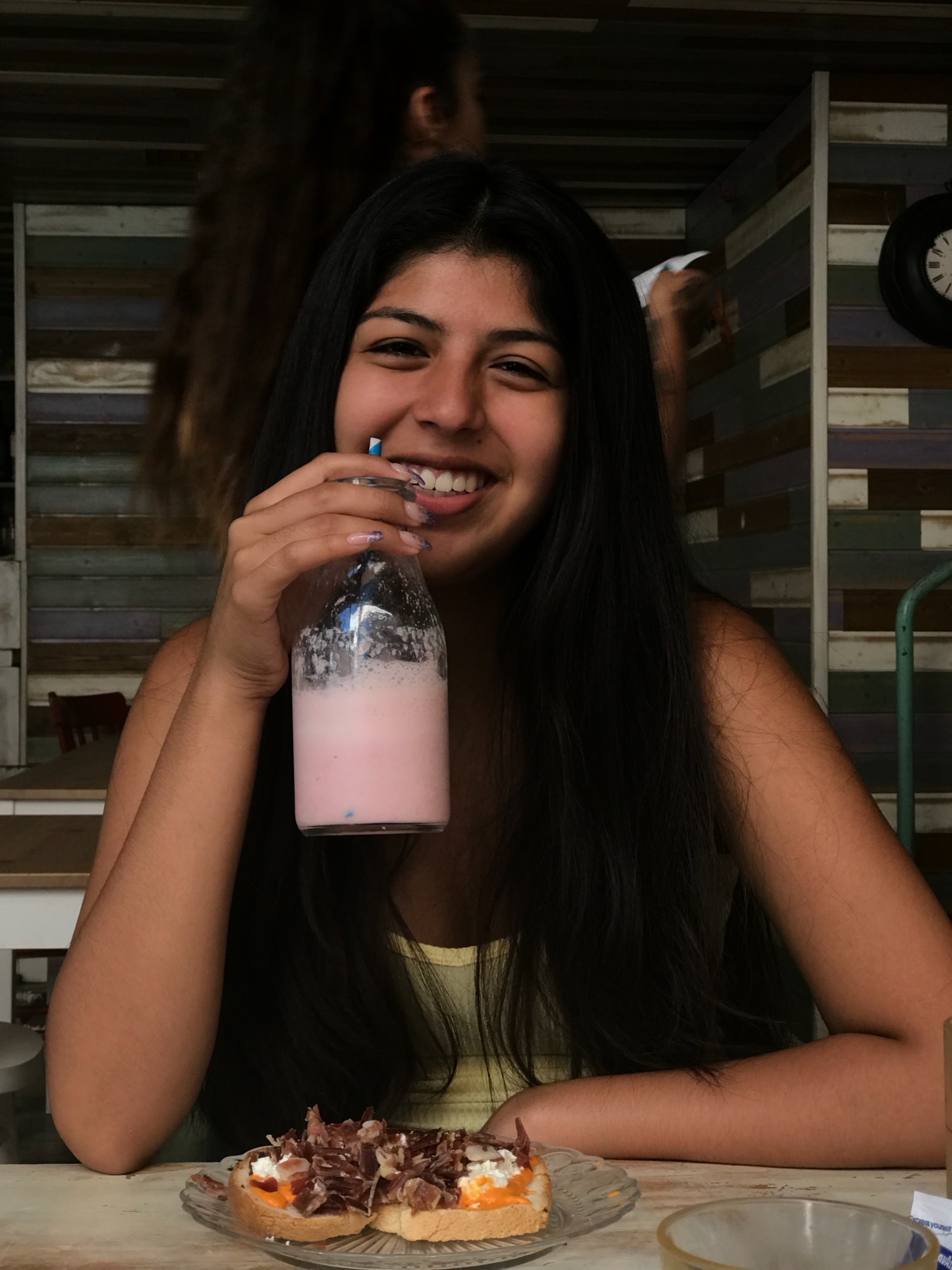 That note of support and encouragement has a familiar ring for Alessandra Yalan, who shares Najera's passion for the industry, but craves a slightly different flavor of career. Upon graduating, she aspires to start up a catering business for movie sets in LA.
"The Culinary program at CRC has been giving me insight and a path to follow for my career," says Yalan, who says she loves the variety of classes that the department offers – everything from business to food safety. "I'm learning not only how to work in a restaurant, but also what makes a restaurant function, the business management."
Yalan initially discovered her passion for food in her high school culinary classes. When her teacher recommended the culinary program at CRC, and she realized how affordable the degrees were, she decided she couldn't say no.
"The fact that I can get all of this for free is helping me a lot," says Yalan, who was among the first to take advantage of the Cerro Coso Promise program, which gives incoming first-time college students a year of tuition-free education. "I think it will help me get into a career faster."
When it comes to real-world career connections, Cosumnes River College maintains an always-growing network of regional industries and businesses, cultivated by the Work Experience Office and the program's advisory board. Students take Work Experience in their final year, and for many, the supervised, for-credit training will turn into the first job in their career.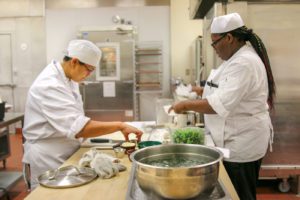 Work experience is crucial because for culinary, it takes about five years of working in the field before students can approach higher-level opportunities. While a degree will help speed up the process, graduates would still likely be required to start in an entry-level position.
"That's why we included that Work Experience piece, [so] students can get that first entry-level job out of the way while they're in school," says Frigm.
According to the veteran professor, students with culinary and hospitality degrees earn comparable salaries to their peers with business degrees within about five years. After about 10 years, he says, they are actually exceeding those salaries.
"There's a ton of opportunity for growth in culinary. It's a very robust industry with lots of opportunities for people to make it their career."
But for students like Yalan, the culinary program isn't just a means to an end — it's a family. She knows most of the people in her courses, and she has become close friends with her classmates, exchanging recipes and favorite restaurants, and even helping each other study. The camaraderie has enhanced her college experience, motivating her to keep serving up her best effort.
"It's like a big family in a way," says Yalan. "We're all just making food, doing what we love, and learning together."