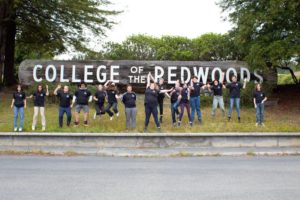 College of the Redwoods TESI Program
Summer of Tech: ICT-Focused TESI Program Returns After Successful Pilot 
Enjoying sunny skies, watching waves beat against the bluffs, hiking a trail in the California heat — these are just a few activities that may pop into your mind when you're thinking about the dog days of a Far North summer. For a few high school students in Humboldt County, though, summer break means something slightly different. 
Trade the open air for an air-conditioned computer lab, the waves with wi-fi connections and the cool cover of the forest for a blazing 12th-gen processor, and you're closer to the description of a TESI student's ideal summer.
The Technology Career Exploration Summer Institute program — or TESI — invites Humboldt County high school students to the College of the Redwoods campus to explore their passion in technology and gain real-world, hands-on experience. The program connects students with other aspiring techies, bringing in expert advice from a network of professionals representing notable companies like Deloitte and IBM. 
"TESI provides students with a fast-paced yet focused introduction to many different facets of Information Technology," says Clay McLaughlin, Associate Faculty in the CIS program at College of the Redwoods and TESI instructor. "I think that programs like TESI are an incredibly valuable opportunity for high-achieving students to challenge themselves and explore their interests and aptitudes in the ever-changing world of technology."
The four-week program takes place in mid-July and invites high school students across Humboldt County to explore the possible career pathways in information communication technology (ICT). With instruction from Strong Workforce-funded faculty, students gain a versatile view of what the ICT program, and the industry that supports it, has to offer. 
The program takes a double-edged approach, with instruction divided between classroom-based lectures and hands-on lab work. The lab portion is designed to build on the fundamentals of information technology concepts and terminology, maintaining IT infrastructure, the basics of software development, database security, and more.
"We welcome juniors and seniors, but if we don't get enough students, we'll even welcome freshmen and sophomores," explains Amy Murphy, Assistant Professor of Computer Information Science (CIS) at College of the Redwoods. 
"Last year was just wildly successful," Murphy continues. "A lot of the students said they wanted to come back [this year] and do a second round, a more advanced round."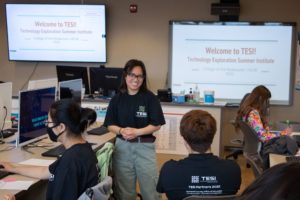 The college plans to divide the program into two parts this summer, TESI I and TESI II. The latter, a pilot program for students who attended last year, will explore a more comprehensive, technology-focused curriculum.
According to the professor, the outlined curriculum for the TESI program is mostly based on information from Butte College, which passed along an outline of its own ICT program, following the CompTIA IT Fundamentals + certification exam. 
"That was super helpful," recalls Murphy. "[The curriculum] was kind of how they did it and then we made it our own, with our own little twists and turns on it." 
Students can leave TESI equipped with genuine industry certification. Passing the CompTIA IT Fundamentals + certification exam shows employers that the student fully understands the basics of IT and additional essential computer skills vital for a high-powered ICT career.
Says Murphy, "It's good to have that college coursework as well as the industry cert when you're looking for a job." 
Among the TESI program's highlights are the weekly industry field trips, in which students participate in 'job shadowing' opportunities to learn the basics of how ICT incorporates into businesses. With participants like Harper Motors, Deloitte Access Labs, IBM, and more providing support, the real-world industry experience for TESI students is nothing short of priceless. 
"They're getting to basically meet people they might eventually land a job with later on," explains Murphy. "It's networking, as well as getting to really see what these different industries do, and how IT work is integrated into that particular business." 
Not only is TESI setting students up for high-tech careers, it's allowing students to develop a well-rounded professional skillset. Prior to enrolling, students must go through an interview with faculty. At the end of the program, students present their final projects in front of instructors, fellow classmates, and additional collaborators. 
"It's basically the student's first introduction to a college class," says Murphy. "They're actually going to earn half a unit of Cooperative Work Experience coursework, so they're actually earning a unit, which is cool."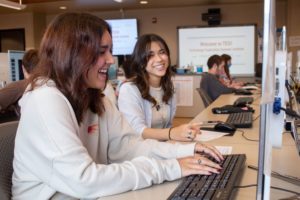 The Cooperative Work Experience Education (CWEE) program at College of the Redwoods helps connect students to paid or unpaid internships in which they can simultaneously earn college credit. Montel Vander Horck, Career Center Director and Enrollment Manager for the College of the Redwood's Cooperative Work Experience Program, says CWE helps students "gain valuable experience, grow their skills, and make connections within the community." 
"Learning about an industry or profession through work-based learning can also help students understand more about themselves and how their interests, skills, and values can best be applied within their chosen educational and career pathways," says Vander Horck. 
TESI isn't the only summer-based learning program at College of the Redwoods. The Health-Careers Exploration Summer Institute — or HESI – also provides health-focused high school students with the opportunity to further explore their career options in the healthcare field.
"The [HESI] model could be expanded to include more of our trades programs," says Vander Horck. "These programs empower youth, helping them understand the tremendous opportunities available through career education, and can contribute to sectors struggling to replace retired workers." 
Once the program ends, the possibilities are just beginning for TESI alums. Starting this summer, College of the Redwoods is offering to integrate its career counselors in the TESI program to assist high school students plan their next steps. 
With opportunities growing at a faster-than-average eight-percent rate, Information and Communication Technologies is one of the fastest growing industries in the North and Far North regions. Between the dynamic real-world experience, practice of professional skills, and support in navigating a collegiate environment, TESI is continuing to introduce a new generation of technology-driven students into the workforce. 
"I am excited and honored to have the chance to work with these bright young minds," beams McLaughlin. "I look forward to helping them apply their newfound skills and abilities to the fascinating projects they will develop as they enter the next chapter of their academic journeys." 
Learn more about TESI I and TESI II by visiting hcoe.org/tesi. 
May 2023