Lassen Educator Aims to Ease Rural Nursing Blight
News Center – June 2021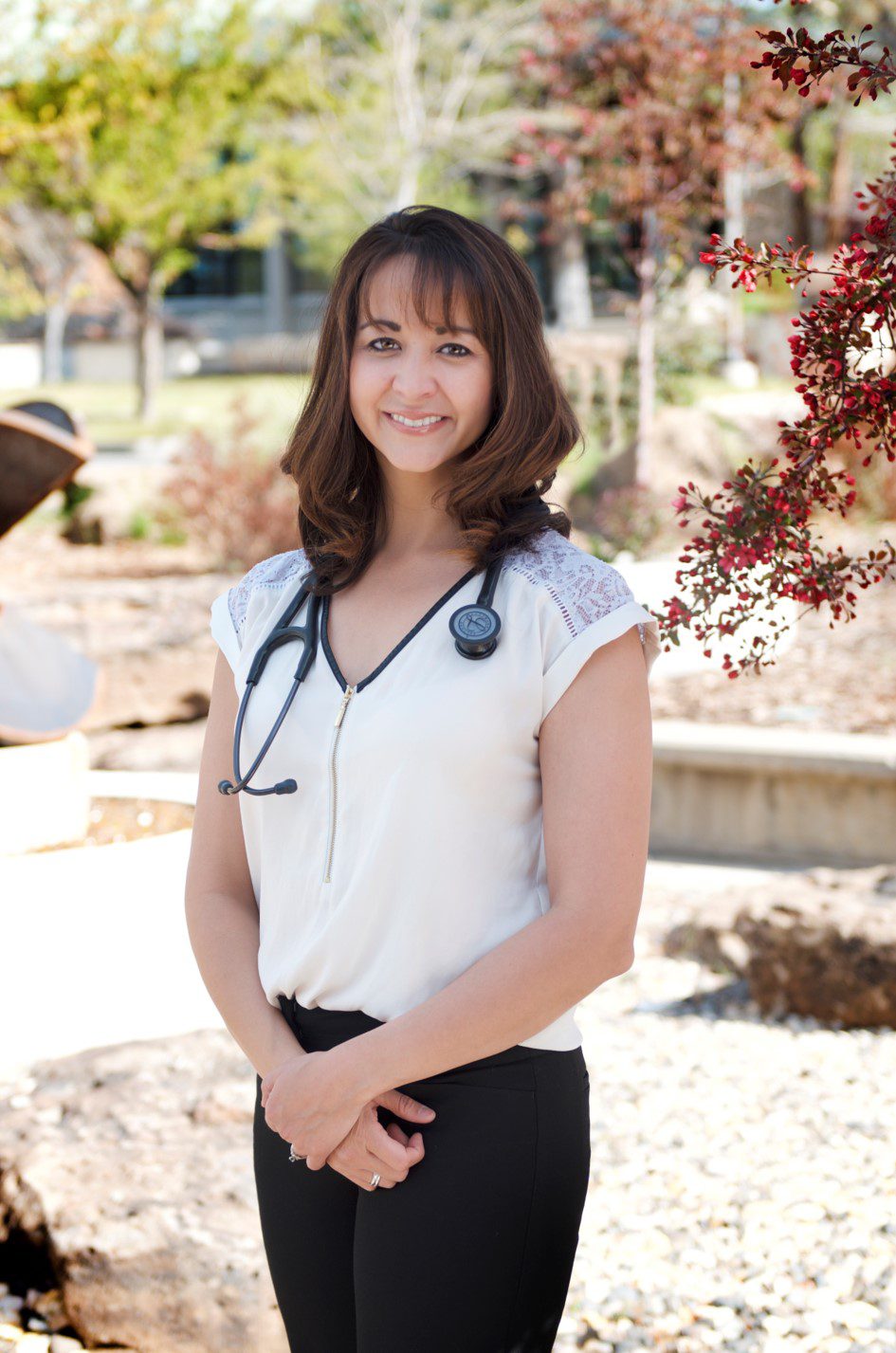 It was always easy for Celeste Wiser to picture herself as a college educator, doing her part to boost the quality and quantity of nurses in rural Northern California. She just pictured herself a little older.
"I definitely thought I would have a lot of gray hair before that," jokes Wiser.
A nursing instructor at Lassen College, Wiser is one of a growing number of practicing nurses gravitating toward careers in higher education. And with California's nation-worst nursing shortage projected to reach critical mass by 2030? It's a welcome trend.
"When we're short on nurses, it affects our community," says the proud professor, part of the original team to reboot the College's critical LVN program in 2017, and a driving force behind Lassen's attempts to bolster the local workforce.
Nursing is more than a gritty, gratifying career. It's also one of the top five fastest-growing occupations in the country, according to the U.S. Bureau of Labor Statistics. And though the need is staggering, nursing schools in the U.S. were forced to turn away some 80,400 qualified applicants in 2019, according to the American Association of Colleges of Nursing, with most schools blaming a lack of faculty. In more remote areas, like rural Northern California, the deficit of qualified faculty is all the more devastating.
"We do find it really difficult to recruit healthcare professionals in rural markets," says Sandy Dugger, CEO at Banner Lassen Medical Center. In fact, rural communities shoulder 63 percent of primary health shortages, according to the Designated HPSA Quarterly Summary.
That's why Dugger is working closely with Lassen Community College to build a brand new LVN to RN Bridge program in 2022 to grow more local talent.
"Our biggest need is RNs," the CEO explains. In the new program, hospital team members will share their expertise with students, providing a shot in the arm for future educators and the essential workforce.
"It will continue to build on that availability of RNs right here in our own community and help build that deeper talent pool for all of us to draw on," says Dugger. "It's super exciting to be building on a really strong partnership."
For Wiser, who sparked a passion for the profession early in high school, becoming a nurse felt like answering a call. She earned her BSN from Linfield University in Oregon in 2013, and she says that with "every clinical site I went to, I just fell more and more in love with nursing."
The plan had been to work in Portland, but when her father suffered from cardiac complications after surgery, she returned to Lassen County to support him. While employed at her hometown hospital, she constantly worked with traveling nurses because there wasn't enough local talent.
"In the smaller communities, there are not as many bachelor-prepared nurses," laments Wiser. "So, I took a step back and said, 'I need to get my master's… I want to make sure that we're providing the very best care we can in a rural community.'"
While earning that master's in nursing, she connected with Lassen Community College, and the emerging LVN program "became like my baby."
The rest is history. Since 2017, the LVN program has graduated 76 nurses and boasts an NCLEX passing rate of 86 to 89 percent.
"We've seen people who want a better life for their families, and they are falling in love with nursing," beams Wiser. She says she regularly receives texts from the local realtor when former students – new nurses who thought "having a career wasn't even in the cards" – buy their first homes.
It's been a rewarding ride for Wiser, who, despite no longer practicing as a nurse, feels very much connected to the industry she's always loved.
"I still care for patients when my students have them," she explains. Overseeing clinical work, after all, is a favorite part of her job – and it benefits students, too.
"It's going to help them in the future to provide the best patient care."
Celeste's work is not only inspiring to students. It has made believers out of industry partners like Dugger.
"She's just amazing with those students, and she has the patience of a saint," says the CEO. "That 10 months while they're here in the facility is just something else to see… They take great pride in their students."
For Wiser, nothing could be more satisfying than building a healthier community. And in a small town, her students' success is personal.
"Our past students are giving my daughters vaccinations; They were my OB nurses during my two pregnancies," shares Wiser. "When they walk into the room, we're excited because we know we're going to receive the very best care."
For the former student who gave those vaccinations, it was an honor to have the opportunity to return Wiser's favor.
"In a small town, you better train those nurses well," says Lassen alum Ronda Gillis, Public Health Nurse. "The chances are good that those nurses are going to be taking care of one of your family members!"
Gillis was in the College's very first LVN cohort, and she credits the program for allowing her to stop being a mail carrier at age 48 and start delivering health care instead. The best part of working at Lassen County Public Health, according to Gillis, is that it is one of the clinical sites for her alma mater.
"I still get to participate in educating those students," beams the new nurse. "It's like one big team effort."
It's a common story in the county, where LVN grads now work in almost every aspect of the local health care system. "We give our new students to our past students," says Wiser about clinical experiences. "Our knowledge is flooding through these facilities… It's exciting to see our community grow."
This year, Gillis worked closely with the College during a COVID-19 vaccine clinic and helped train students to do contact tracing. "They were an incredible asset to this community," says the Lassen grad.
"I think we got close to 1,000 during our COVID vaccine clinic, and all of our students are the ones who administered the shots," her proud professor adds.
For Gillis, the service also represented a chance to reconnect with her favorite professor. As a nurse now entrenched in the field day-to-day, she's living her mentor's lessons every single shift: "Celeste was and still is the best example about how nurses should conduct themselves."
Thanks to Wiser and the LVN program, Gillis is halfway through the requirements to become an RN and is set to continue her training this fall at Butte College. But she doesn't plan to stop there. She wants to secure her teaching credentials and one day, come back to Lassen Community College and join Wiser's team.
"To be able to work with them would just be a dream come true," says the grateful Gillis. "I became a nurse because I wanted to change people's lives. But I'm starting to see that you can make a bigger difference in the community when you educate the ones that are bedside."
It's exactly the dream Wiser had when she helped start the LVN program, and she couldn't be more excited to watch the talent pool swell.
Looking back, the instructor says, "I never knew that I would work at a nursing program in my hometown, so to be able to come back and impact the community feels great.
"I can't wait to see what else we accomplish."
Sources:
Occupations with the most job growth, U.S. Bureau of Labor Statistics, https://www.bls.gov/emp/tables/occupations-most-job-growth.htm
Nursing Faculty Shortage, The American Association of Colleges of Nursing, https://www.aacnnursing.org/news-information/fact-sheets/nursing-faculty-shortage
Addressing the Rural Nursing Shortage, Teach.com,
https://teach.com/resources/rural-nursing-shortage/
**Pull Quotes**
"I became a nurse because I wanted to change people's lives. But I'm starting to see that you can make a bigger difference in the community when you educate the ones that are bedside."
"Our past students are giving my daughters vaccinations; They were my OB nurses during my two pregnancies… When they walk into the room, we're excited because we know we're going to receive the very best care."
"I want to make sure that we're providing the very best care we can in a rural community."