NFNRC – September 2019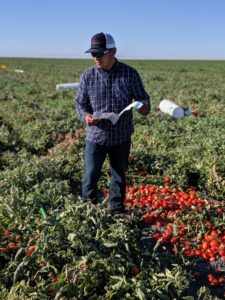 "I'm a first-generation student [and] this is a big milestone for me," Mauricio Ramirez says proudly.
Ramirez works full-time at AgSeeds, while attending the Pest Control Advisor (PCA) program at Woodland College. He has aspirations to become a plant breeder and earn a Ph.D. in plant genetics at UC Davis, but for now, he's happy to be building a bold foundation in one of California's most unique Agriculture programs.
When he first began classes, Ramirez was nervous about returning to school after a five-year break. But the support he received from Woodland College gave him the confidence to continue. And now? He's taking to his coursework like an aphid to plant sap.
"[They] helped me set up my whole schedule," Ramirez relates. "I was going to take classes I didn't even need to take! [They] made sure I was taking the right ones."
And once he started classes, he received a warm welcome. His teachers encouraged participation. He learned to "get into it," and the more teachers called on him, the more he felt motivated to participate.
"I wasn't good at math, so that's what scared me to get into this field," Ramirez admits.
An understandable fear, as plant science requires quite a lot of number crunching. Fortunately, he found assistance in MESA, an academic support program for STEM students. And now, Ramirez is excelling to the point that other students are asking him for help!
"I feel so confident now to take a test, and I know I'll do well," says Ramirez. "It's a good feeling."
While farming has always been a part of his family, Ramirez's interest in agriculture wasn't piqued until he started learning about plant science. Now, his goal is to come up with new varieties of vegetables and fruit. It's a long path to getting his associate, bachelor's, and eventually a Ph.D. But at Woodland College, Ramirez has found the support and tools he needs to walk that road with confidence:
"I know what I want to do, and I'm set to that goal."
Ag is big business!
California is an agricultural leader, growing more than a third of the country's vegetables and two-thirds of the country's fruits, according to the state's Department of Food and Agriculture.
Agriculture and its related industries account for 11 percent of U.S. employment, according to the USDA.
More than 22 million people work in agriculture or a related field, according to Payscale.com.
By value, California produces the most food of any state, according to Farmprogress.com.
Cultivating a great career!
Many jobs in the agricultural sector are considered "Green Occupations" by O*Net Online, indicating that opportunities will continue to expand as green technologies emerge.
🍃 Leaf denotes O-Net Green Occupation
🍃 Agricultural Inspector
Avg. salary: $45,000
Industry growth rate: +7%
Supervisor, Agricultural Crop and Horticultural Workers
Avg. salary: $41,070
Industry growth rate: +6%
Agricultural Technician
Avg. salary: $42,840
Industry growth rate: +9%
Farm and Home Management Advisor
Avg. salary: $49,840
Industry growth rate: +8%
Woodland College grads are finding success with these companies, and more!
Bayer (recently acquired Monsanto)
Pacific Coast Producers
TS&L Seed Company
Syngenta
AgSeeds Unlimited
Grow West
Wilbur Ellis
Ag Unlimited
Nutrien Ag Solutions
BioConsortia
U.S. Department of the Interior
U.S. Department of Agriculture
University of California, Davis