NFNRC – October 2020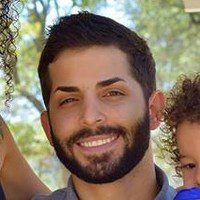 When we think of the career-educated professionals saving lives on the front lines of healthcare, we tend to think of hard-working doctors and nurses bustling around in light-green scrubs.
A little more rarely, we might think of the hospital administrators and support staff, greasing the wheels, putting out fires, and making everything run a little more smoothly.
Pretty much never do we imagine the third kind of hospital hero. A silent hero. A tech-savvy, hacker's-worst-nightmare cybersecurity professional with a holster full of hot digital lead.
That's no overstatement. As cybercriminals attempt to hack into databases to steal private patient information, medical devices hooked up to the same networks are put at risk. When networks are compromised, medical care suffers.
The good news for patients is that experts like Sierra College grad Angelo Lujan are on the job. As a cybersecurity professional, Lujan works on the incident response team at Sutter Health, where he is responsible for monitoring the network for internal and external threats.
If Lujan's team receives a malware alert in the network, they take that information, analyze the logs generated by the security tools, and get to work. They find out how the malware got there, whether it executed, and what happened if it did. If the malware spreads, they contain it so it doesn't affect the business.
"We protect personal health information from getting into attackers' hands," says Lujan.
Lujan, a 2017 Sierra College grad, looks back fondly on his days as a student. And with other Sierra College alums working with him at Sutter Health, it's not hard to find a receptive ear to reminisce.
While at Sierra, Lujan took an Ethical Hacking course with instructor Jonathan Taylor. Now, the two are colleagues, with Taylor serving as Director of Privacy and Information Security at Sutter Health. Some would say it's a small world… but Lujan says it was Taylor's class that ignited his passion for cybersecurity in the first place.
"I didn't know how interesting it was until I took those classes," he recalls.
During his final semester at Sierra, Lujan got motivated to earn additional industry certifications along with his Networking and Security Degree. It was due to this hard work and planning that he was able to be "recruited right out of the gate" into a successful cybersecurity career. Starting as a contractor, working with managed care firm Centene, Lujan went on to receive another contract at Sutter Health, which turned into a full-time position.
He credits his experience at Sierra College for his career confidence, citing not only the quality of education, but the support and encouragement he received from his instructors.
"I was fortunate to have good teachers to get me that foundation and that theory," says Lujan. "I was able to recognize what other security professionals were talking about because those concepts were taught to me at Sierra College."
A World of Opportunity…
There are 11.8 million net tech jobs in the US, including 1.5 million positions for software and web developers.
In 2017, the tech industry in California added more than 43,000 jobs, generating over $385 billion for the state economy.
The 30 highest-paying jobs in California include computer hardware engineers (#29) and computer and information systems managers (#15)
Computer and information technology occupations are expected to grow 13 percent until 2026, much faster than the average for other occupations, for a total of about 557,100 new jobs.
California ranks #1 in total number of technology jobs.
Salary Highlights
Many jobs in the IT sector are "Bright Outlook Occupations," according to O*Net Online, indicating that opportunities are expanding rapidly.
☀️ Sun icon denotes O-Net Bright Outlook Occupation.
Information Security Analysts ☀️
Avg. salary: $109,200 Growth rate: +28% (much higher than average)
Software Developers ☀️
Avg. salary: $127,670 Growth rate: +13% (much higher than average)
Computer and Information Systems Managers ☀️
Avg. salary: $167,150 Growth rate: +18% (much higher than average)
Database Administrators ☀️
Avg. salary: $101,240 Growth rate: +18% (much higher than average)
Computer and Information Research Scientists ☀️
Avg. salary: $128,370 Growth rate: +22% (much higher than average)
Regional Employers
Sutter Health
Centene Corporation
Deloitte
PTP
Pacific Gas And Electric Company
Splunk
Google
Apple
Blue Shield of California
Intel
University Enterprises
California State University, Sacramento
And more!
Sources:
CompTIA
https://www.comptia.org/about-us/newsroom/press-releases/2018/03/27/california-tech-industry-adds-more-than-43-000-jobs-in-2017-contributing-more-than-$385-billion-to-state-s-economy
Business Insider
https://www.businessinsider.com/the-30-highest-paying-jobs-in-california-2019-3#2-oral-and-maxillofacial-surgeons-29
U.S. Bureau of Labor Statistics
https://www.bls.gov/ooh/computer-and-information-technology/home.htm
Forbes
https://www.forbes.com/sites/kaytiezimmerman/2017/08/01/best-states-to-land-a-high-paying-technology-job/#504843244e10