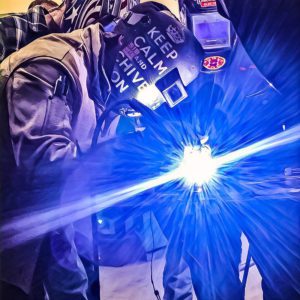 Butte College Welding Connects Grads to Career Success
Butte College Welding Program – April 2020 News Center
It may sound like a bad pun… and, it is. But the fact is: there's a bond among welders.
For the skilled professionals that literally hold businesses together – from rocket laboratories to vodka distilleries – there's an unspoken common approach. Gritty. Independent. Light on lollygagging, and heavy on elbow grease. It's a philosophy that Butte College Welding program students adopt from day one.
"They have a really strong work ethic, and they're ready to go to work when we get them from day one," says Kevin Hyler-Smith, Boilermaker Foreman at R.F. MacDonald, about his fellow grads. Since joining the industrial equipment supplier in 2008, he has seen a number of his fellow Butte College alumni hired.
Professional welders in positions like these command considerable paychecks, and thanks to workforce-focused training programs like the one at Butte College, they're often hired for real-world, living-wage positions less than a year after beginning their certifications.
For Hyler-Smith, Butte College's vaunted welding program would prove to be an "excellent choice," both personally and financially. A father of seven, he credits his recession-proof training for not only forging a path to a fulfilling career, but for creating strength and stability in his home life.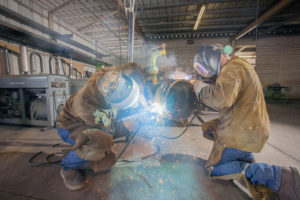 "I've been able to provide for my family in a very good manner and never had any questions or doubts about how I was going to provide that next meal," he reflects. "I owe all of that back to going through the program [at Butte]."
Hyler-Smith's story of soldering success started during his sophomore year at Red Bluff High School. His teacher, Don Robinson, took the class on a tour of the Butte College program, and though the visit lit a spark, it would take time for him to consider welding as a career. Hyler-Smith dabbled in car sales and juvenile corrections, never really finding a passion. Once he turned 24 and began having children – and the debt that tends to come with them – he reflected on his Butte College visit.
"I finally woke up and decided I needed to go through the welding program," recalls Hyler-Smith, who was thrilled to find that his high school teacher – the same "Mr. Robinson" who had introduced him to Butte back in his sophomore year – had become a welding professor at the College.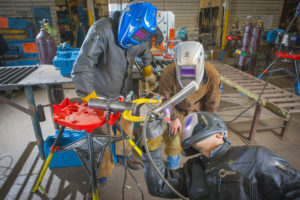 While welding programs are a common career education staple, according to Hyler-Smith, they are not all created equal. Encompassing older technology, all the way up to the cutting-edge, he says Butte College's hands-on curriculum focuses on the precise skills grads need when they enter the workforce.
"That was what I enjoyed," says the proud alum. "I was getting taught real-world experience while I was going through the program."
Meanwhile, Robinson was opening his eyes to the many career options available in the field. Through guest speakers and field trips, Hyler-Smith learned that "there's more than just standing in a booth and welding — it encompasses a lot of different trades."
Hyler-Smith gravitated toward boilers, which are used in industries from health care to gold mining. When his instructor shared a recruitment video for R.F. MacDonald, he applied for an apprenticeship, and the rest was history. Soon, he would work his way up to lead, and later, foreman, and has been putting his passion to work ever since.
"It's a great company," beams the 12-year veteran. "We're the largest boiler rep in the United States."
That's not to imply that a large company can't sometimes seem like a small world. By circumstance, Hyler-Smith's fellow foreman in the Hayward office is also a Butte College graduate, and he's not the only one. From the company's offices in Sacramento to Reno and even as far as Oregon, Butte welding alums can be found far and wide.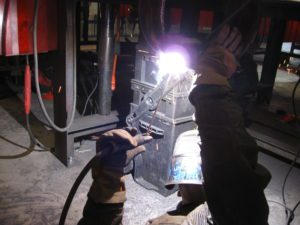 "We get excellent quality employees out of the program," says Hyler-Smith. "We've hired at least one person from every graduating class since 2008."
Today, Hyler-Smith stays connected to his beloved alma mater as an advisory board member representing R.F. MacDonald. The company helps sponsor the program's graduation barbecue every year, performs mock interviews, and has even set up a scholarship endowment for Butte College welding students.
For his part in Hyler-Smith's success story, Robinson says he couldn't be prouder.
"Kevin and I have become close friends over the years," says the Butte faculty member and current Director of Industrial Technology Programs. "It has been a tremendous joy to watch Kevin grow into the man he is today and the career choices that he has made for himself."
Butte College's welding program has been serving students like Hyler-Smith since the 70s, and recently, it has expanded to welcome even more aspiring welders. Last October, the school had a ribbon-cutting ceremony for its new, cutting-edge welding facility, spanning nearly 60,000 square feet – three times the size of their old space. The increased classroom capacity, funded by Measure J, will eliminate the up to two-year waiting list to enroll in the in-demand program.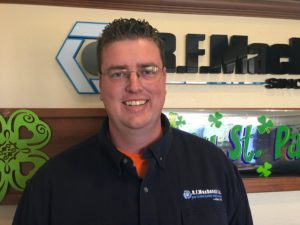 Strong Workforce funding has also been instrumental in equipping the larger space. From high-tech robotic welders to the latest pulse spray welding machines, the program has everything it needs to launch the next generation of welders. Additionally, Strong Workforce funding has expanded support for a new advanced manufacturing program, starting with up-to-date CNC machines.
The industry-standard equipment gives students a competitive edge as they work full days Monday through Friday, and six hours on Saturday. It takes nine months to complete the intensive program, with an extra option to earn the PowerPathway Gas Pipeline Welding certificate, making students workforce-ready in less than a year.
The quick turnaround is crucial because the demand for welders is booming. Students who stay local go on to work in agriculture and construction, while others relocate to work for companies like Tesla and Gatorade.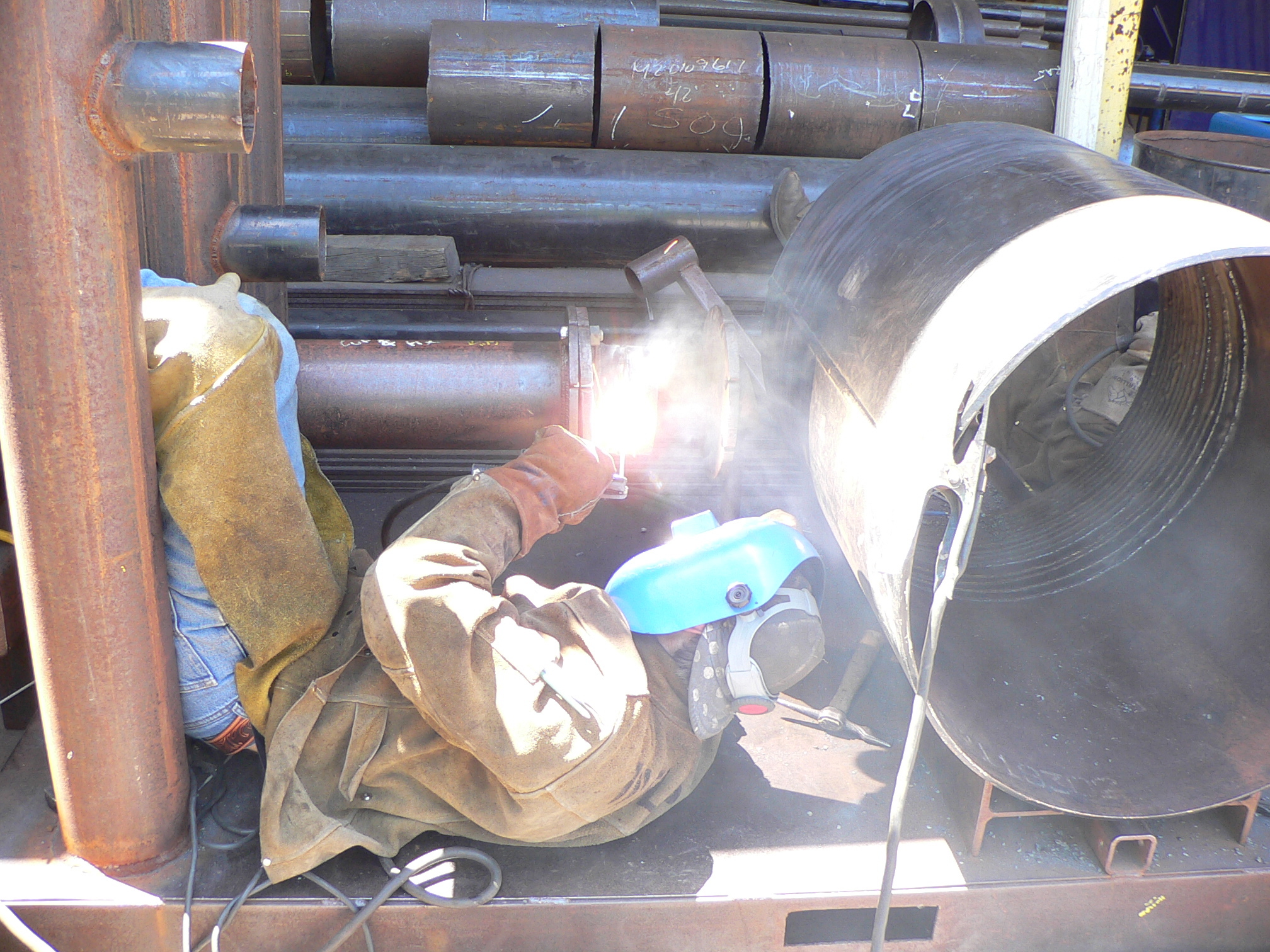 "The sky is the limit — there's welding all over the place," says Travis Stroup, a Butte grad who parlayed his Certificate in PowerPathway Gas Pipeline Welding into a position with PG&E.
The California utility giant helped develop the Butte College curriculum, bringing program grads beyond the standards of the American Petroleum Institute, and into high-paying welding careers. Stroup was one of many students to take advantage of the unique PowerPathway certificate, taking on the extra courses after earning his welding certification at 19.
"We were able to focus 100 percent of our time, for eight weeks straight, on PG&E's additional standards on top of the API code," recalls Stroup, who was hired alongside eight of his classmates by PG&E. "To this day, nine-and-a-half years later, we are all still welding."
"Travis was a gifted welder when he got here," recalls Butte College welding professor and department chair Miles Peacock. "But he definitely was very polished when he left … He's done extremely well for himself."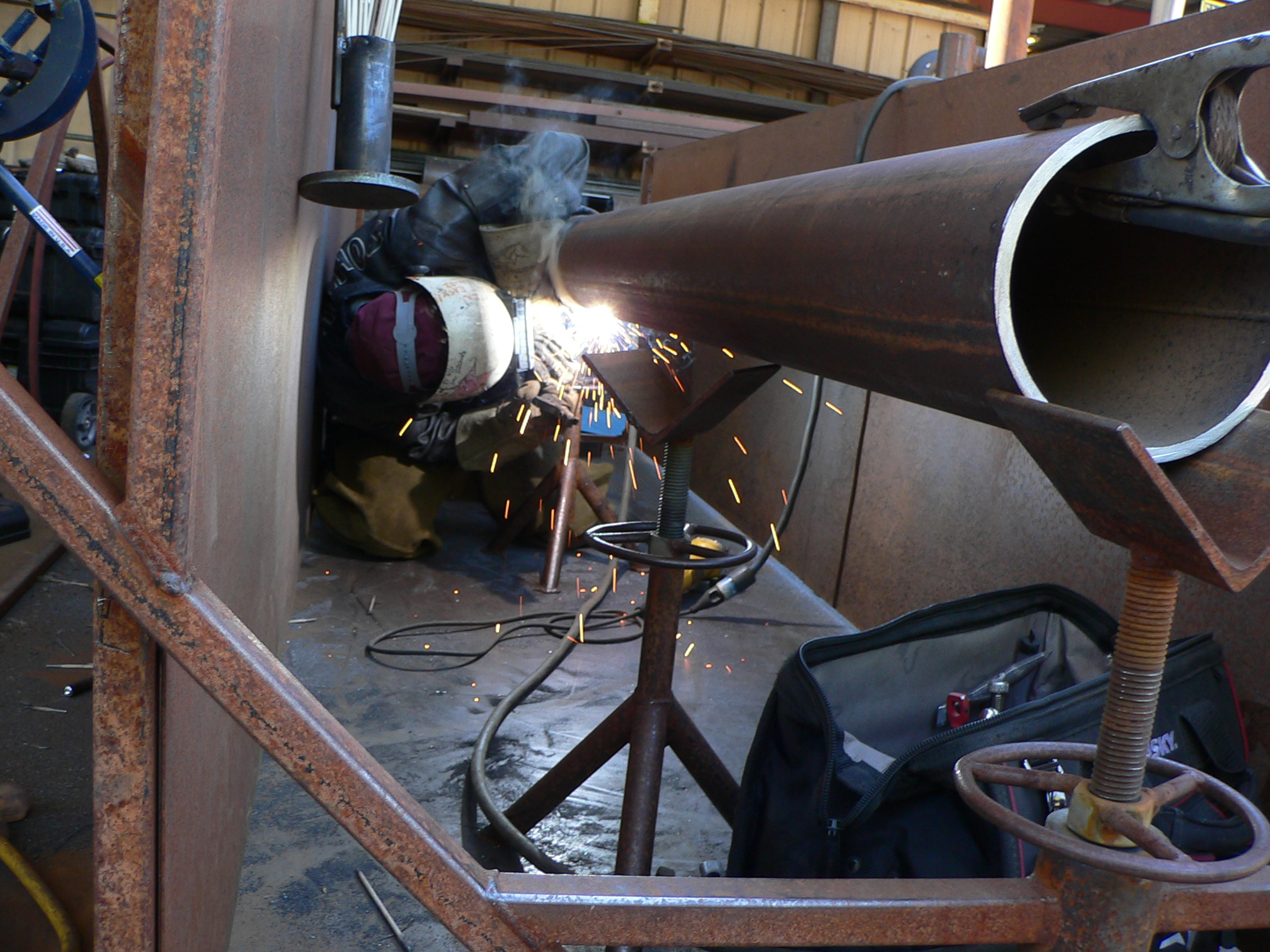 The fact that Stroup – and so many of his classmates – landed important positions at PG&E is hardly a coincidence. To the Butte College grad, it's the program's high standard that sets it apart and tends to breed successful professional welders. He's most thankful for the direct path that his community college provided to his ideal career, and the exciting challenges that PG&E's 42,000 miles of distribution and 6,700 miles of transmission pipeline offer every day.
He's also grateful to his professors, who worked hard to offer a versatile experience, with class time devoted to everything from bridge code to stainless welding for wineries. Says Stroup: "It was all in detail enough to where you could graduate and get a job at each one of those specific industries and be successful."
For all of the possibilities that his fast, focused training would reveal, Stroup can't imagine what his life would be like without the "Butte College bond."
"We did everything at Butte."