News Center – February 2020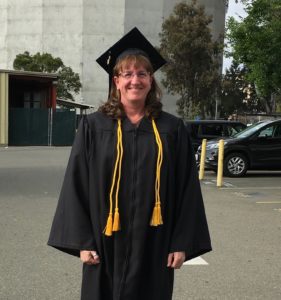 There's a lot more to next-day delivery than just getting that Godzilla garden gnome or inflatable unicorn to your front door on time. Just ask Sacramento City College alumna Jeanie Marshall.
For the past two years, maintaining the aeronautical fleet that carries Amazon's precious cargo has been Marshall's prime responsibility. And it's not something she takes lightly.
"I take my job very seriously," says Marshall, one of only three female airplane mechanics at Air Transport International (ATI). "When those pilots take off … they're going to get home safe."
It's a hard-earned confidence. Through Sac City College's Aeronautics: Combined Airframe and Powerplant Maintenance (A&P) program, Marshall learned from experienced professionals who never sugar-coated the urgency involved in such a high-stakes calling.
"It's serious stuff, so they have to know the materials," says department chair Phil Cypret, a teacher at the College for over 35 years. "Literally, every time that airplane takes off, lives are in their hands."
Now responsible for her own fleet, Marshall is retroactively pleased that Cypret and other professors insisted on those high standards. In fact, by the time she entered the field professionally, she says, "everything [had] become muscle memory."
Marshall had always felt the pull. As a teenager, she had scored in the 98th percentile for aviation mechanics on an aptitude test. Rather than pursuing aeronautical maintenance, she devoted her high energy and fast reflexes to emergency services, building a successful two-decade career as an EMT.
But after 20 years, Marshall was "burned out," in desperate need of a fresh start. When she realized that Sacramento City College offered the A&P program, she figured it was never too late to follow a dream.
"I can't believe I left a good-paying job, but I mentally and physically couldn't do it anymore," she reflects.
In two years, Marshall learned everything from rivets to hydraulics and engine maintenance. Her hyper-focused classes spanned six hours a day, five days a week, all hosted at a real Sacramento McClellan Airport hangar.
Classwork included intensive hands-on projects, including disassembling and rebuilding aircraft engines. It would have been intimidating, according to Marshall, if not for the dedication and expertise of the program's instructors.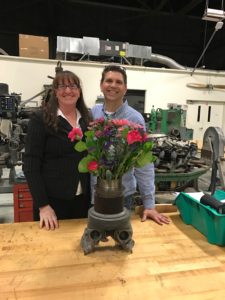 "They really do care about whether you learn or not," says Marshall, who remembers professors like Kevin Goehring going out of his way – even beyond class hours – to answer questions. "They will absolutely go to the mat for you."
Soon after she graduated, Marshall's career began to take off. Encouraged by a fellow student, she applied for the ATI job to service the Amazon fleet. She must have been a prime candidate because she was called on the same day.
"I put in an application at 6 a.m.," recalls Marshall, "and I got a call at 4:30 in the afternoon asking me for an interview."
On that fateful phone call, her soon-to-be supervisor would ask, "You won the outstanding female student award from the College, didn't you?" He had seen the post about Marshall's school-wide honor on Facebook.
"I went from having a 20-year career to going in a different direction," Marshall says about the honor. "It takes a lot of guts to do that."
It turns out that her future boss, and two of the company's lead mechanics, were all fellow graduates of the A&P program at Sac City. Though Marshall didn't have the three years of experience required by the application, they knew their fellow Panther would be the perfect addition to the team.
Recalls Marshall: "I went in two days later for an interview and was offered a job."
Thanks to success stories like Marshall's, the program continues to catch the eye of industry employers like ATI. Recently, the company visited campus for an industry meeting and took the opportunity to thank Cypret for sending such a qualified professional.
"They brought up what a great employee she is and how happy they are with her," says the proud professor. "She's going to move up in ATI very, very quickly."
A graduate of the A&P program himself and an industry veteran of more than four decades, Cypret says that the program's professors maintain a close relationship with their grads. Additionally, many former students go on to management positions, and often return to their alma mater to find potential employees.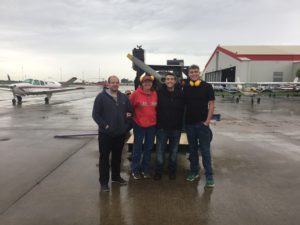 "That's a benefit to students, just keeping your pulse on the industry and knowing who's hiring," says Cypret. "And industry likes that because we recommend people that are a good fit for their company."
Many of the program's second-year students find work in the field while they are still in school, gaining real-world experience while getting a foot in the door.
"Universally, they're all offered a full-time job at a significant pay raise as soon as they gain their certification and graduate," says Cypret.
In fact, Sac City alumni can be found across pretty much any major company that touches aeronautical maintenance. With demand high, companies like United Airlines, American Airlines, FedEx, and UPS, are scooping up qualified grads as soon as they can.
"We have people knocking on their door and sending them emails," says Goehring. "We have people calling us, asking 'Please send me somebody.'"
"I have been in aviation well over 40 years, and I have never seen employment demand like this before," agrees Cypret.
According to the 2019 Boeing Pilot & Technician Outlook, 193,000 new maintenance technicians will be needed in North American over the next 20 years. And in California, demand for aircraft mechanics is skyrocketing — with jobs expanding at a rate more than four times the national average.
"There are predictions that if they don't start filling those needs, you're going to start seeing flight delays," warns Goehring. "They'll simply say, 'Well, we couldn't get anybody to work on the plane.'"
But the industry's challenge represents a lucrative opportunity for students. Aircraft mechanic jobs pay a median salary of $70,980 in California, according to the Bureau of Labor Statistics, and with experience, that number can soar.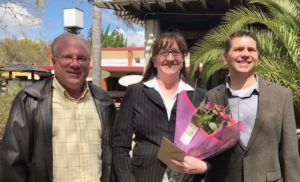 "It's funny, because we see students who come back after just a few years, and they're making more money than we are," says Cypret. "But you know what? I'm really proud of that."
Established in 1932, Sacramento City College offers one of the oldest operating A&P programs in the country, and it has plans to keep expanding to meet student and industry needs. To support those efforts, the College has employed Strong Workforce Program funding to purchase industry-standard equipment, including training aids that can simulate the more sophisticated aspects of aircraft.
The A&P department is also rolling out a new Nondestructive Testing (NDT) Certificate with the help of Strong Workforce. The testing is used to evaluate aircraft without harming equipment in the process, providing inspection skills that are extremely valuable to future employers.
Goehring has industry experience working in NDT and is currently upgrading to the highest level of certifications. Soon, he'll help the Aeronautics program offer the ultimate level of NDT certification to incumbent workers to boost their professional skills and their pay rates.
According to the Sac City grad, the A&P program is a perfect pathway for non-traditional students who don't fit into the regular classroom, especially other first-generation college students like himself.
"I don't think I would have done well in a math class at the time," he says. "The program taught it to me in a way that I could understand."
And when it comes to passing his knowledge along, it's more than just a job for Goehring.
"I do it because I want to, not because I have to," he says. "It's a passion."