Mendocino College Electrical-Hybrid Vehicles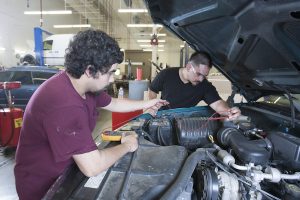 The future is looking greener… but the coveralls aren't getting any cleaner.
With electric and hybrid vehicles poised to take over the industry, the job of an automotive technician is becoming increasingly specialized and high-tech. And while there are fewer moving parts – and therefore less day-to-day maintenance – it's an industry that will always run on elbow grease.
"Sure, there is less regular maintenance, like oil changes, transmission flushes, and the replacement of worn parts," says Michael Pratt, an instructor in Mendocino College's Electric and Hybrid Vehicles program. "But with electric, there's a lot more need for accurate diagnosis. It's the easier jobs that are going away, and the work will actually become more complex." 
There's been a whole lot of buzz about electric vehicles in the past 15 years, and with good reason. S&P Global Mobility predicts that sales of all-electric passenger cars could soar as high as 40 percent by 2030; The Bureau of Labor Statistics puts that percentage even higher. And of course, California has announced that all new vehicles sold in the state must be electric by 2035.  
With 2021's Infrastructure Investment and Jobs Act, which allocated $7.5 billion to build charging networks nationwide, one of the causes of consumer reluctance is slowly eroding. Concern for the environment, improved electric battery capacity, and the fluctuating cost of gas are also driving the move toward electric.
As far as vehicle maintenance goes, the current need in the North Far North is for technicians trained in the maintenance of hybrid cars. In any shop, "there's going to be a Prius coming through the door," says Pratt. "Electric vehicles are still a little more specialized here, although the need is much greater in the San Francisco area. But in a few years, we're going to see a lot more non-carbon vehicles needing diagnostics and repair." 
Gearing Up for Change
For the past two years, Mendocino College has been addressing that need with new classes in the automotive technology sector that focus on hybrid and electric vehicle technology. Automotive students can now pursue a Certificate of Achievement in Advanced Automotive Technology-Hybrid/Electric Vehicles at Mendocino College, boosting both career prospects and potential salaries. 
"Those who finish the classes and become certified can work on all vehicles, but the hybrid and electric classes are more advanced," says Pratt. 
The Certificate, launched to address labor market trends identified by the Far North Center of Excellence, prepares students for in-demand careers as Electric Equipment Installers ($41,600 avg. salary) and Automotive Service Technicians ($46,970). Meanwhile, the College is revving up for an additional alternative fuels course, slated to launch in 2024. 
Today's automotive service technicians work on integrated electronic systems and need to understand the computers that are regulating the vehicle. They must be certified to work on high-voltage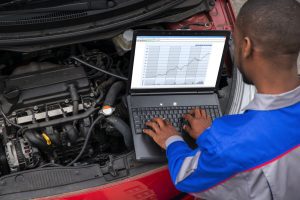 electrical systems and know how to handle lithium batteries and electric generators. Automotive maintenance may be a legacy industry, but it's changed enormously in the past 30 years, according to Pratt. Going forward, the instructor predicts, it will continue to change. 
"The number one problem we see is with isolation faults," says Pratt, explaining an all-too-typical issue in which the vehicle's internal safety feature sees a problem and shuts all the high voltage down. In this instance, the technician has to have the knowledge and tools necessary to diagnose the problem given very little information. "Technicians must be able to figure out hydraulic, electric, AC and DC systems, compression of gasses… sometimes, I think the perception of what they do has not caught up with reality."
Shifting into Success
The students cycling through Mendocino's Hybrid-Electric classes are a mix of recent high school graduates and older students. Sky Aragon, for example, started the program when he was still in high school, and completed the four semesters of study he needed to certify as an automotive chassis specialist. More recently, he returned to Mendocino for an additional electric vehicle workshop. 
Approximately 75 percent of students are in the program for certification, with about a quarter going on to earn associate degrees. Like Aragon, "they often come back if we offer a new class," says Pratt.
To meet the ongoing need for more qualified technicians, Pratt runs two entry-level classes of 20 students each. The more advanced classes number around 10 students. Since many students are working, most classes are in the evening. The College offers multiple certificate programs, in line with California-specific industry regulations.   
"In California, you need a license to do emissions testing, hybrid technology, or to work with alternative fuels, among other things," says Pratt.
Success stories are already emerging, like that of Mendocino College student Upton Adams. Spurred on by an early interest in mechanics, Adams predicted his calling in high school.
"I wrote a research paper on how much more efficient electric motors are than combustion engines," he recalls. "My interest wasn't really environmental; it was efficiency. That was before I started taking classes in mechanics."
Currently a heavy-duty diesel technician for a large waste company, Adams has been in the automotive industry for 10 years and understands the changes coming within the next few years. To stay ahead, and potentially super-charge his earning power, he enrolled at Mendocino College, completing courses specific to hybrid maintenance in Spring 2023. Now, he's in position to hit the ground running in a fast-growing field expected to explode as California approaches its 2035 deadline to require all new cars to fit "zero-emission" standards.
"California's electric vehicle law will affect the fleet at my company, and I'm positioning myself to remain valuable to them," says Adams. "There are very few technicians in the field who have occupational experience with these vehicles." 
Although his company didn't pay for his return to school, Adams has no regrets. "I believe it will pay off in the future," he says. "Change is going to happen."
Sources:
https://www.bls.gov/ooh/installation-maintenance-and-repair/automotive-service-technicians-and-mechanics.htm#tab-1
S&P Global Mobility forecasts electric vehicle sales in the United States could reach 40 percent of total passenger car sales by 2030, and more optimistic projections foresee electric vehicle sales surpassing 50 percent by 2030.2—Charging into the Future, 2023 (BLS)
Infrastructure Act and charging stations:
https://www.whitehouse.gov/briefing-room/statements-releases/2021/12/13/fact-sheet-the-biden-harris-electric-vehicle-charging-action-plan/
https://www.onetonline.org/link/localwages/49-2096.00?st=CA 
May 2023