K-12 Ag & Natural Resources Industry Day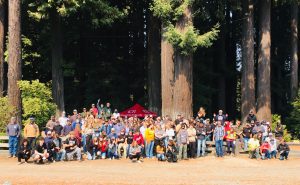 Northern California's timber business is buzzing, but finding enough employees to meet sky-high demand is a real logjam.
"It's really become close to a crisis in the timber industry to attract workers," says Sal Chinnici, Director of Forest Sciences at Humboldt and Mendocino Redwood Companies. 
From loggers to sawmill operators, foresters, wildlife biologists, and fishery techs, the director says the applicant pool is shrinking as the workforce ages. He recalls, "We saw a need to collaborate and educate young folks about jobs in our industry."
That's why the North Coast Agriculture Partners, a group of 16 high school agriculture programs in the Far North, created the "Redwood Region Resource Rally." This day-long demonstration brings students from all over the region to the Humboldt and Mendocino Redwood Companies facilities, where industry experts teach fun, hands-on activities in mechanics, fisheries, timber falling, and more. The rally also includes a separate track for agriculture production students to tour local dairy, beef, and organic produce farms. 
This September, about 200 students from Humboldt, Del Norte, Trinity, Mendocino, and Lake counties traveled to the seventh annual rally in Scotia, exploring high-demand, high-paying careers in agriculture and natural resources.
"It's not a regular career day," says Sandra "Sandy" Dale, Agriculture Program Specialist for the North Coast Agriculture Partners. "Students interact with industry professionals and participate in activities that are representative of what they might be doing in the field."
For example, learners measured and tagged fish with fishery biologists, watched a cutter fell timber, and were instructed by foresters to measure trees with clinometers. These practical applications would be impossible to teach in the classroom but came alive as 50+ industry volunteers gave students a glimpse into their everyday work.  
"It's definitely the next level up on the ladder of workplace learning," says Dale. The event is exclusively for juniors and seniors involved in the agriculture and natural resources pathways at their school and seeking jobs in the industry.
"When Sandy first brought up this idea, I jumped at the chance to participate," says Chinnici, who is excited to "pay it forward" for young learners.  "Because of the event, we've gotten quite a few students working not just for us but also for logging, road maintenance, and road building contractors.
"A lot of these positions are interesting and are good, steady jobs with excellent pay."
The Strong Workforce Program supports the event by helping with transportation, renting supplies, and staff. SWP also helped launch a virtual event during the pandemic by supporting a new video library, which teachers continue to use as an evergreen resource. The event is produced in collaboration with the Humboldt County Farm Bureau, the Redwood Region Logging Conference, and other regional businesses. Educational partners include the College of the Redwoods and Cal Poly Humboldt University.
"It really represents a wide variety of careers that are attractive to students," says Dale. "Our industry partners enjoy sharing their personal stories with students just as much as students enjoy hearing them."
The rally opened new possibilities for student Audrey Gomes, currently studying forestry at Cal Poly Humboldt and an alum of McKinleyville High School and College of the Redwoods.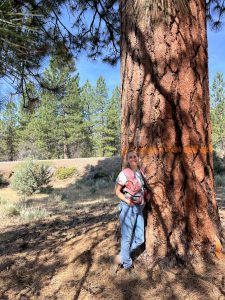 "It was an incredible experience to meet professionals in the industry," says Gomes. "If it wasn't for the resource rally, I don't think I would have had the network of possibilities and guidance to see fisheries, talk to foresters, and find out what it took to get those jobs."
In particular, Gomes mentions the rally's career-awareness station, where investigating real job postings made a big difference. "You got to see exactly what these employers were looking for," says the alum. "That really helped me in my job search."
The rally gave Gomes the gumption to apply for a fishery internship at Green Diamond Resource Company, and she's been gaining valuable work experience ever since. Gomes went on to work as a seasonal fishery employee, then did a third summer as a forest technician, sparking her new career path. Now, after a fourth summer working in forestry tech at Cascade Resource Consultants, she is miles ahead of her peers.
"I'm close to graduation, and a lot of other students [in my year] still don't know what it takes," says the Cal Poly Lumberjack, who aims to become a licensed forester. "The resource rally gave me a leg up and a well-rounded idea of how to build my career from a young age."
According to her College of the Redwoods professor, inspiring students like Gomes is what the rally is all about.
"Audrey is so impressive, and I can't wait to see what else she achieves," beams Valerie Elder, CR Forestry and Natural Resource Instructor. She says each of Gomes's experiences built on each other, starting right in high school. "The rally can be a first step for students exploring forestry career opportunities."
Demand for future registered professional foresters (RPFs) like Gomes is growing. According to Elder, 47 percent of California's RPFs licensed for 30+ years will retire over the next decade. In Humboldt County, which is 80 percent forested, increased pressures from wildfires make the demand especially critical. 
"There are so many jobs needed on all aspects of the chain, from forest restoration to creating healthy, fire-resistant forests into the future," says Elder. The career path is rewarding in more ways than one. The instructor says entry-level forestry technicians can earn up to $50,000 annually. With more education and experience, RPFs can command $70,000, with some jobs posting as high as $120,000.
CR is a proud partner of the rally, informing students how to build career skills at the local community college. According to Elder, the message is getting out: "I had a student in my class just today who was wearing their Redwood Region Resource Rally sweatshirt," says the delighted professor. "The rally instills a sense of pride and belonging in the industry."
After the resource rally, graduating high school seniors can attend a follow-up event in May called "Boots on the Ground." A small group networks with industry partners, and participants fill out job applications by the end of the day. "They show the students around the company sites where they could work, with the idea that they will enter the profession within a few months," says Dale. "The relationship we've built with our industry partners through the resource rally has helped segue to that. … There are just so many wins in getting everybody together."
Plans for the resource rally include increasing hands-on activities and involving even more industry partners. Dale says, "The more industry folks that hear about it, the more they want to participate. The rally has really snowballed."
Gomes is thankful she got to attend the Redwoods Region Resource Rally, and she knows that as the event grows, it will continue to inspire students like her for many years to come:
"Our timber industry is hurting for employees," says the proud alum. "I'm a resource rally success story — it's not only giving students guidance, but it's also benefiting our industry and helping revive it."
September 2023