Yuba College Veterinary Tech Program Delivers Dream Careers
News Center – March 2020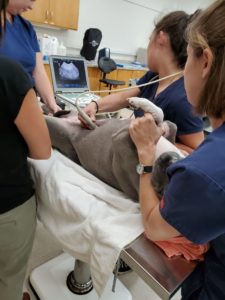 You're at school, but you're head-to-toe in medical scrubs. There's a giant, chest-high bathtub in the corner. Oh, and there's a llama in your class.
If it sounds like a dream… well, for those aspiring to make a living working with animals, it is. Yuba College's unique Veterinary Technology program is preparing students for versatile careers in the animal care industry, where they'll earn great salaries helping vets heal… from the pound to the paddock.
"It's geared toward students going to work right after the program," says Veterinary Technology Specialist and Yuba College faculty member Amber Kuykendall. "The opportunities are vast – I make a point of that in what we're teaching."
It's a broad field, with virtually unlimited career possibilities. And while many program grads are succeeding in veterinary offices, others have gone on to high-paying positions in biomedical research, diagnostics, wildlife management and animal control, education, marketing, the food industry, and even exotic animal medicine.
In a departure from the typical veterinary tech program, which deals primarily with small, domesticated animals, Yuba College students encounter a wide range of real-world experiences, working with pets, livestock, zoo animals, and more. Because the College serves a unique, "hybrid" geographical region encompassing both farmland and suburban sprawl, Kuykendall estimates that the program strikes a 75%-25% balance between small and large animal work.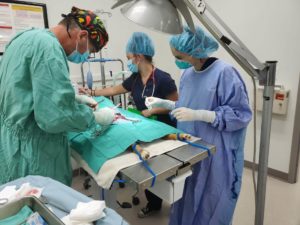 "What's unique is we offer a wide variety of hands-on experiences with different species of animal," Kuykendall says about the versatility of coursework, facilities, and faculty at Yuba College. "All of us have a lot of different work experience and areas of expertise."
For students, that breadth of expertise means a truly one-of-a-kind experience – one which might take them to an SPCA shelter one day, and an alpaca farm the next. While veterinarians perform surgeries, Yuba College veterinary tech students handle virtually everything else, from anesthetics and ultrasounds, to x-rays, monitoring and recovering.
"Students participate in every aspect like a veterinary hospital would," says Kuykendall.
Yuba's jack-of-all-trades approach ensures that program grads hit the ground running in their chosen career, even if they choose a less traveled path.
"[It] provided me with the skills and knowledge necessary to not only pass my exams, but to be a valuable member of veterinary medicine," says alumna Marissa Bothwell, now a Registered Veterinary Assistant working at UC Davis. "Yuba College stands apart."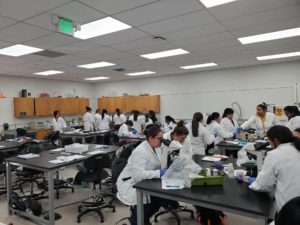 Thanks in part to funding from the Strong Workforce Program, Yuba's veterinary technology program has built one of most complete lab facilities available at a California community college. A tour of the department's new building includes two surgery tables, a digital x-ray machine, two dental unit, blood analyzers, multiple monitoring units for vital signs, a grooming bathtub, and a wet table.
For Kuykendall, who graduated from Yuba College in 2007, the new, state-of-the-art facilities are only part of the department's rapid development. With hospital procedures evolving with leaps in veterinary technology, the program has also responded by adopting a more modern, adaptive, and focused approach.
"The program has changed a lot," says Kuykendall, referencing innovations like clinical lab classes, with content geared toward real-world hospital scenarios. "A lot more courses, and more diverse curriculum. Before it was jam-packed in."
Kuykendall isn't the only program alum to return as an instructor. In fact, ALL of the current veterinary technology faculty at Yuba college are former students in the program. It's an arrangement that ensures connection and continuity in the program, while also serving as something of a nerve center for the regional veterinary technology industry.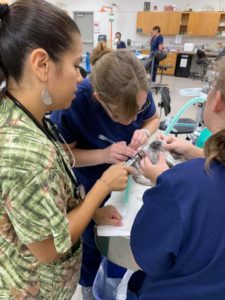 "We do have a pretty big reach — it's all over the place," says Kuykendall. "We have an advisory committee made up of vets and vet techs that meets twice a year to get input and make sure curriculum is up to date."
The College's vast network of industry partners – including local vets and shelters like the Northwest SPCA, City of Yuba Shelter, and Sutter Animal Services Authority – provides the optimal infrastructure for students looking to expand their breadth of experience. For potential industry professionals, it's all about making connections.
"They have strong relationships established with many elite veterinary practices, including UC Davis Veterinary Medical Teaching Hospital," says Bothwell. "This relationship helped me be an optimal candidate for hire, and ultimately to gain a career position."
Situated in California's northern Central Valley, halfway between the hustle of Sacramento and the rural roads of Redding, Yuba College attracts a variety of veterinary technology students, some with a background in farming, and others just dyed-in-the-wool animal lovers.
"We have students come in with farming and agricultural backgrounds… some already with an animal science degree," says Kuykendall, who believes that diversity of experience enriches not only the student, but the staff, as well. "I'm grateful because I don't have a lot of large animal experience."
With countless program graduates finding success locally, Yuba College's diverse and distinct style is flourishing. In fact, in its most recent graduating class, 12 out of 13 students passed RVT certification exam on the first try.
"That, to me, shows that students are learning what we're teaching but also this program's yielding successful students – that's what's important to me," says Kuykendall.
"I am very proud to be part of it, especially since I'm an alum."