NJUHSD Construction, Auto Programs Building on a Blast from the Past
News Center – June 2021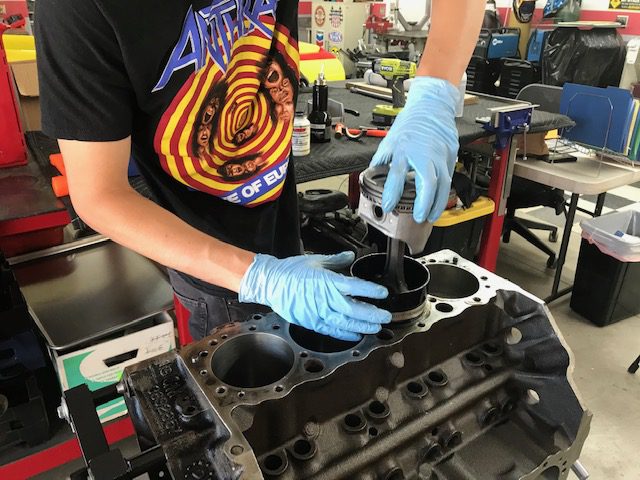 Hands-on has historically meant higher wages. And in the Nevada Joint Union High School District, history is repeating.
Thanks to the District's surging CTE programs, what once were seen as the "lost arts" of construction and automotive are now giving students a whole new set of career options.
"The schools and the industry all work together toward common goals for these kids, really giving them opportunities … to start working toward a trade," says industry partner Jeff Hansen, General Manager and President of Hansen Bros. Enterprises. Since 1953, the construction company has been one of the largest in Nevada County and currently employs about 30 local high school grads.
"A lot of them are coming right out of high school and making 60, 70, $80,000 a year," confides the industry partner.
Hansen has been a key player in helping revive the high school's construction program, which closed six years prior. While an Ag Mechanics pathway had served to bridge some of these crucial skills, it wasn't until this year that a dedicated construction pathway once again put the hammer to the nail.
"It's really a direct answer to the lack of skilled workers that are available in our area," says Construction Technologies Instructor Eli Ferrier, a Nevada Union alum.
He remembers the "robust" construction program from his time in high school and has many friends who received job training and placement. So, he's excited to bring back the good old days of construction to meet the new demand. According to the regional work plan, this industry sector is one of the area's largest employers, expanding by 36 percent over six years with no end in sight.
Thanks to Strong Workforce support, the construction program made its comeback this academic year at Silver Springs High School, with classes available to students throughout the District. Kicking off with two residential and commercial construction sections, classes offered a mix of virtual and in-person learning as social distancing requirements allowed.
"It ended up being better than I ever could have anticipated," says the instructor. "Students are engaged, want the information and want to be there." In addition to outfitting the shop with basic hand, cordless and pneumatic tools, Strong Workforce also helped Ferrier become certified to teach OSHA 10 safety training. Now, students can earn an industry-standard certification before they even graduate high school.
According to the instructor, "The OSHA 10 is kind of the sweet spot for these students, and it demonstrates that they're willing to show up with all those basic job safety skills."
Plans for the program include aligning classes with Sierra College for dual enrollment with Strong Workforce support. The funds are also helping create a new, state-of-the-art building for the construction program at the Park Avenue Education Facility, featuring 2,800+ square feet for the shop and another 1,200 square feet of open-air space. The hope is to complete the project by spring 2022, allowing capacity for 150 students.
Ferrier is also working with industry partners, including the Nevada County Contractors' Association, to devise new internship opportunities for next year's advanced class. Hansen Bros., in particular, is excited to host students, according to the instructor.
"I'm really grateful to Jeff," says Ferrier. "He's been a supporter of trying to get my program off of the ground for years … He wants these guys and gals to acquire a set of skills where they're not ever going to want for work."
An enthusiastic industry partner, Hansen looks forward to helping build solid futures for high schoolers, and is starting to see his dedication pay dividends: "The program is really starting to get a good foundation under it and take off."
As the construction program builds, another "vintage" program — Nevada Union High School's automotive pathway — is revving up to help meet increasing demand.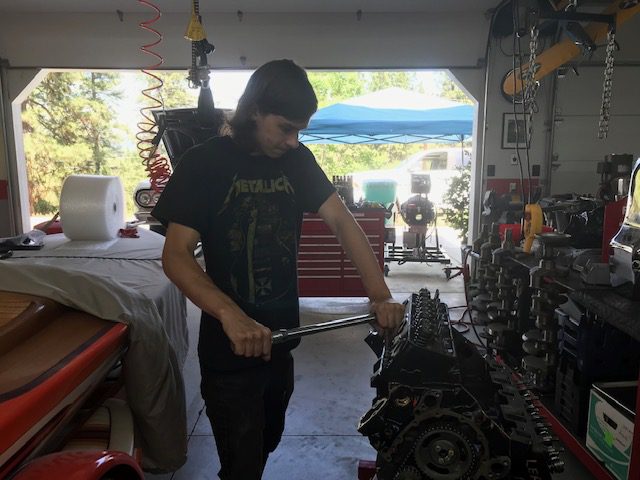 "I get shops calling me as soon as school starts wanting to know when they can have a student [intern]," says Automotive Technology Instructor George Woodward. In the past, students have participated in work-based learning with shops all over the county, including Mel's Transmission, Riebes Auto Parts and Swartz Diesel.
This year, Strong Workforce funding has enabled a new internship with the Nevada County Fleet Maintenance Department, in which students will build experience on local government vehicles and equipment.
"There are very few jobs in the automotive industry that say, 'No experience required, we'll train you,'" explains Woodward. For students to "be able to get their foot in the door and try this career on … that's huge for them to be able to do that at the high school level."
In California, automotive service technicians and mechanics make an average of $50,950, according to the U.S. Bureau of Labor Statistics. Students searching for entry-level positions can launch into the workforce while still in high school, during their capstone course. The pathway also sets them up to continue their education at a community college or automotive trade school.
"It's amazing that I can go around the community and just see students that I've placed at internships that ended up getting a job," says Woodward.
With the help of Strong Workforce, work-based learning coordinators are boosting outreach efforts for the auto program as well. Enrollment has increased in the pathway from about 50 students last year to 100 this year, with classes booked at 100+ for the fall.
Best of all, the grant is making it possible to align courses with Sierra College.
"We're just finishing up our first dual enrollment course," beams Woodward, who says both semesters will count for college credit next year. "It's very rewarding to see students pick this class up and start their career in this field.
"It's been a great career for me, and it's provided well for me my entire life."
For industry-connected members of the local "Roamin Angels" Car Club, the school's pathway is the perfect pipeline to getting hands-on careers in high gear.
"The instructor, George Woodward, is the real deal with extremely technical knowledge," member Bob Norman reports in a club newsletter. Upon a recent visit, Norman says the auto class felt like a college environment: "These kids are miles ahead of me at that age."
Fellow member and owner of Overkill Automotive, Randy Kirkham, couldn't agree more. This is his second year inviting high schoolers to work in his custom car shop. In 2019, a student helped with the shop's hot rod projects and became a competent welder. With his new skills, he went on to work in an auto body shop right after high school. This year, NU senior Parker Lubrant helped the shop owner construct motors, which Kirkham says was the "perfect fit."
"We rebuilt a Chevrolet V8 motor from scratch, and he helped me with other motors as well," recalls Kirkham. "Parker learned very well, and he was a good student."
The future mechanic came in four afternoons a week, learning to work with honing cylinders and tapping threads, assembling and clocking piston rings, and installing bearings. Parker plans on joining the Marine Corps this summer as a diesel truck mechanic, and Kirkham knows his student will excel with real-world experience under his belt.
"It was rewarding to participate in the Nevada Union Mentoring Program," says the industry partner. "They are one of the few high schools that still offer courses like auto shop.
"Skills in the trades are extremely important to our economy and offer students opportunities for well-paying jobs and careers."
Sources:
This is High School Auto Shop, https://roaminangels.com/this-is-high-school-auto-shop/
Summary Report for Automotive Service Technicians and Mechanics, https://www.onetonline.org/link/summary/49-3023.00