New Shasta High Facility Built to Boost Workforce
News Center – February 2021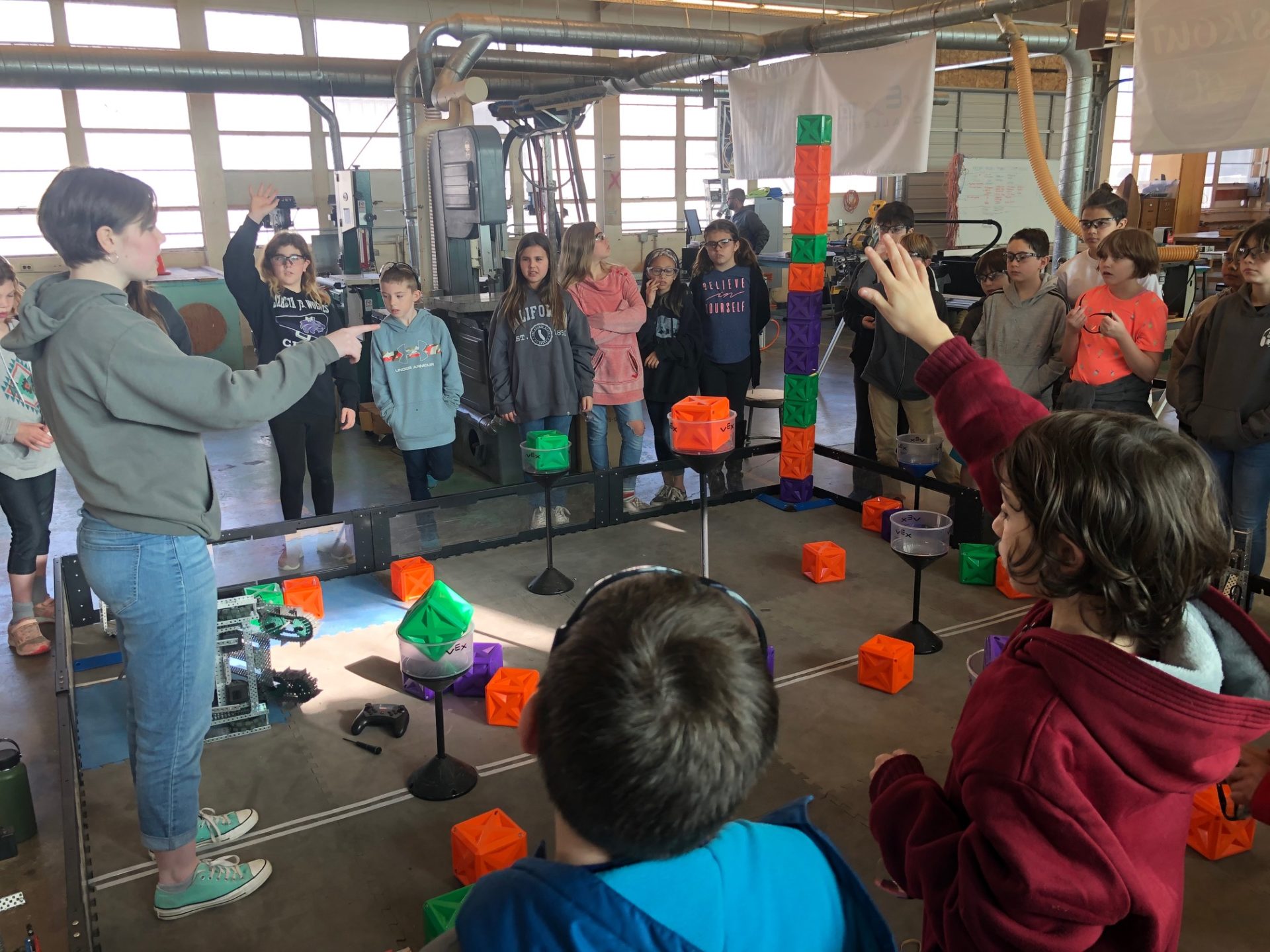 The U.S. is built on manufacturing, with the industry generating more than 11 percent of the economy's total output, according to the National Association of Manufacturers. But there's a problem. Employees old enough to retire now outnumber new workers for the first time since 1948, creating a costly skills gap within the sector. By some estimates, that gap could impact the economy to the tune of $2.5 trillion by 2028.
"One of the things they all say they need is workforce," says Shasta Grow Manufacturing Initiative (GMI) Coordinator Hope Seth, a local partner of industry and education. While it's imperative to capture potential employees right now, she adds, "We also have to look long term at how we are cultivating the future, and that's where education comes in."
Shasta High School is at the forefront of that future, breaking ground on a brand-new Advanced Manufacturing facility that will help students secure in-demand careers that are not only in-demand… but built to last.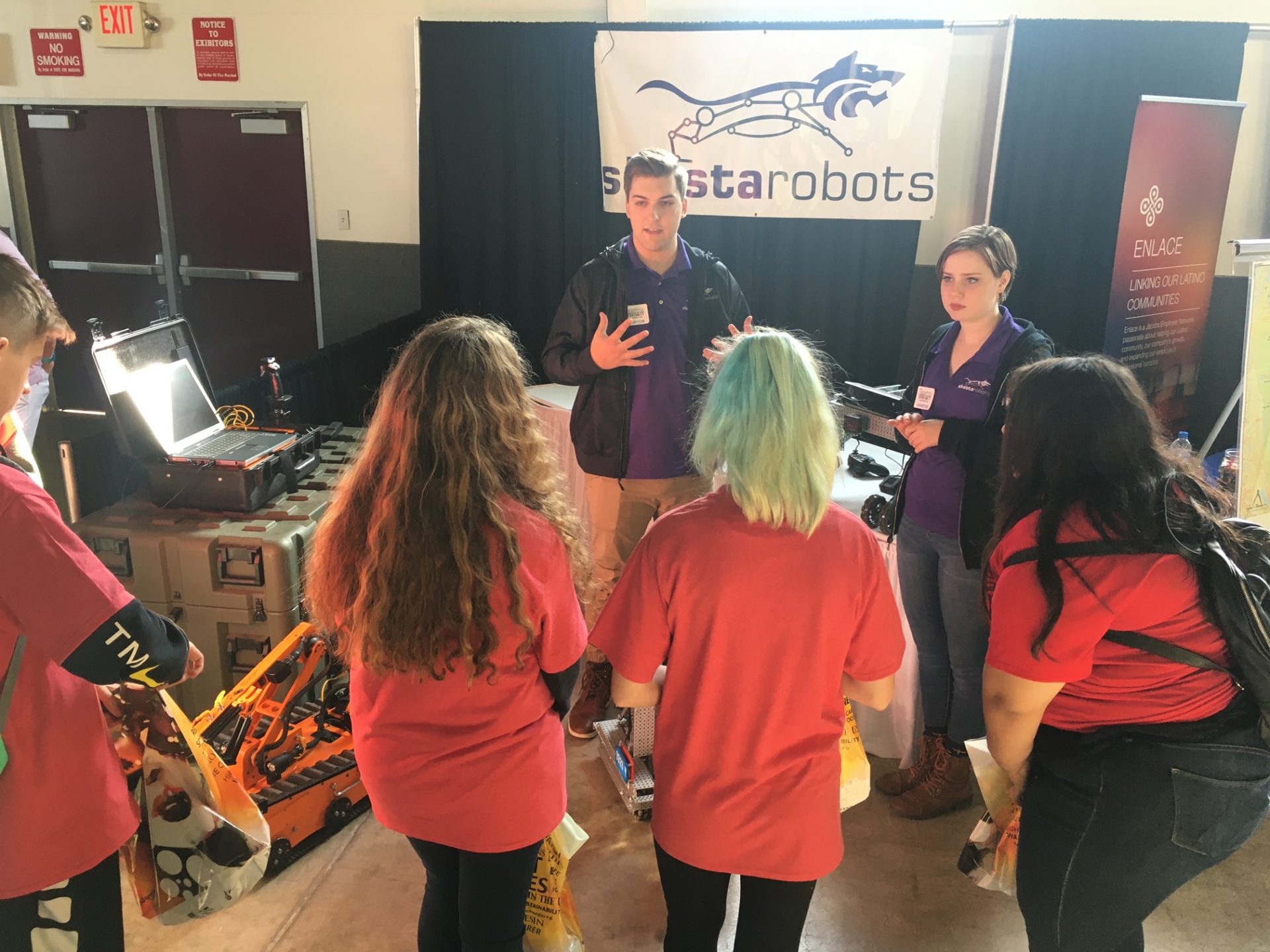 Funded by a Strong Workforce grant to purchase equipment, coupled with a $2.5 million bond to renovate the building, the state-of-the-art space will provide extensive experiential training while setting the stage for student internships and faculty externships. According to Shasta Union High School District Special Programs Administrator Dennis Cahill, "There is a demand for skilled workers, and we want to be a part of it."
The Strong Workforce grant's focus is to open opportunities for underserved students in Advanced Manufacturing, Robotics and Engineering. And with the hands-on shop set to open next school year, faculty are poised to do just that.
"It's not the old woodshop that our parents are used to," says Advanced Manufacturing Teacher Bret Barnes. The building will house advanced metalworking, woodshop, robotics, and CAD labs, with industry-standard equipment like plasma cutters and MakerBot 3D printers to prepare students for the workforce. As the instructor says, "It is probably much higher tech than the majority of the colleges north of Sacramento."
The Advanced Manufacturing program started over 10 years ago with a single class in robotics and has grown exponentially ever since.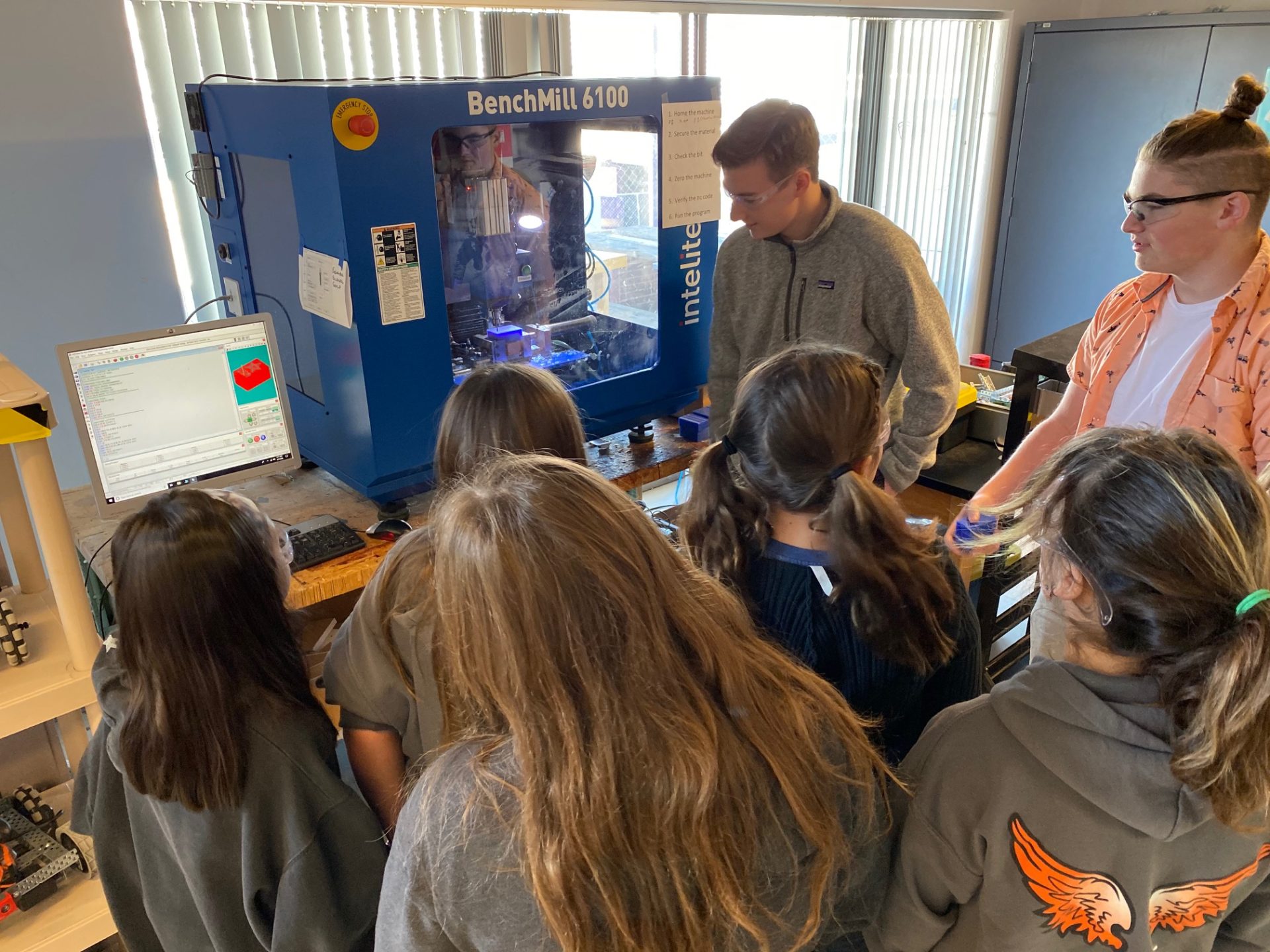 "It's been a wild ride," says Teacher Brian Grigsby, the initial force behind Robotics Engineering Articulation, Certification and Training (REACT). The program encourages students to explore computer science and STEM, and it is now part of a more extensive manufacturing pathway. Grigsby teaches Space, Science and Engineering in addition to Industrial Robotics, while Barnes covers Computer-Aided Design (CAD), Advanced Manufacturing, and the Exploring Engineering class for first-year students.
"We try to hit them all," explains Grigsby. "We have a pretty robust CTE program that we've developed, and it's pretty amazing."
About 150 to 225 students sign up for the hands-on classes in an average year. Shasta College grants dual enrollment for some of the courses, and college faculty participate in "train the trainer" events to teach high school instructors how to use equipment.
"It's a very strong partnership," says Barnes, who continues to work with his colleagues to integrate curriculum even further. "When kids are here, they are actually getting usable skills and knowledge they need once they get to college."
Students also earn industry credentials while still in high school, including certifications in CNC bench milling, OSHA Hand and Power Tools Safety, and usage of industry-level robotic arms. Plans for the future include adding CAD certification in three different programs: Autodesk Inventor, Fusion 360 and SolidWorks. And next year, students in neighboring high schools will have the option of busing over to the new facility to take advantage of the opportunities.
"We get them certified in many different platforms so that if they choose to get a job right out of high school, they have the ability," says Barnes.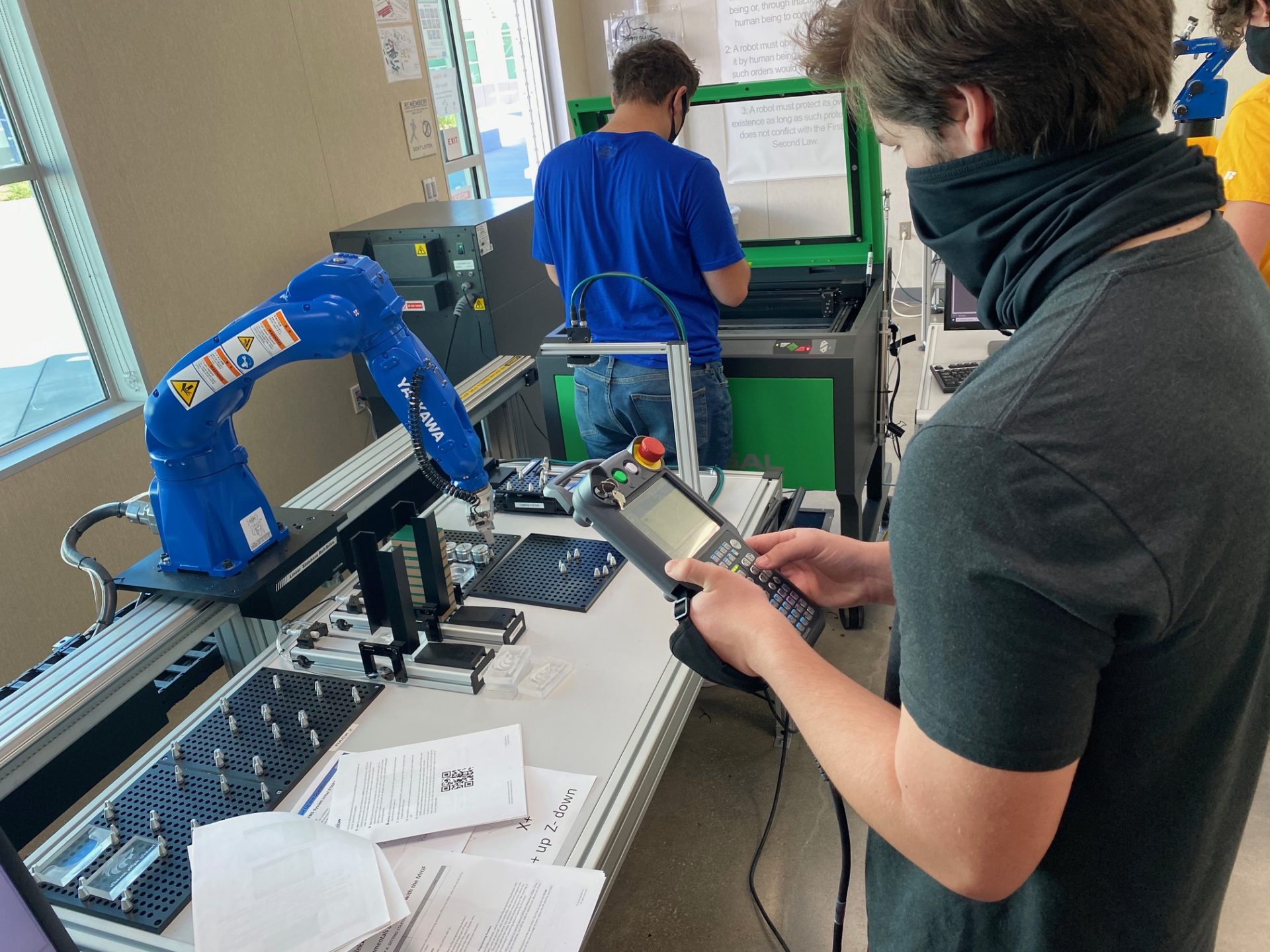 "These are the programs our students need," adds Seth, who helped the school with letters of support for the grants from the Shasta GMI. Besides being an industry liaison, she holds a personal stake in the program, with her middle school son taking robotics instruction thanks to articulations with Shasta High School.
The young engineer is bound for the high school next year and is excited to explore STEM further in the advanced manufacturing classes. In other words, it's working as intended.
"It creates that pathway which is so important and keeps kids hungry and interested in learning," says the industry partner and proud mom. "Any time students have the ability to work hands-on with the same equipment that they would encounter in a workplace is going to create an advantage for them."
The Shasta GMI will also help facilitate future internships with its industry partners. Meanwhile, there will be additional opportunities with large regional employers like Sierra Pacific Industries and Knauf Insulation.
"We have a fairly large group of socioeconomically disadvantaged kids," says Grigsby. "We want to give those kids the same opportunities … that you might find in a large city."
With the program breaking down barriers and making critical introductions, opportunities are expanding exponentially. The school continues to work with national organizations such as VEX Robotics and the Society for Women Engineers (SWE) to promote game-changing STEM education, and the future includes summer break externships for teachers to broaden their skills with industry.
"I'm excited for them," says Ashley Kellogg, a civil engineer at Jacobs who performs outreach with the school through SWE. She says the new facility will be a tremendous boon to aspiring engineers.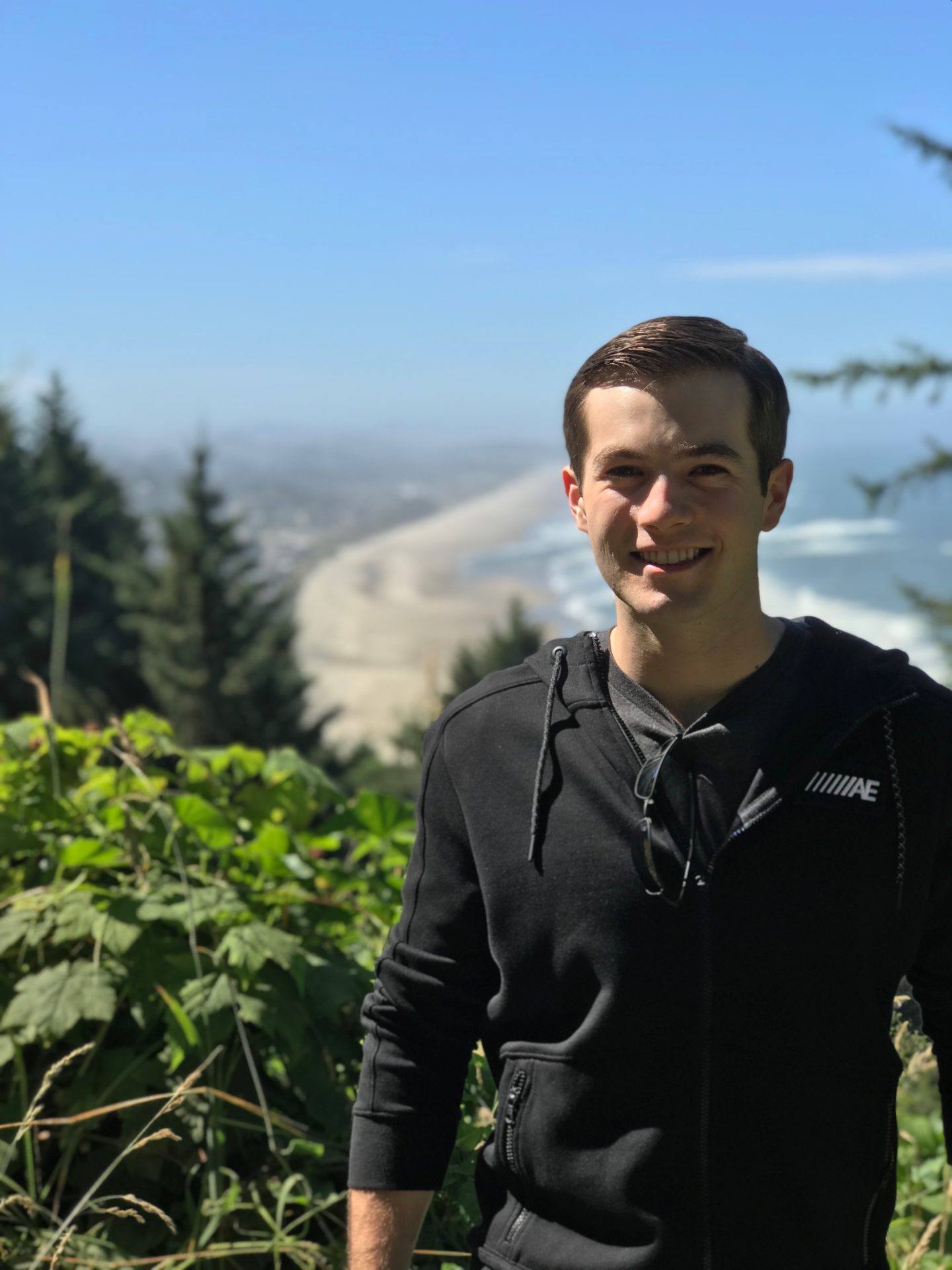 "It's a huge advantage for students to have that opportunity to use the equipment… I wish they had classes like this when I was in high school."
Plans for the facility include opening up as a makerspace for after-school activities and further certification possibilities for young learners and parents.
"We want it to be a community facility," says Grigsby. "We're excited about that."
For Nolan Spencer, one of the first students to take robotics classes at the high school, the experience not only sparked a passion for technology but also "led me to my eventual career path."
A founder of the robotics club, Spencer started with robotic Legos and progressed into VEX, where he succeeded in high school robotics tournaments and found himself just a step away from qualifying for state. Dubbed "the Battles of the North," the competitions were a fun way to inspire enthusiasm for autonomous systems. And it just so happened that Spencer's uncle was the sponsoring faculty member, Brian Grigsby.
"He's this pioneer of robotics in the north state of California," Spencer says about his uncle and instructor. "Most of it, you have to go to the Bay Area."
Looking back, Spencer's favorite activity was creating and programming an autonomous robot. The machine had to venture from their classroom to the principal's office running on code alone, without an external controller. Though his robot only made it about a third of the way before getting stuck, the hands-on experience left a positive impression.
"It was great because you go out, and there's like 20 robots going around ramming into the walls," recalls Spencer. And while only one student's machine made it to the finish line, everyone enjoyed the learning process.
The practical training wasn't just outrageously fun – it helped the young engineer hone his skills and build confidence. According to the student, "I had taken programming classes before, but it's all just on a screen." By actually loading programs into a bot he built with his hands, he had to figure out why his machine was literally hitting a wall.
"It really engages that troubleshooting part of your brain… It gives you a real-world perspective on what's happening with your program."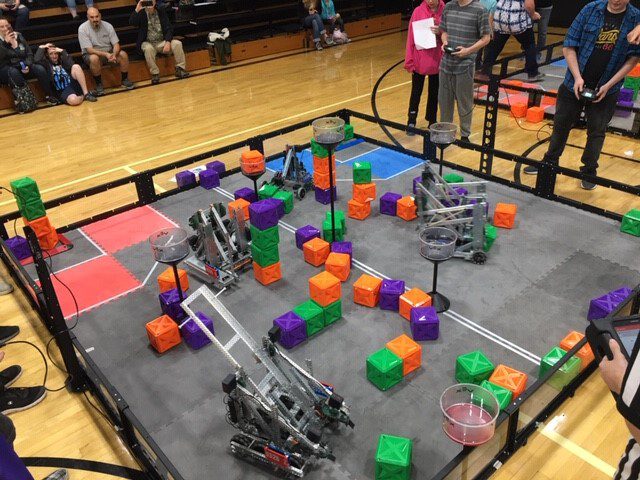 Those are exactly the skillsets, according to his former instructor, that companies are looking for.
"Every time we've asked industry, they've said we need kids that are self-starters that can actually go and troubleshoot," says Grigsby.
Spencer keeps in touch with his alma mater by acting as a judge and referee for Shasta High School's robotics competitions. He admits he is a bit jealous of next year's students who will get to use the new facility.
"They could get experience in both PLC programming and G-code with those CNC mills," says Spencer. And he should know, having used similar skills and machinery in a recent internship with Sierra Pacific Industries through Chico State.
With the high school's new facility teaching real-world skills, Spencer knows that "a lot of it is transferable over at the industry level… those students that take that are going to get quite an edge when they get to college."
Now a senior at Chico State with a major in mechatronics, Spencer hopes to go into mobile robotics and dreams of working for a company like ClearPath Robotics. He's programming a successful career path, and thanks to his early experience at Shasta High School, he doesn't expect to smash into many walls.
"It gives you a really good taste of the whole engineering and robotics aspect of the STEM field," Spencer says about his alma mater. "My two roommates are mechanical engineers, and they didn't have anything even close to that at their high schools.
"I feel pretty fortunate that I got to be a part of it."
Check out the new facility and equipment on YouTube, https://www.youtube.com/watch?v=ULetrpAnwNc.
Sources:
2019 United States Manufacturing Facts, The National Association of Manufacturers (NAM). Manufacturers in the United States account for 11.39% of the total output in the economy, employing 8.51% of the workforce. https://www.nam.org/state-manufacturing-data/2019-united-states-manufacturing-facts.
Deloitte, 2018 Skills Gap in Manufacturing Study. The study reveals that the skills gap may leave an estimated 2.4 million positions unfilled between 2018 and 2028, with a potential economic impact of 2.5 trillion. https://www2.deloitte.com/us/en/pages/manufacturing/articles/future-of-manufacturing-skills-gap-study.html.
PwC Industrial Manufacturing Trends 2020. Adding to this talent drain is an aging workforce, which, for the first time since 1948 in the U.S., those old enough to retire now outnumbering those just entering the workforce. https://www.pwc.com/gx/en/ceo-survey/2020/trends/industrial-manufacturing-trends-2020.pdf.