Feather River College: Agriculture & Equine Studies Pathway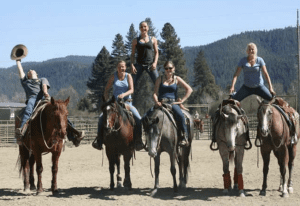 Across rolling mountains, endless greenery, and the ambient sounds of nature, you'll find Feather River College's 'Million Acre Classroom.' The miles of scenic landscape serve as a natural outdoor classroom for nearly 1,400 students every year. 
Inspiring, engaging, and anything but lazy, the idyllic grounds provide the perfect backdrop for specialized programs like Agriculture and Equine Studies. The FRC campus operates a working, 200-acre ranch, fully equipped with horses, a herd of angus cattle, and cutting-edge technology. Now, thanks to Strong Workforce Program support, students are coming for the beauty… and staying for the bachelor's degree. 
In 2016, the Agriculture and Equine Studies department added a first-of-its-kind four-year program in Equine and Ranch Management. The program supplements available associate degree and certificate pathways at FRC, offering a unique, next-level opportunity for students looking to lead the next generation of California ranchers.
"We find it very rewarding when our students who didn't have any aspirations in receiving a bachelor's degree decide to continue their education at FRC," reflects Russel Reid, Agriculture Department Chair at Feather River Colleges. 
The pioneering program covers skills essential to agricultural ranch management, business practices, and horse-related disciplines. Students literally learn the ropes through hands-on classes, working alongside horses and livestock on the college's farm from day one. 
"If [students] enter into the industry — whether it is equine or agriculture as a whole — I want them to at least feel like the concepts are not foreign to them," explains Carolyn Shipp, instructor in the Agriculture and Equine Studies program. "I always say the only way I can teach them how to do it is to do it." 
Students in the bachelor's program graduate ready to saddle up for their next success, whether that means starting their own horse operation, managing a ranch, or even continuing to further their education. 
"I have people, because of this degree, that work in lending institutions in Agriculture, as well as going to grad school, which is pretty amazing," says JP Tanner, instructor in the Agriculture and Equine program at FRC.
Tanner notes that this upcoming Fall, two former FRC Equine and Ranch Management students are planning to attend graduate programs at Oklahoma State University and Missouri State University.   Students who advance their degrees can move up the career ladder swiftly in the equine industry, working as horse sales representatives, equine insurance agents, ranch managers, and more. According to ONet, management positions on farms and ranches command an average annual salary of nearly $97,000 in California.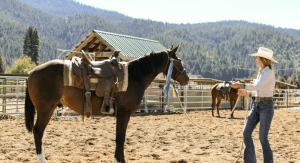 With the need for ranching and equine professionals in the region constantly growing, FRC grads are in prime position to succeed, in-state and beyond. The agricultural sector is one of the largest industries in California, employing more than 92,000 farmers, ranchers, and additional agricultural management positions. 
Using Strong Workforce funding to keep pace, Feather River College ensures that students learn on the same, professional-level equipment they'll encounter in the agriculture industry. Thanks to SWP support, Shipp says, the college can "bring our facilities and equipment up to a level that better reflects the industry and better prepares our students for employment in the agriculture industry."
Some of the impressive farm specs include a hydraulic livestock chute, heated indoor area, veterinary barn, and breeding facility. The facilities on the Quincy campus also include 60 horse boarding stalls, mechanical cow arena, computer lab, and a full rodeo practice facility. 
"Feather River College is a pretty small college that doesn't have exorbitant amounts of funding from other sources," says Tanner. "So, this is really kind of a huge opportunity to not only utilize those things, but we've also been able to expand our program [and] our teaching offerings because of Strong Workforce." 
Shipp agrees that the funding has been a necessity for the program — especially when it comes to the expenses needed to maintain and care for the horses in the College's Premier Equine Center. 
"I don't have textbooks or laptops for teaching materials, I have four-legged animals," states Shipp. "Horses require intricate care and management, and it is so necessary that we take care of their every need, so it doesn't disrupt the students' learning process.
"We are seeing a direct result in how happy and sound our horses are, as well as how much more learning we are able to facilitate for the students."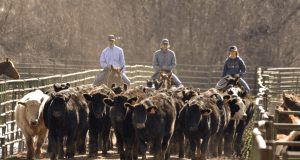 Recurring expenses for the horses include shelter, feed, and veterinary care. Meanwhile, the College must continually ensure that campus grounds and riding trails are up to par to avoid animal injury. "Otherwise," the Equine instructor continues, "we risk having a sore horse who can no longer be a teaching tool." 
Through the Agriculture and Equine program, Strong Workforce support is not only cultivating the next generation of equine workers, but preparing students to thrive in any career field. Even as the program continues to grow, Tanner says the environment fostered on the Quincy campus has proved nothing short of ideal for many of his students. 
"I think a lot of students we get, being a small school, a lot of them are shy or just really uncomfortable with large crowds," Tanner reflects. "They just come out of their shell because they've been given the opportunity, whereas some of them may not have gone to college at all." 
Reid agrees that watching students thrive in the Agriculture and Equine Studies program keeps his passion for teaching going strong:
"Students discovering the value of learning new agriculture skills and knowledge with a college education has kept me in teaching for over 42 years."
Sources: 
https://www.onetonline.org/link/localwages/11-9013.00?zip=95971 
https://www.onetonline.org/link/localtrends/11-9013.00?st=CA
June 2023