New Video Collection Showcases District's CTE Success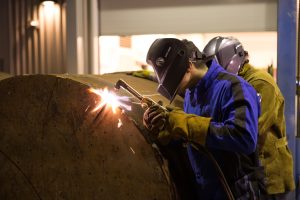 Strong Workforce Program funding covered the lights and the cameras. As for the action? It was there all along.
The hands-on, high-energy programs of the Los Rios Community College District (LRCCD) are on full display in a new series of promotional shorts from the Los Rios Community College District. The videos aim to shine an action-focused spotlight on career education pathways hosted by colleges throughout the region, including American River College, Consumnes River College, Folsom Lake College, and Sacramento City College. 
"We want to share student success stories as well as allow viewers to imagine themselves in the same scenarios in reaching their academic and career goals," says Dana Wassmer, Associate Vice President of Instruction for Economic and Workforce Development at Cosumnes River College. "We want to introduce potential students to our programs, so we intentionally kept the videos short to keep the attention of the viewer, but poignant." 
The 17 Strong Workforce-funded videos showcase the graduates of their respective colleges running the show in their chosen career fields. Take Humberto German Rodriguez Jimenez, star of the Design and Digital Media program video and first-generation Sacramento City College grad.
"The Design Program at SCC is unique because the professors helped me bridge the gap between the classroom and the industry/market," says the proud Panther. "They gave me connections and a network of resources that were vital to my success thus far."
Thanks to the skills Jimenez picked up at SCC, the creative-minded student embarked on his own entrepreneurial path. Now, he's channeling everything he's learned into his professional design company, Creative Samuraii, assisting local businesses with a full menu of design services including branding, web design, art direction, and more. 
Jimenez says he hopes his participation in the Design and Digital Media career education video inspires other prospective design students who may be looking to join the program.
"It's important for other people of color who look like me to be able to see themselves in these educational environments, and know they're welcomed and encouraged to succeed." 
Jimenez is just one example of shining CTE success from the Los Rios Community College District. With about 70,000 students enrolling among the four LRCCD colleges annually, and career education programs evolving and improving, the stories won't be slowing down anytime soon.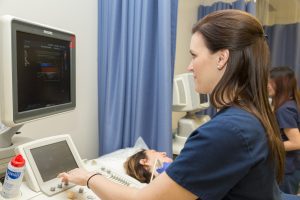 Case in point: American River College's Gerontology program, which is recognized nationally as a Program of Merit by the Academy for Gerontology in Higher Education. The program's stamp of excellence is evident in its career education video, which spotlights the dynamic career "arc" of ARC grad Tamara Kilgore. 
Having completed ARC's comprehensive Gerontology program, Kilgore now serves as Director of Social Services at a Carmichael-based skilled nursing facility. The former certified nursing assistant says it was the passion and support among her colleagues that truly inspired her to level up her day-to-day career.
"I was kind of lost," admits Kilgore. "I didn't want to be stuck there, but I still wanted to be in the field. I didn't understand what that meant for me." 
Soon enough, the compassionate student would discover the Gerontology program and launch a brand new career path. 
"I've always had a passion for working with older adults," reflects Kilgore. "Going to ARC, I realized that there is a whole department that focuses on this field, and I just lit up after seeing all of the courses they offer." 
Illuminated by support, Kilgore shined. From hands-on field experience in nursing facilities to in-depth case study collaborations with classmates, the ARC student absorbed every second of information. Kilgore was even voted as Vice President of the Wisdom Keepers, a campus organization for students seeking out careers in gerontology, aging studies, and social work. 
"I heard about [Wisdom Keepers], but I hadn't applied for it … and somebody had nominated me to be the vice president," shares the alum. "I was honored!" 
Covering social work, nursing, occupational therapy, program administrators, coordinators, and more, the Gerontology curriculum is more comprehensive than some give it credit for, according to the Director: "There are a lot of people in the field who don't realize they're actually in Gerontology." 
But Kilgore knows – and is proud – to be improving lives and uplifting her community in the essential field. She says her ARC-derived knowledge and skillset come into play every single day as she interacts with patients. 
"I'm able to be on the same team with the doctor, director, rehab nurses, and then myself," continues the proud professional. "Everybody puts in their piece … [We] plan out what a person needs to stay here, what more services they need, what safe discharge planning looks like for them." 
For Kilgore, making a difference is what it has always been about. "I knew I could benefit the community in so many ways by doing this."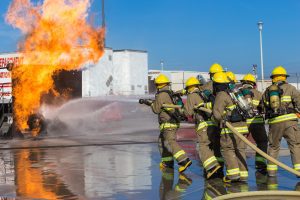 From digital design to healthcare and beyond, LRCCD programs are innovating industries and changing the game for students in a region expanding by nearly $2.1 billion and 27,000 jobs annually. Meanwhile, they're keeping Californians safe and securing the future of the economy with  essential pathways like American River College's Fire Technology program, highlighted in another one of LRCCD's career education videos. 
As a firefighter in Sacramento, Alex Kane's nine to five looks a lot different than it used to. "I was coming from a teaching background, so it was a pretty big shift for me in terms of what they were looking for," admits the ARC alum. 
While in the Basic Firefighter Academy in 2020, Kane learned the ins-and-outs of the high-action career through 560 hours of hands-on coursework. Though challenged by the grueling program, Kane knew he was in the right place at the right time. The Academy's curriculum provides well-rounded academic instruction paired with intensive field work so students can fully experience the real-world situations they would during a call. 
"It was incredibly hard, but that's kind of the point," reflects the Fire Academy grad. "They're trying to build you up into somebody that can be able to be a firefighter and to do that, you need to withstand pretty hard stuff. 
"They have you practice as if you're really going to do it." 
The difference-maker for Kane? The unbeatable instruction from field-experienced faculty. The fast-learning first responder describes the level of instruction as "incredible" – especially high praise coming from a teacher like himself. 
"I was like, 'Wow, these guys know what they're doing,'" recalls Kane. "They have so many years of experience that they bring along … I thought they did amazing mixing the book side of it and blending that with actual real-world experience. 
"I've had other jobs and full careers, and I haven't had one where it was taught that well."
That level of support and focus has become a hallmark of LRCCD programs, making it easy for grads like Kane to draw a direct line from their college experience to their successful outcome.
"The level of expectation of what they wanted for us, and the type of attitude, behavior, and work that they wanted was really high," says Kane. "They have high standards and so, they get high results." 
Watch MORE Los Rios Community College District career education videos.
Source: 
https://losrios.edu/why-los-rios/facts-and-statistics
May 2023