Funeral Service Education at ARC
American River College's Funeral Service Education Program
May 2020 News Center
With the current health crisis hitting hotspots like New York City, funeral homes, cemeteries and crematories are overwhelmed, with funerals delayed and storage running out for those who have passed. Enter the last responders, heroes behind the scenes who take care of the departed and give closure to their loved ones.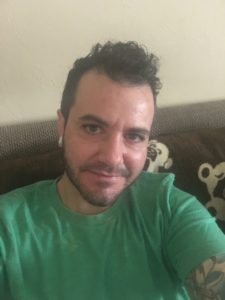 "Thinking of these bodies in bags just waiting there, for me, it's pretty heart- wrenching," says ARC Funeral Service Education student Benjamin Cardinelli, who plans on traveling to the overburdened Big Apple to help lay the deceased to rest. When the National Funeral Directors Association put out the call for volunteers in late April, Cardinelli signed up with a fellow student and two faculty members, including his professor and Program Chair Valarie Rose.
"That's what we do as funeral directors, is to give people their closure," says the brave student, "and then try to do that with as much dignity as possible for the person as well."
Entering coronavirus "ground-zero" worried Cardinelli. But after speaking with Rose, he decided this was a once in a lifetime opportunity to do the right thing: "I figure, I'm young, I'm mentally and physically fit — I might as well help out my future brothers and sisters in the funeral profession."
Cardinelli is currently waiting to be assigned, and he plans to stay in New York City for two cycles of two-week deployments, with a two-week quarantine in the middle.
"I put myself in those people's shoes, and that's what makes me want to get there sooner and work harder," says Cardinelli, who moved from the Bay Area to Sacramento to attend ARC, one of only two colleges in California that offer Funeral Service Education.
Cardinelli is just finishing his first semester of 22 units on the one-year accelerated track and has already practiced embalming, so he says death is not a shock to him. He was able to learn those hands-on skills through ARC's partnership with the Sacramento County Coroner's indigent program, offering funeral services at no charge to those who cannot afford them. The program just started last year, and with about 35 funerals so far, it has been giving families a much-needed goodbye while students gain real-world experience.
"For our families that apply with us and really want to have a funeral, they have that option now through ARC," says Sacramento Coroner Kim Gin, who believes that the closure the free funerals bring families has a tremendous impact. "It's a win-win for everybody…If you're going to deal with grieving families as part of your future career, you don't get much better than this."
ARC's program can perform funerals for as many as 60 or 70 families a year, with students helping to make arrangements for embalming and services. From doffing protective gear to washing and preparing the body, Cardinelli says the practical training brought his textbook theory to life and will help him when he volunteers in New York.
Looking toward the future, Cardinelli plans to get dual licenses in embalming and funeral directing. He hopes to work for a family-owned funeral home back in the Bay Area, where he says help is desperately needed. At American River College, he says he is learning to develop not only his technical skills but also his passion to serve. As the future funeral director says, "We always put care in everything we do."
When it comes to assisting others, being a kindhearted professional is the ARC way.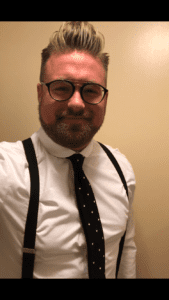 "People are going into funeral service because they care about helping others," says instructor Nathan Skelton, who is incredibly proud of Cardinelli's courage and compassion. "The overarching ethos that we bring to the student from day one … is based on reverence for the dead."
To Skelton, also a graduate of the program, that ethos is defined by a drive to help people – and that's why the small class sizes and close-knit environment permeate to this day. The only thing that's changed, according to the grateful alum, is that the program has become even more hands-on.
"Each year, we're trying to put more in place to prepare students so that the second they graduate, they can walk into a funeral home and do almost any job," says the professor.
Case in point: When Skelton was a student from 2012-2014, he had to wait until his final semester to get hands-on experience. Now, students receive those practical skills within the first few weeks of the program, actively working in the prep room and employing embalming techniques.
According to Skelton, it can be a "nerve-wracking experience" when students are meeting with families for the first time. That's why the professors bring in theater program volunteers to help act out mock arrangements, and by the final semester, students intern in a funeral home, performing virtually all duties of a professional.
Whether they choose the accelerated, one-year track, or the two-year associate degree, the program draws upon the instructors' robust network to connect students to job opportunities in the field right away. And these hands-on experiences are only expanding at ARC, as plans to create a mortuary complete with chapel and visitation rooms are in the works. Currently, the program contracts with funeral homes and must work around their schedules. With its own space, ARC students will be able to perform many more services for needy families.
The mortuary is a unique opportunity that few Funeral Service Education programs have, and Strong Workforce will be instrumental in funding equipment and supplies for the new space.
"The students will be able to get that hands-on experience of meeting with families, setting up their services, and then working the services, all under one roof on campus," says Skelton, adding that the mortuary will make Funeral Service Education a "premier" program.
Armed with real-world training, students become embalmers, funeral directors, professionals in the coroner's office, or technicians in body donation programs. Embalmer apprentices start at around $37,000 in the Sacramento area, and once they are licensed, that number jumps significantly. Grads who advance to management positions can make $70,000 and more.
For Skelton, training the next generation of compassionate funeral service specialists like Cardinelli is extremely rewarding.
"Funeral professionals are the last responders," says the professor, who hopes that his students will go on to inspire others in their care for the dead and the living. "It's our job to make sure that somebody is respectfully said goodbye to."