January 2020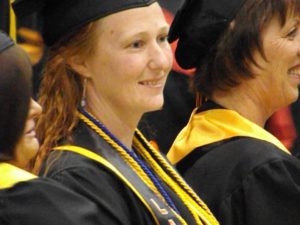 A nine-time high school dropout who finally earned her diploma by the skin of her teeth, Susan Rentfrow never thought college was an option — until Lassen College got her back in business.
By the time she hit her early thirties, the determined mother of five had dreams of buying her first home, but she was having trouble finding a job.
"I wanted a career — I wanted more," says Rentfrow, who was ready to move beyond her experience in retail and customer service. So when a friend said, "Come on, we're going to college," Rentfrow was game, despite a few jitters about being the very first in her family to attend.
She started with classes in Lassen College's business department, and "absolutely fell in love with it." Not only was she succeeding in college – she was thrilled to discover she was enjoying it. Soon, she'd find her "niche" in accounting.
"When I got into Mr. Taylor's basic accounting class, I could tell that he loved teaching, and it made it even more enjoyable," says Rentfrow, who credits Lassen's small class sizes and individual faculty attention with boosting her confidence.
It wasn't always an easy path. Like many busy college students, Rentfrow's life seemed to be throwing up one challenge after another – from a busy work schedule, to family obligations, to crises of self-confidence.
"I'm a first-generation college student," she says. "While I was pursuing my associate degree, I was a full-time wife and mom, working 20 hours a week as a student worker and taking 12 to 15 units a semester."
A super-mom turned super-number-cruncher, Rentfrow started her career as a student worker in the Business and Financial Aid Offices. After she earned her associate degree in accounting, she became an employee in the Business Office and has worked for the College for nine years.
"I'm the self-proclaimed BankMobile guru on campus," says Rentfrow, who helps students with their electronic refunds and financial aid disbursements. She also
handles accounts payable and receivable and oversees grants for the Adult Education Consortium. At the end of the day, she feels satisfied doing what she loves, in support of the College that has done so much for her.
"I've been here since 2011, and I love my job," she says. "Not many people can say that they still love to go to work after nine years."
But Rentfrow's first-generation student success story goes even further. Since receiving her degree, she has inspired her mother to earn her associate in accounting – at age 60. Best of all? It seems to have become a family tradition.
"My oldest son, who is 20 this year, he's in his second year at Feather River College studying culinary," says Rentfrow, who was proud to encourage the community college route for her family.
Promoting a college-going culture among first-generation students is the norm in Lassen College's Business Department, where professor and Division Chair Andrew Rupley shares his own experience as a community college grad.
"I was a first-generation, low-income student," says Rupley, known to his students as "Andy." He worked hard to earn his associate degree in business at Feather River College, where in 2010, he was voted the youngest Alumnus of the Year in FRC history.
"If I hadn't gone to community college, I can guarantee you I would not be in the position that I am today," says Rupley, who is just weeks away from earning his Ph.D. Even as Rupley went on to complete his bachelor's degree, and then a master's, he always knew that he would come back to community college.
"These are my peeps, the first-generation students, the returning students — we community colleges fill such a huge gap," says the proud professor, who regularly shares his experience as a first-generation student and self-made small business owner to inspire his students. "I definitely let them know that if I did it, you can do it … if you're willing to put in the hard work."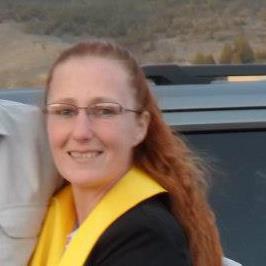 With programs in accounting, economics, administration, small business management, and computer applications, the business program delivers everything students need to launch careers in the industry. Classes are taught by professionals from across the sector, including experts in organizational behavior, entrepreneurship, accounting, retail, and multimedia.
"Between all of us, a student is going to get a very well-rounded understanding of a lot of different business industries," says Rupley. "We're still in the thick of it in the industry…so we can bring our real-world experiences directly into the classroom."
For example, when teaching about debts and loans, Rupley shares exactly what bankers are going to be looking for when lending to a small business, because it's something he's had to do himself. "I'm able to break it down to a very personable level with students so that they understand this is what we do in business every day."
And when it comes to Lassen County, business is booming. According to Rupley, regional data predicts "204 annual openings in business and finance alone." Meanwhile, demand for management positions is increasing by 270 jobs annually, "so we're delivering curriculum to fill that need."
In response to that challenge, the program has also begun furnishing classes to incarcerated students at California Correctional Center and High Desert State Prison, matching in-demand careers with those who need a fresh start the most. Rupley teaches a variety of business classes in the prisons and has already seen the positive impact of his work.
"When they are released, they're able to go into industries where they can be employed," says the professor.
Many of the incarcerated students are the first in their families to go to college. One such program participant is Donel, who has earned three associate degrees from Lassen College. Says the family tradition-setter and future four-year degree holder: "I can accomplish more things because of this program — such as earning a bachelor's degree!"
Another incarcerated student, N, plans to use his new skills to open a business once he is released.
"I will be the first in my family to graduate, which is more than a lot of the people who knew me thought possible," he reflects. "The college program has and continues to motivate me and make my incarceration less of a punishment and more of an opportunity."
The Business Department currently serves about 200 students in correctional facilities across four different yards, offering associate in science for transfer degrees in business. Classes are taught on-site, with the potential to expand to online in the future, and offerings include the new Certificate of Achievement in Small Business Management.
Designed to bolster the small business sector in Lassen County and beyond, the Small Business Management Certificate covers human resource management, business basics, and fundamentals of business law. For traditional students living in outlying counties like Modoc, the entire certificate can also be completed online. Courses also utilize open educational resources, which means that textbooks are free.
For the remote counties of Lassen and Modoc, the College is taking care of business. With the nearest college (Feather River College) nearly 50 miles away, Lassen College serves a population of 31,470 spread out across 8,923 square miles. So, when it comes to building the area's future workforce and launching bright careers, Lassen tends to carry the water.
"If you can name any industry or any job that is not impacted by business, you get an automatic A-plus in my class," jokes Rupley — because, of course, business touches virtually every sector. And at Lassen College, students are launching into in-demand jobs far and wide — even in unlikely places.
And there's never been a more opportune time. With the business sector emerging as a critical driving force in the region, demand is continuing to rise right alongside salaries. For Lassen College business program grads, traditional and otherwise, that surge represents opportunity.
"[My] professors [went] well above and beyond to ensure we are taken care of here in prison," says George, who plans to use his education to open a treatment facility for Veterans who have PTSD. "Being incarcerated students, we face challenges and barriers that non-incarcerated students don't.
"I truly never expected to get into college so late in life, and definitely not in prison."