CR Paramedic program provides regional relief
June 2020 — College of the Redwoods North Coast Paramedic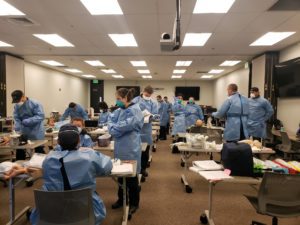 It's not the disasters averted or lives saved that Doug Boileau thinks about first when reflecting on his career as a first responder in Humboldt County. For the veteran EMT and founder of the North Coast Paramedic program at College of the Redwoods, it's his influence as an educator that he's most proud of.
"If I have a legacy in EMS it won't be because of my own work as a paramedic," says the 17-year program director and 2009 EMS Educator of the Year. "But rather through all the paramedics that I had a part in training and what they have accomplished."
Humboldt County is quite literally alive with stories of heroism involving North Coast Paramedic program grads. From field rescues in the northern California wilderness, to acts of in-the-moment brilliance on accident scenes, in ERs and even aboard helicopters, the program's impact has been felt far and wide.
"I think it is fair to say that we would not have paramedic staffed ambulances in Humboldt County if not for this program," says Boileau. "The vast majority of paramedics working in Humboldt County were trained in this program, as were a large number of those working throughout northern California."
It's a weighty responsibility to bear, but Boileau was up to the challenge when he established the program as the Humboldt ROP Paramedic Program in the early 2000s. His decades of experience as an emergency services expert had taught him that the technical skills – administering meds and IVs… pacing and placing – were nothing without the organization and leadership skills to back them up. That would be the bedrock on which Boileau and his colleagues would build North Coast Paramedic's foundation.
"They…learn how to take charge, direct a team, and interact with people with varied living conditions and experiences," says the instructor. "The skills our graduates bring to the communities they serve make a real difference."
"It is vital to rural communities to assist and train the paramedic student," adds Vicki Gibney, who brings 28 years of ER experience to her position as Clinical Coordinator and guest lecturer. "It has been a joy watching these young men and women grow, learn, develop and become an interval part of our community."
Covering 10,000 square miles of forest, cliffs, and semi-passable rural terrain, the geographical logistics of California's North Coast pose a variety of challenges for emergency response professionals. Chief among these is the vast distance separating some isolated communities from medical access. In emergency situations, where every second is critical, a combination of rapid response time and poised, organized training can mean the difference between life and death.
An aging population, in combination with regional economic expansion, has cultivated increased demand for EMTs, particularly those bearing a versatile career education. Nationally, career opportunities for paramedics are increasing at a faster-than-average rate of 7%, and Boileau says the North Coast region is keeping pace.
"The demand for paramedics has never been higher," says the director. "I'm happy that our program is here to meet part of that demand."
The four-semester program at College of the Redwoods encompasses more than 1,000 hours, split between classwork, clinical instruction, and a field internship furnished by a local emergency services partner. With an emphasis on real-world, field-applicable solutions, the North Coast Paramedic program prepares students to ace the National Paramedic Registry Exam and enter the high-demand field immediately.
For professionals already employed in the field, the North Coast Paramedic program affords the opportunity to build on current EMT certifications, learning valuable new skills leading to higher-paying positions. Available certifications include Advanced Cardiac Life Support (ACLS), Pediatric Advanced Life Support (PALS), and Hazardous Materials – Awareness. The program's curriculum is concentrated into two days – Friday from 1 p.m. to 9:30 p.m.; and Saturday from 8 a.m. to 4:30 p.m. – to serve those with full-time jobs and/or lengthy commutes.
"Our program was built for the student that is working full time and for the student that is commuting long distance," explains Boileau.
Housed in CR's Applied Technology building, just across from the health occupations office, the program makes full use of resources like computers, nursing labs, and medical equipment, partially supported by Strong Workforce Program funds.
The department itself supplies high-tech manikins for skills practice, and cardiac monitors and oxygen delivery devices for equipment proficiency, among other training aids. But what truly sets the program apart, according to the director, is its established access to hands-on training opportunities through partnerships with Humboldt County's biggest names in health.
"We maintain very close ties to our local healthcare community," says Boileau. "Perhaps our greatest asset is the support of the ambulance providers and local hospitals where students complete clinical and field internships as part of their training."
For some students, the program is a stepping-stone to a career in firefighting or search and rescue. For others, it's a side door to careers in nursing, medical assisting and even independent medicine.
"We have contracts with hospitals throughout the Northern California region, including hospitals in Redding and Ukiah," says Gibney. "Some do stay in our area and work their entire careers here on the North Coast."
So… how does one know if they're North Coast Paramedic material?
"Our students choose emergency services for a wide variety of reasons," explains Boileau. "They have to like people and want to help them, and they like the autonomy and working outside and facing a challenge."
For many of the EMS professionals who serve California's most rural coastal communities, it's that very challenge – high-energy and high-stakes – that makes emergency services such an appealing career. For others, it's something more personal.
"The greatest joy is seeing folks out in our communities, having fun with their families and friends," says Gibney. "Just knowing in the back of my mind should we have a real emergency we are covered."
North Coast Paramedic students adapt to distancing protocols during the 2020 coronavirus health crisis.