Plumas K-12 PHESI Program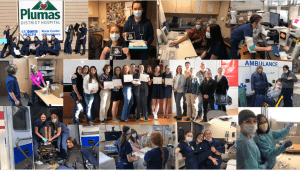 Healthy hospitals mean healthier communities, but with looming workforce shortages in health care, the prescription is building a better local talent pipeline. 
For industry partner Darren Beatty, Chief Operating Officer of Plumas District Hospital (PDH), the need for skilled employees hits especially hard.
"We have shortages in almost every sector of our industry, and the recruiting process is especially challenging in rural areas," says Beatty, who notes he's seen small towns like his collapse if their local hospital has to close. 
"We're the only health care provider in our area; if we aren't doing the service, there is no community."
That's why Beatty jumped at the chance to "plant seeds" with young learners in the new Plumas Health Career Exploration Spring Institute (PHESI) program. Based on the Health-Careers Exploration Summer Institute (HESI) program, Plumas Unified School District's PHESI program is an expanded semester-long exploration of health care careers for juniors and seniors in the Patient Care Pathway, including 40 hours of rotations at the local hospitals.
The program was piloted two years ago at Plumas Charter School and has grown since. As K-12 Pathway Coordinator Dr. Lisa Kelly explains, the program was adapted to the small rural community to fit the needs of students and the local hospitals.
"This is the new school," says Kelly. "This is how you get students excited and impassioned, by getting them in the context of their education with work-based learning." 
Different schools throughout the entire district participate, as well as students from neighboring Lassen County. The pathway coordinator credits former Regional Director for Employer Engagement Trudy Old for helping the district incept the program. "It's exciting for the hospitals that we have a pipeline packed with local students that live here," says Kelly. "It's very comforting to have locals serving locals."
It's a sentiment Beatty agrees with. And while he knows building a strong talent pipeline will take many years, the chief operating officer says, "It's worth the investment because we want people who want to be here and stay."
The PHESI program is supported by Strong Workforce, which helped credential the CTE instructor in the pathway, purchase the curriculum, and provide supplies such as CPR dummies and stethoscopes. In its first two years, the program has launched students into the CNA and EMT pathways at the local community colleges as well as nursing programs at universities across the state. Cate Baker is one such student who just started her first year of nursing school at Azusa Pacific University. She credits her new career path to PHESI.
"We had the opportunity to job shadow and have experiences similar to clinical rotations with ten different departments at the hospital," says Baker. "It was such a big deal to be a student in high school and get to do these things."
During her work-based learning experiences with PDH, Baker learned to do an EKG from a respiratory therapist and even observe a surgery. But what made the biggest impact was her ER rotation. "We got to ride in the ambulance and see everything the paramedics were doing," recalls Baker. "It was so exciting! And it was such a privilege because we were so young." 
After observing real-world EMTs in action, Baker plans to start her nursing career in the ER. She says, "The program showed me how much there is in the healthcare field."
Best of all, because of Plumas Charter School's flexible schedule, Baker could take concurrent enrollment courses at Feather River College at no cost while in high school. All of those credits transferred to her university. "Most people are taking anatomy this semester, and I already took it," says Baker. "I am ahead of most people in my cohort."
While Baker says she's always been a determined student, she wasn't sure about her career path until PHESI. She credits that clarity to Danielle Wagner Plocki, CTE Patient Care Pathway Coordinator, who assigned extra research and reports to help students think deeply about the field. "At first, I was like, 'This is so much work!'" admits Baker. "But I really appreciated it because I got to soak up what I learned and experienced."
The proud instructor says Baker was an exemplary PHESI student.
"This program allowed Cate to experience what it is like to work in the healthcare industry, which solidified her desire to go into nursing," says Wagner Plocki. "We are so proud of her for going on to a BSN program. Cate will make an excellent nurse someday!"
The instructor is thrilled that the pathway is aligning with local opportunities as intended. "When most students think about working in a hospital, they think of doctors and nurses," says Wagner Plocki, a former PDH nurse for 10 years before coming to Plumas Charter. "They don't realize that there are all these other allied health fields and supportive staff that go into patient care."
For example, students can do rotations in radiology, labor and delivery, nutrition services, imaging, physical therapy, and more. Last year, Wagner Plocki expanded the PHESI program to the district's farthest site in Chester, with rotations at the Seneca Healthcare District Hospital after the pilot year at PDH. This spring, hands-on learning will return to Plumas District Hospital, a rotation for rotations that maximize PHESI participation throughout the region. 
According to Plumas Charter School Executive Director Taletha Washburn, the school leveraged its non-classroom-based flexibility so that PHESI students could participate in a six-hour day every week during the spring semester.
"All of our CTE programs are hands-on, and that's very attractive to kids who struggle with the more traditional educational system," says Washburn. The director says that about 50 percent of the school's students are underrepresented, including those who live at the poverty level, are foster children, or are experiencing housing insecurity. That's why she says exposing students to high-demand, high-paying careers as early as possible is crucial: 
"PHESI is particularly important for those kids who are really uninspired by school, and they want the hands-on experience to go into a career sooner."
Before work-based learning at the hospital sites, students take about 18 hours of lectures on hospital etiquette, PPE, HIPAA regulations, basic anatomy, and medical terminology. After completing 10 four-hour rotations at the hospital, students present what they learned at the PHESI commencement to their peers, family members, and hospital preceptors.
"I'm still in awe that I got to be one of the students in PHESI," says Baker. "I would love to move back to my hometown and be a nurse there."
Graduates like Baker demonstrate the burgeoning success of the pathway. With local demand rising for industry partners like Beatty as his hospital builds a new skilled nursing facility, students' excitement to join the local talent pipeline is just what the doctor ordered.
"For small hospitals like ours, our competitive advantage is that we have neighbors and friends taking care of neighbors, friends, and family," says the chief operating officer, who notes that robust personalized health care delivery is the key to his community's future vitality.
"Hiring local homegrown people who are interested in their careers as more than just a job and really want to serve their community, that's the kind of thing we want to continue to foster here."
October 2023