Answering the Call of Bilingual Early Childhood Education
NFNRC News Center – September 2019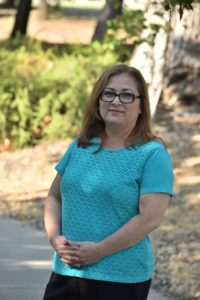 Some would say that success in life is not about where you start, but where you end up. Irma Gonzalez Cuadros is not one of those people.
To understand what makes an everyday superhero like Cuadros tick, you've got to understand her origin story: Born and raised in Mexico. Immigrated to the U.S. in 1989 with a teaching credential, but almost no English skills. Struggled to learn a language and earn a living, until she finally found her Fortress of Solitude: a place called Butte College.
"I tell my students that back in the day, I had it very hard," says Cuadros, now mentoring students with similar struggles as a professor of Early Childhood Education. "I didn't know where to start."
For more than a decade, Cuadros has been teaching ECE classes in Spanish at Butte College. After the tumultuous start she had, she considers it her calling.
"My classes weren't available in Spanish, and I had to study twice as much as any other student," says Cuadros, who began her ECE hero's journey as an assistant teacher in a migrant Head Start program. "But my students have the opportunity to learn in their home language."
She credits Butte College's welcoming and challenging programs with her success. But it didn't happen overnight. In fact, Cuadros took 12 years to earn her associate degree because she was working full-time and raising children.
She started out small — taking one or two classes per semester, usually distance learning courses on the weekends. It was a struggle, but she never gave up, and when she finally earned her AA, she never looked back. Now, Cuadros holds both a bachelor's and a master's degree in Early Childhood Education.
"I was so hesitant because I barely spoke English back then," Cuadros recalls. But when a bilingual coworker invited Cuadros to a class, she took the warm reception she received as a sign.
"The professor, Kathie McAfee, made me feel so welcome in her class," says Cuadros. "She was very inclusive, and she became my mentor. I finished the class, and I just kept going."
The story gets even better. While she was earning her master's in 2008, Butte College asked Cuadros to teach in the brand-new program, offering ECE Classes in Spanish. The program was initially made possible with Federal TRABAJO funding, and the college knew Cuadros would be perfect.
Ever since, Cuadros has committed her career to serving Spanish-speaking students, launching them into in-demand careers as early childhood educators.
"It's been 11 years of incredible work, 11 years where we have put many students in the workforce," says Cuadros. "It's been great to see."
For the committed Butte College students who choose early childhood education as a career path, Cuadros represents the perfect mentor: wise, experienced, and most of all, compassionate – a product of her own experience as a first-generation immigrant.
"Irma was very inspiring to me because our stories were almost the same," says Butte College student Jocabed Rodriguez, who immigrated to the U.S. three years ago, and is set to graduate next semester from the ECE program. "She helped me a lot because I didn't speak English, and she was very patient in her classes."
This semester, Cuadros is teaching six classes: four online in English and two night classes for Spanish speakers. The Spanish courses are paired with ESL classes, so students can also pick up the language skills they need to get a job. This semester, Cuadros has 43 students in one of her Spanish ECE classes.
"Students are not only coming for the classes in Spanish, but they are working their way through the ESL and GE classes to earn their degrees," she says proudly. Last graduation, three of her students walked to get their degrees, and she has at least five more slated to graduate this academic year.
"We use different strategies to assist students at their own level," says Cuadros. "It's a very mixed class, but the students feel like a family.
"They love being here, and [hardly] any student drops the class."
In fact, Cuadros's retention level is astonishing — virtually all students who begin in her classes stay to completion. What's even more remarkable is that students come from all over the region, some driving nearly two hours each way!
"I've had people coming from Woodland, which is an hour-and-forty-minute drive, as well as Arbuckle, Williams, Corning, Olivehurst, Orland, Chico, and others, " says Cuadros. "Even one or two students dropping is too much."
The Butte College program has received support through a Perkins Grant for marketing and outreach, and is taking advantage of the funding to let even more students know about the unique demand for bilingual ECE teachers in Northern California.
"There is a very real need in ECE programs, with a dearth of Spanish speaking staff and teachers," says Dr. Shaun-Adrián Choflá, Professor of Education, Child, and Family Studies at Butte College. "It's why our program is so important. There are Head Start programs that can't staff because they don't have Spanish speakers."
According to Choflá, studies show that one in four children enter Head Start classrooms speaking a language that is not English. Often, that language is Spanish, and so it's crucial that more Spanish-speaking educators join the field.
By offering these critical ECE classes in Spanish, Butte College is creating clear pathways for bilingual teachers to obtain employment and close the skills gap. For Cuadros, being the sole instructor in her department who teaches in Spanish is just the beginning. At Butte's Spanish ECE program, one-on-one support happens before students even enter the classroom.
"I meet individually with every student over the summer to apply to the school and fill out the financial aid application," says Cuadros, who also assists California Dream Act and Promise Grant students, ensuring that they get financial support. Currently, Cuadros is applying for a Strong Workforce grant to hire an additional student success specialist to help Spanish ECE students register and enroll.
Not only that, she's doing something about the high cost of textbooks in her field in the most Irma Gonzalez Cuadros way possible…she's writing them herself!
"We barely have any books in Spanish to teach these classes," she says. "I've been creating and offering free resources, so students don't have to purchase textbooks.
"It's a huge undertaking. I'm trying to do one book per semester."
Many of Cuadros's students finish their education and find satisfying careers working in private childcare centers and Head Start programs, which have a significant presence in the area. Recently, Head Start increased its staff qualifications, driving many students to Butte College to earn certification to keep their jobs. In the Spanish ECE program, they find a warm welcome and a place to call home while they work to advance their careers.
Thanks to heroes like Cuadros, first-generation students know that with determination and a quality community college education, they can go anywhere.
"You come to school because you want to do better, and with your education, you'll be able to do something," says Cuadros. "I never thought that one day, I would be teaching at the college level."