Sacramento City College Makerspace Expands, Reopening for First Time Since Pandemic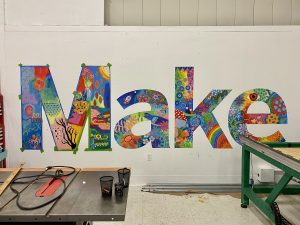 Creativity, community, and careers — for Sacramento City College students, the on-campus makerspace is the place to turn passions and skills into new opportunities:
"I'm at work right now, sitting outside the machine shop," says Erin McDowell, SCC alum and Junior Manufacturing Engineer at Ascentec Engineering. "All of these machines operate on the same fundamental principles I learned in the makerspace, like 3D design and computer-aided manufacturing.
"I would not have this job had I not had access to those resources at the makerspace."
While McDowell holds a Master's in Materials Science and Engineering from UC Davis, the kinetic learner says it's the foundational industry skills he practiced at the SCC makerspace that helped him apply theory to real life.
"Access to the makerspace was an opportunity to investigate, in an informal but still structured way, what engineering is to me, personally," says McDowell. 
The alum was among the first students to discover the makerspace when it opened its doors in 2018. McDowell initially enrolled in SCC just to knock out his STEM requirements, but he says the college makerspace quickly became his second home. When he became a whiz on the equipment, McDowell was also hired as a student instructional assistant.
"My role very early on was just to play with the machines and see what I could get them to do," recalls McDowell, who was happy to help his peers in their project-based learning. And in his free time, the student also rocked the makerspace by building an electric guitar — one hundred percent from scratch.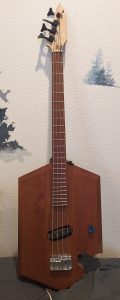 "I probably spent about six months trying to work myself up to making the first cut," recalls McDowell. "I learned very literally every aspect of making an electric guitar. I even hand-wound my own pickup and machined most of the body."
Those hands-on skills helped him build his manufacturing career, so the alum is excited that the new and expanded makerspace reopened its doors to students in January 2023 after being closed due to the pandemic since March 2020.
"Vastly underserved communities attend the majority of the classes at SCC," says McDowell. "With access to these tools and resources, they can have really tangible experience to bring into the workplace."
According to Makerspace Faculty Project Director Thomas "Tom" Cappelletti, the new location is three times bigger and occupies prime real estate by the parking area: "When you drive into campus, it's one of the first things you see."
The big metal building was once a welding lab, so it's fitting that it now houses the new and improved makerspace, named one of the top 200 maker schools in the world by Newsweek and Make in 2021.
"We're the largest and most accessible makerspace in the Sacramento region," says Cappelletti. "By far, ours has the largest complement of staff, training, and equipment."
The director says the recent expansion and grand reopening would not have been possible without the Strong Workforce program, which supports staff and helped purchase the latest industry-standard equipment. SCC students can now hone their skills on new CNC lathes and mills, a "massive" metal fiber laser that's even safer and more precise than a plasma cutter, and sublimation printers that can produce designs on metal, fabric, and more. Says the director, "I always had a wish list of things I wanted but could never get in our old space."
Thanks to Strong Workforce support, the lab has also expanded its electronics equipment, which Computer Information Science Professor and Lab Coordinator James Town plans to put to good use. He holds classes in the makerspace not only because it has all the electronics learners need but also for the possibility of cross-pollination. For example, in his electronic repairs class, a student was trying to fix a clock radio, but it was missing a knob. The challenge turned into a golden opportunity:
"The student started learning 3D modeling and is planning on 3D printing a new replacement knob," says Town. "This might not have even occurred to the student if the course were held in a regular classroom."
Collaboration is the norm for CIS students in the makerspace, where code-a-thons bring robots to life, giving students ways to practice skills with real-world applications. Any enrolled student can use the space during open hours, and many classes like Town's and even clubs take advantage of the resources.  
"There is a magic that happens when you get a group of creative people together in the same space," says Town. "I know that SCC wouldn't be the same without the makerspace."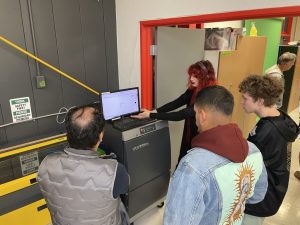 The makerspace also celebrates brand-new for-credit classes, thanks to Strong Workforce support, including an introduction to making, CNC machining, and CAD software. According to the director, the goal is to introduce students to new skills and "whet their appetite" for the college's CTE programs.
"All of our classes are solidly booked, and we didn't even advertise," says Cappelletti. "I feel like we are a massive enrollment generator when students know this is a resource at our school."
SCC alums like Austin Poberezhnik, XR Developer at Elara Systems, aren't surprised at the makerspace's popularity. The developer knows the hub will lead more students to discover new skills and emerging careers, just as he did.
"A big reason why I have my job now is because of the makerspace," says Poberezhnik. The student started in web development, but after helping the makerspace create virtual reality training for its equipment, he decided to switch career paths. Now, he builds extended reality medical training modules. He says, "We use the same engines for programming, the same languages, and a lot of the same hardware [as the makerspace] … just on a larger scale."
According to proud Cappelletti, "He's only 23 and designing visual simulations of eye cataract surgery." 
The director remembers when Poberezhnik started in the makerspace by "nerding out" on virtual reality games. It wasn't long before the student created his own VR demos, turning his newfound passion into a high-tech, high-paying career. Poberezhnik and McDowell's stories are not uncommon at the makerspace, according to Cappelletti. The innovative, explorational educational approach is why the director says the makerspace was recently highlighted in SCC's six-year accreditation report "as one of the bright spots on campus."
"We want to dispel people's preconceived concepts of what they think college is going to be," says Cappelletti, because "you never know where creativity is going to lead." 
Poberezhnik says that without the makerspace, he would never have known that his current career even existed.
"A makerspace just opens up an entire world of possibilities, especially if you're going to college and don't know what you want to do," says Poberezhnik. 
"If I didn't get into the makerspace, I wouldn't be where I am now."
March 2023