Ag Education Goes Universal at Woodland College
NFNRC News Center – September 2019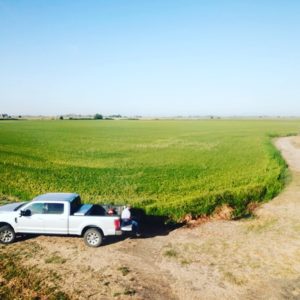 Launching beneficial garden bugs into space? Yeah… it's a thing. And this year, Woodland College Agriculture students are a critical part of this literally groundbreaking mission.
They'll be helping local ag-biotech company Pheronym conduct research on the effect of gravity on nematodes that eat up garden pests, reducing the amount of pesticides needed to grow crops.
While one set of nematodes goes up to the International Space Station, Woodland College students will be running the control experiment on the ground. They'll compare the difference between normal nematode behavior with those in space. The research will help Pheronym understand how nematodes function and could help astronauts grow food on future missions.
"This experiment happens to be the first agricultural biocontrol experiment in space," says Dr. Fatma Kaplan, CEO and co-founder of Pheronym. "We thought it would be a very exciting experiment for the students."
Right now, Woodland College is the only school involved with this game-changing project. The unique collaboration is thanks to new professor Dr. Candice Stafford-Banks, who joined her colleague Brandi Asmus in the agricultural department about two years ago.
"We're a really small college," Stafford-Banks says. "To have two faculty members in a career education program is a big deal. We were only able to do that because of the Strong Workforce funding that we had, so that's really enabled us to expand our program drastically."
By focusing on plant science careers, the agricultural department is now more aligned than ever with industry needs. The College currently offers new classes in entomology, weeds, plant pathology, and pest management as part of the Pest Control Adviser (PCA) program.
Professor Stafford-Banks is not just expanding course offerings. By forging partnerships with local companies and organizations, she's been a driving force in exposing students to hands-on workforce experiences. Out-of-this-world experiential learning is just the beginning. Stafford-Banks is also getting students involved with Seed Central, a regional partnership established at UC Davis, which brings together regional seed and ag-biotech businesses.
This November, students will present their research alongside Ag students from UC Davis at the Seed to Fork Ecosystem Conference. Woodland College students will also tour UC Davis, learn how to transfer, and attend a special lunch and speed networking session to meet with local industry leaders. The event will be key noted by an alumna from Woodland College who transferred to Davis and now works in the seed industry.
"We're surrounded by these amazing seed companies," Stafford-Banks relates. "I think my students sometimes feel that they can't get jobs there, but I don't think that's true.
"Everybody that I've talked to has seemed receptive."
This year, 20 to 40 students are expected to attend the conference and join the networking fun. As Seed Central co-founder François Korn says, these events do not end until several students have been offered internships.
"One year, I remember a representative from a very large employer running, shouting 'Stop the bus!' to catch a few students to offer them some internships," remarks Korn. "It absolutely works! And it's a pathway to permanent employment."
Internships are required to complete many degrees at Woodland College, and the program is working with more companies like Bayer to secure even more opportunities.
One such collaboration is with Yolo Farm to Fork, where Stafford-Banks is a board member. The initiative helps build edible learning gardens in schools, repaying students' hard work by helping them get great jobs. They assist interns with their resumes, connect them with local businesses, and provide glowing references.
"I love when students leave the internship and land a well-paying dream job at Pacific Coast Producers, TS&L Seed Company, Syngenta, AgSeeds Unlimited, or any of the over 240 ag-related businesses in Yolo County," says Executive Director of Yolo Farm to Fork Anya Perron-Burdick.
Students also find jobs through the Ag department directly. According to Stafford-Banks, "at least a couple" of different businesses reach out every semester looking for help, including DeLaval, which hired two students over the summer.
"The really good jobs are there, but we need to be able to connect students with the industry," explains Stafford-Banks.
That connection works both ways. There is a considerable regional demand for Pest Control Advisers (PCA), who focus on pest management. The industry requires an intensive certification, and when Stafford-Banks helped to ramp up the PCA classes at Woodland, professionals in the industry flocked to the college to advance their certifications and careers.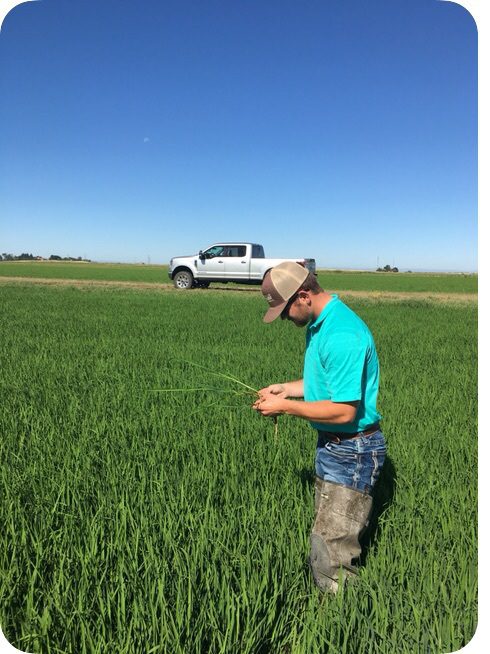 "One of the cool things about the PCA program is maybe half of my students are in a position already," Stafford-Banks relates.
That's because professionals need to complete many classes before they can even sign up to take the exam. Students come from Wilbur Ellis, Ag Unlimited, TS&L Seeds, and more. "Companies can just send them to us to finish these last classes that they need," says Stafford-Banks.
One such success story belongs to Drew Mullaney, who began working for the chemical and fertilizer retailer Grow West right out of high school. There wasn't much room for growth in his entry-level position, so he wanted to expand his education. He found the fast track to his career goals through Woodland's PCA program.
"Brandi [Asmus] got me on the right track. I was able to take online and evening classes after work, so I was able to keep my full-time job," says Mullaney, who believes this arrangement would have been impossible at a university.
Now, Mullaney has completed the program, has been with his company for five years, and is a fully licensed retail PCA.
"It was a great experience for me. A lot of the kids that are coming out of Cal Poly and Davis, some of these big ag schools, I feel like I have a lot more experience than they do," says Mullaney. "That's what Woodland gave me, was being able to be out here and not just in the classroom."
After his stellar experience, Mullaney recommended Woodland College's PCA program to his colleague at Grow West, Justen Bendure. Now, Bendure is on the same track that propelled Mullaney to success.
Like Mullaney, Bendure is grateful for the evening and online classes at Woodland College, which are easy to fit into his full-time work schedule. He feels very welcome at Woodland College, and as a result of his program, projects a bright future.
"I hope to still be working for Grow West, to get on as a PCA, and to be pretty steady and have some accounts built up," says Bendure.
That's encouraging news for Hans Herkert, Bendure and Mullaney's boss at Grow West, who credits Woodland College for preparing his employees to excel.
"Every time I asked both Justen and Drew about their path to getting their PCA license, they always had a clear answer," says Herkert. "It's pretty obvious to us that Woodland did a good job."