SiskiyouWorks Debuts 'Ready for Work' Curriculum for K-12
News Center – February 2021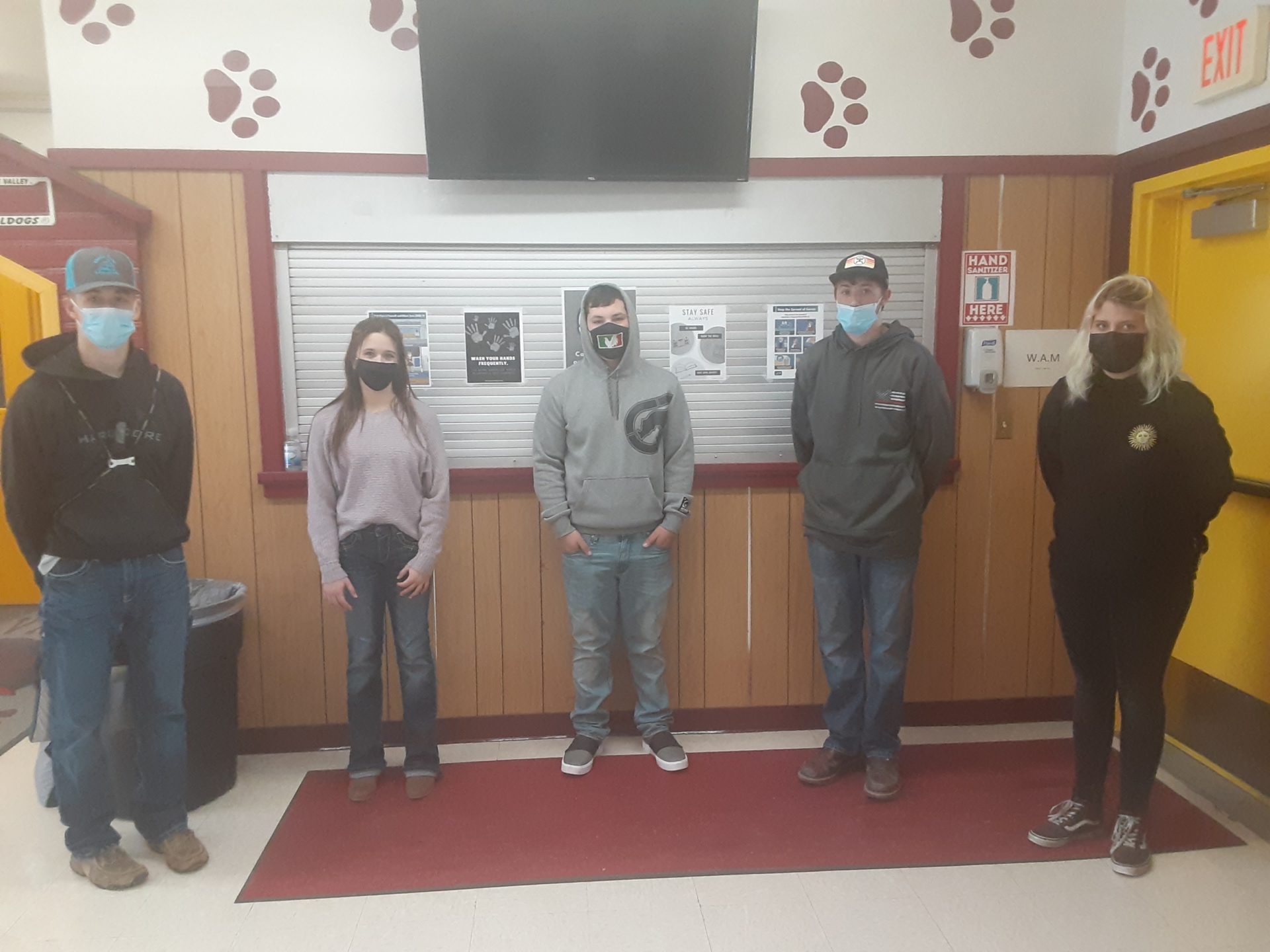 "Soft skills" are, evidently, hard to find.
Nearly three in four employers say they have a hard time locating graduates with adequate soft skills – like leadership, communication and problem-solving – according to a Cengage survey. In Siskiyou County, that gap was particularly apparent:
"Our workforce really lacks the soft skills, and that was very clear when we were doing asset mapping from our industry partners," says Marie Caldwell, Director of SiskiyouWorks. The organization has recently completed its years-long Siskiyou Occupational Advancement Roadmap (SOAR) in conjunction with local industry and educational partners, including the College of the Siskiyous and the region's high schools.
The map pinpoints workforce and educational gaps within the county and aims to bridge them. Most prominent were the critical soft skills students need to be career-competitive. With the help of Strong Workforce funding, SOAR is taking flight in 2021, debuting a new curriculum in regional high schools known as "Ready for Work." The program ensures that students master business essentials, covering everything from aptitude testing to resume-building and work-based learning.
"What business and industry have shared … is that they want K-16 students to have these basic skills so that they don't have to spend time onboarding them," explains Strong Workforce Program Coordinator Dr. Bright Nichols-Stock. She helped develop the new curriculum and now trains and supports the Career Technical Education advisors placed at each high school.
The Ready for Work curriculum starts with basic teamwork, work ethics and customer service skills. Students also practice searching for jobs, filling out employment applications, and performing mock interviews with actual industry leaders. There is even a personal finance module, where students learn the basics of calculating paychecks and taxes, with a budgeting section covering house and car payments.
Once the essentials are in place, students prove their mettle with a custom portfolio, complete with a resume, letter of introduction, reference, and course timecard to demonstrate punctuality.
According to Nichols-Stock, "If we can give them enough, when they go out into life, they will have the foundational knowledge and skills."
The course entails comprehensive YouScience aptitude testing to encourage career exploration. Students work through a series of brain teasers to discover their strengths, opening the door to expanded opportunities.
"What we know of rural students … usually, interest is based on their exposure and experience," which can be limited, explains Caldwell. But with a good aptitude test that highlights diverse options, "You end up being able to help students tap into some areas of career exploration that they wouldn't otherwise have done."
The best part? Students can access their YouScience accounts for 10 years, so they can go back into their profile, update it, and look for additional opportunities as they explore their careers.
"It's the most powerful career assessment that I've ever dealt with," confides Nichols-Stock, who has been involved in CTE for almost 30 years. "It looks at everything from aptitude to personality to the job market."
The plan, slated for Spring 2021, is to launch work-based learning experiences with local industry, including job shadowing and paid or unpaid internships. Long-term goals also include pre-apprenticeship programs with industrial tech businesses.
So far, industry partners for upcoming work-based learning opportunities run the gamut from hospitality, law enforcement, health care, business, construction and auto repair. As students network with local companies, boosting their job skills and resumes, the hope is that the hands-on learning will also help solve the area's "brain drain" challenge.
"Our employers get really frustrated because they can't find the workforce," says Caldwell. "This is a way to capture students before they leave the county."
The first internship has already begun this semester, in partnership with the Happy Camp Community Center. Three high school students are tackling the "Happy Camp History Project," which aims to fill the center's blank walls with a gallery of historical photographs.
"They are actual, full-blown employees at the center," explains Executive Director Abigail Yeager. The students work three hours a week, in which they set regular schedules and keep timecards. As the director shares, "We ended up with three very smart, capable girls who are doing a great job running this project."
Yeager says she "stays out of their way" as students take the lead on the venture. So far, they have created a Facebook page, webpage, and a project charter — a critical component of project management. Interns have also successfully utilized multiple marketing tools, including Survey Monkey and online graphics software Canva. From collecting responses to creating spreadsheets and sticking to a budget, students are getting real-world experience while helping their community.
"It's been a great collaboration," effuses Yeager, who says that the internship has helped boost students' morale — along with their grades – during the difficult time of the pandemic. The director plans to continue the work next semester and is considering additional projects to hire more student interns.
"I feel really lucky to be able to offer this," shares Yeager, who is delighted with the extra help. "They have a real interest in seeing this through and are building it bigger than I had thought."
For future internship opportunities, SiskiyouWorks is helping schools implement the Job Seeker platform to manage work-based learning, as well as to award students digital badges as they complete certifications. The platform is also extremely versatile. Not only can students search for jobs and internships on the database, but employers can also look for qualified students, reaching out through the high school CTE advisor to coordinate a connection.
Built on the Guided Pathways framework, Job Seeker will be used across the region's high schools, as well as in adult ed and at College of the Siskiyous, fostering seamless collaboration among all the different agencies.
For example, if a student has a high school internship and then transfers to the College of the Siskiyous, all of their information remains in the system, and they can continue to build their profile. "It's almost like a portfolio," according to Nichols-Stock,
"The goal of this process is to really align all of our education and industry," adds Caldwell. "It should make us pretty powerful as far as expanding the workforce."
At Butte Valley High School, the Ready for Work curriculum has already taken off, with eight students completing the program so far. According to CTE and GEAR UP Advisor Sara Allen, it's brand-new territory.
"A lot of the students are happy that they learned something real and pertinent to their future," says the advisor.
Many students took the class quite seriously, according to Allen, and did a fantastic job on their portfolios. Butte Valley student Kylee Truax says the in-depth curriculum helped her master essential job skills.
"When I first started, I really had no idea how to do a resume or any of that kind of stuff," says the sophomore, who one day hopes to run the business side of a ranch. In particular, she learned a lot by filling out a job application and comparing notes with students who applied to different types of positions.
For Truax, the wide range of skills gleaned from Ready to Work was the key to increasing her confidence regarding her future career. From professional communication techniques to increased work ethic, she says she learned "things that you really need to know that are simple, but most people don't exactly know how to do it."
A highlight of the course for the future businesswoman was sitting for mock interviews with the principal and a board member. That experience entailed not only acting professionally but also dressing the part. Truax says the experience boosted her boldness.
"That was my first time ever," says the sophomore, now confident in an interview situation. "I'll have a better feeling when I go into an actual one."
Truax's advice to future Ready for Work students? Just go for it.
"I think a lot of kids should take it because it really gives you the main things you need to know about jobs."
Sources:
New Survey: Demand for "Uniquely Human Skills" Increases Even as Technology and Automation Replace Some Jobs
Survey shows 73 percent of employers say it's very or somewhat difficult finding qualified candidates
https://news.cengage.com/upskilling/new-survey-demand-for-uniquely-human-skills-increases-even-as-technology-and-automation-replace-some-jobs/