Unique K-14 Partnership Drives Accessible Automotive Ed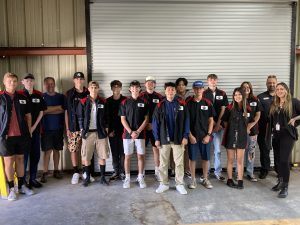 Sierra College and RJUHSD Automotive.
Back in the days of Ford Thunderbirds and Chevy Bel Airs, young techs would learn automotive basics just by holding the flashlight while their parents changed the oil. But as today's cars became too complicated to work on at home, native automotive skills and interest have broken down.
"We were trying to hire people and not having luck," confides industry partner Bill McAnally, famous for his champion NASCAR racing team and owner of Bill McAnally Racing NAPA AutoCare. The shop had to train the few employees it could find for months on the basics. The dire need to build the local talent pipeline became clear to the racing enthusiast:
"We needed young people who were interested in automotive," says McAnally.
The accelerating pressure fueled a unique partnership. The Roseville Joint Union High School District (RJUHSD) began offering automotive classes at McAnally's shop conference center, with Sierra College on the career technical education advisory board. After the first semester, when every grad landed an automotive job, the partners knew they were on the right track. As McAnally says, "They started filling our void by bringing in some apprentices, so it worked out really well." 
The program outgrew the conference room after only three semesters as interest surged. At the same time, Sierra College reassessed its program to better align automotive offerings and helped pool resources in the region to make automotive accessible to even more students.
"We were hyper-focusing on what employers really want," recalls Dr. Amy Schulz, Sierra College Dean of Career Continuing and Technical Education. "Employers are really looking for people with foundational skills in automotive, so we distilled down our program into two classes, working directly with employers to meet their needs."
Industry partners, including Mercedes-Benz, Subaru, and Ford, and educational partners, including Sierra College and American River College, all pitched in to rewrite the curriculum for the 100 and 140 automotive classes. Now, the refreshed courses are offered through the RJUHSD and Roseville Adult School in partnership with Sierra College. 
Says Schultz, "We were able to leverage resources and really respond to industry needs."
Sierra College closed its automotive facility, turned it into a makerspace, and donated its lifts, tools, and equipment to the new Roseville Automotive Training Center at Adelante High School for everyone to use. During the day, high school students take dual enrollment classes, while Sierra College instructors teach adult education at night.
"The shop is being used 12 hours a day, from eight in the morning until eight at night," says Assistant Principal at the Roseville Adult School Jason Harm. "Sierra College's donations helped us open our new facility quickly."
The training center officially opened in the fall of 2021, also thanks to the Strong Workforce Program, which helped update and purchase further equipment to industry specifications. Strong Workforce support also increased opportunities for dual enrollment, especially for underrepresented groups in CTE.
"We're having an uptick in female applicants, which speaks positively of non-traditional student groups becoming more interested in automotive training," says Harm. "We could not have done it without Strong Workforce."
Currently taking classes are 53 high schoolers, including 20 dual enrollment students with Sierra College, and 25 adult ed learners. Next year's program already has a waiting list. 
Says Harm, "The cool thing about our partnership with Sierra College is if a student is unable to get into the program during the day, we can get them into the evening adult ed program." 
High schoolers travel from as far as Woodland and Grass Valley to take advantage of the adult ed classes. As Sierra College instructor Jesus de la Torre notes, "Being able to offer the auto classes in the evening has been huge."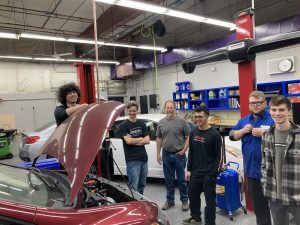 Adult ed courses have a mix of noncredit and for-credit certificate students, where participants learn automotive tech skills, common industry tools and equipment, and vehicle systems service and repair. Best of all, every student is prepared to take the Automotive Service Excellence (ASE) exam, which certifies entry-level automotive repair and service professionals. 
According to de la Torre, "The new facility allows more students to take advantage of what our community and campuses offer."
The high school automotive program also provides competitive internships, where many students go straight from class to career, according to CTE teacher Mitchell "Mitch" Crowden.
"When they go to their internship shop, if they treat it like a real job, then at the end of their senior year, they will absolutely get hired because there are so many jobs," says the proud instructor. "I've worked really hard to make sure my kids are prepared."
For high school students Hayden Fulmer and Skyla Self, their automotive classes and internships at the local Ford dealership are where the rubber meets the road.
"I've been working on cars ever since I was young with my dad," says Fulmer. Meanwhile, Self has a brother in the automotive business, so when she saw the school email announcing the new courses, she said, "That sounded cool because I like hands-on work." 
At the Ford internship, students shadow technicians and are exposed to every aspect of the shop, from basics to advanced tech.
"We watch what they do, and they have us do it too," says Self, who has taken apart a transmission during her internship. "I get to bounce around with lots of different people and learn about their professions. It gives us a whole bunch of opportunities to choose a path."
According to pleased industry partner Robin Anderson, Service Manager of the Future Ford Fleet Center, he's happy to see that student internships are helping get the local talent pipeline into high gear.
"When I get older, that's who's going to have to fix my car," says Anderson. He says Fulmer is getting into electrical work while Self is drawn to service tech, positions that are in high demand. "Both of them want to dive into this as a profession," says the manager. "I think Mitch is doing a great job over there."
Plans for the program include increasing internship locations as enrollment swells. In late spring, the Roseville Automall will host a mini job placement fair just for the high school, giving students the added practice of interviewing and writing resumes and cover letters. 
Industry partners like McAnally are pleased with the progress and surprised at how quickly the program has grown. "The high school program is advancing the new hires and interns we get," says the business owner. "It's going to be a great outlet for many shops in town to draw on young, hungry students interested in becoming automotive technicians."
McAnally says the future for students is bright, with master technicians in his shop making over $100,000 a year. He's glad the new program is getting more students on the road to in-demand automotive careers.
As the industry partner says, "It makes me feel better seeing the younger generation interested in the automotive field, and we're now giving them a place to do that. It's rewarding."
April 2023