Lassen Community College Fire Tech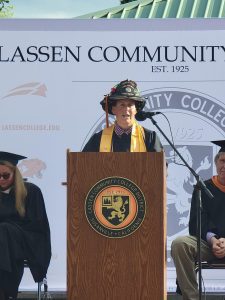 Dawn Mateo never thought she'd ever earn a college degree, let alone be a keynote graduation speaker — while wearing her tassel on her fire helmet.
"Two years ago, I came back a lost and wandering soul trying to pick up the pieces of my life and figure out where I belonged," says the grad in her speech. "At 40, I finally accomplished what most people do in their 20s. 
"I'm proof that it is never too late."
Right out of high school, Mateo started as a volunteer for a fire department, an experience that led to her 20-year EMT career and becoming the volunteer medical lieutenant for Janesville Fire District. Two years ago, a search to rediscover her passion for firefighting led her to Lassen Community College. Fire Technology Director and Chief Dan Weaver encouraged Mateo to sign up for the academy, and a spark was rekindled.
"It's a small community, and I'm really glad we have such an amazing program so close," says Mateo. "It's the best fire technology program in the state!"
With her new associate degree, Mateo will be on her way to the competitive National Fire Academy for EMS continuous quality improvement management training this summer. She plans to pursue a bachelor's in either fire technology or emergency management and one day hopes to return to her alma mater to teach. She says becoming an instructor is a great way to stay in the field
 as she ages and pass on her knowledge to the next generation. She credits her inspiration to the LCC teachers:
"All the instructors were super knowledgeable and very approachable," says Mateo. "It's nice to take bits and pieces that I learned from all of my instructors to help create my teaching style."
On top of expert instructors, the LCC grad says the excellent hands-on learning gave her a leg up to her next career stage. "Everything you learn at the community college fire tech program is all
 real-life based, and it's great to go out there and practice," says Mateo. She found putting out fires on the school's propane car prop extremely helpful in her training.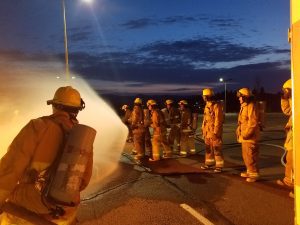 "It's nice to have that equipment and the instructors with the knowledge and passion."
The Strong Workforce Program has recently helped upgrade the college's fire tech classrooms and equipment, including support to purchase steel, which the welding department turned into window training props for simulating burning structure rescues.
According to LCC Dean of Instruction for Career Education Programs Michell Williams, "Those training props help create that muscle memory and knowledge of what to do in an emergency that is vital for students who go into the field."
The dean says that the region has recently experienced devastating wildfires, making the fire tech program more popular and more important than ever: 
"Being able to train our community members to work in the field has definitely hit home, and it's great to see our local students on the lines saving our communities."
The fire tech program offers flexible options, including an associate degree, CAL FIRE and Federal firefighter certification classes, and other professional development courses.
"We provide a full spectrum of entry-level classes for people who want to get involved in the fire service," says Director and Chief Dan Weaver. Courses like the popular driver operator certification to help volunteers promote to engineers are offered on weekends so that participants don't have to miss work. Says the chief, "We're just trying to help out all the agencies and get firefighters hired."
The program includes offerings at the local High Desert State Prison Fire Department, where incarcerated students can earn their entire fire tech associate degree in a one-year accelerated program. According to Instructional Site Administrative Coordinator Anna Pasqua, the program has been a resounding success.
"We've gotten quite a few graduates from that program," says Pasqua. "They've talked about how it's been really helpful for them." College degrees prove to prospective employers that students are hard-working, and upon release, graduates have obtained positions in CAL FIRE and beyond.
"It's exciting to see that happen," says Pasqua. "It helps the students, and it helps the community because they are part of the local response. The better they are trained, the better response we have."
The college also celebrates a new program in partnership with the Susanville Indian Rancheria Natural Resources Department to train an emerging fuels crew. As Pasqua says, "If this works well, we can expand and provide training to other local tribal communities and help them grow."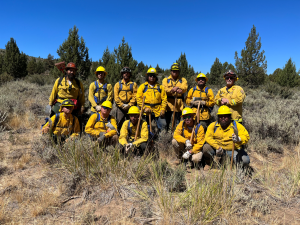 Brandie Cooper, Natural Resource Director at the Susanville Indian Rancheria, says the training is essential and timely. One of the Rancheria's properties includes 160 acres in the Thompson Peak area, where the Dixie Fire created serious damage. "It burned quite a bit of the property at high severity," says the director. "Losing that much timber was kind of devastating."
In October, the fuel crew visited the area for hazardous tree falling training, earning solid skills while helping to clean up the affected land. From fuel reduction, replanting, prescribed burn work, and creating defensible space, the hope is to train and certify crew members while creating healthier, fire-resistant forests. 
Cooper hopes to open the community college training to more tribal members as the fuel crew grows and knows that LCC will be there to help. "When we did the PAT (Physical Ability Test), we didn't have enough weighted vests," recalls the director. "We called Dan, and he said, 'Swing by, pick them up, whatever you need.'
"They've been really great and open to accommodating what we need."
The college also plans to kick start a forestry degree, which is currently pending the Chancellor's approval and will receive Strong Workforce support for equipment.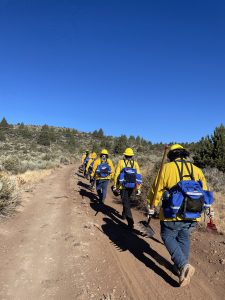 "All the agencies are realizing that we can't keep fighting these large fires," says Weaver. "CAL FIRE and the Forest Service have big plans for fuel management, and they just don't have the personnel to take care of a lot of that."
The degree will articulate directly with Cal Poly Humboldt and include fire tech basics, forest management, and fire in the interface. According to Weaver, the degree offers the perfect career shift to older firefighters who can become foresters and still "stay in the game."
It's the kind of pivot that Mateo understands well. At 40, the EMT is excited about an evergreen career path in her field that can open up with her new degree.
"The memory I will keep for the rest of my life was the opportunity to speak at graduation," says Mateo. In her speech, she thanked Chief Weaver and all of her professors "for reigniting my love of firefighting and my passion for helping my community.
"It's great to be so invested in this community and provide the best care possible to the residents that I can."
June 2023