Under the Hood with Mendocino College Automotive Tech
NFN News Center – January 2020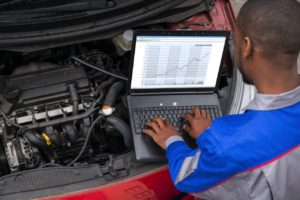 Through two decades, hundreds of vehicles, and thousands of repairs, Doug Boswell's Mendocino College Automotive Tech program has "never had a car that we weren't capable of fixing."
Don't expect that perfect batting average to drop anytime soon. With 50 years of automotive experience and a teaching philosophy built around problem-solving, Boswell instills a "can-do" swagger in his Auto Tech students through genuine garage experience.
"We'd rather do a real brake job than something that's been through it 100 times," says the instructor, who began his teaching career as a corporate trainer at Mazda. "It takes time, but that's what makes it unique – students doing real stuff."
Mendocino College's hands-on approach starts with two, fully equipped modern automotive shops, complete with vehicle lifts, modern alignment equipment, brake tools, diagnostic tools and A/C Recycling machines. In 2019 alone, Boswell estimates that his students successfully overhauled 200 cars – some donated as "fixers," but most brought in by real customers for legitimate repairs.
"It allowed me to apply my interest in vehicles with a hands-on learning approach," says Xavier Ortiz, Mendocino College Auto Tech student and burgeoning automotive professional.
The main auto shop includes 10 lifts and enough space for 20 students. Repairs are performed for community members at a reduced rate, often using donated and discounted parts to save hundreds compared to a commercial mechanic. Meanwhile, Auto Tech students benefit from real-world experience in a professional shop environment.
"There's enough space to do the job," says Boswell. "Students aren't waiting in line to use the tools."
They don't have to wait long for lucrative careers, either. With a large number of mechanics in the region reaching retirement age, opportunities are legion for automotive technicians with up-to-date skills and training. In fact, demand is so high for program grads that, most often, it's the employers doing the waiting.
"I so regularly get calls," says Boswell. "All the shops are looking for somebody, looking for a technician."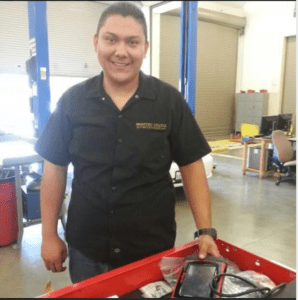 Automotive service technicians earn $45,840 in California – about $5,000 above the national average, according to the Bureau of Labor Statistics. Similarly, body repair specialists — like those graduating from Mendocino College's award-winning Automotive Chassis Repair program – command $48,830 annually, about $6,000 above U.S. mean.
"Prospects are good," says Boswell, who jokingly regards the Ukiah DMV's "always packed" status as anecdotal evidence of regional demand. "California is a good place to be."
Opportunities for Mendocino College Auto Tech grads students are as varied as the vehicles they work on. Besides the vaunted Chassis Repair certificate, which earned a Strong Workforce Star from the CCCCO in 2018, the department offers an associate degree in automotive technology, as well as career certificates in Auto Technician and Tune-Up/Specialist.
Graduates most often gravitate toward Automotive Technician positions with dealerships and local shops – but that's not all, according to Boswell. One current student is planning to parlay her associate degree into a bachelor's in Forensic Science, with the goal of becoming an accident investigator. Others are using the regionally renowned program to lay foundations for careers in teaching, racing, and more.
"I know about all those jobs you didn't know exist," says Boswell, whose diverse industry experience makes him a unique asset as an instructor and career mentor. "[Usually] they want at least an associate degree, if not a bachelor's."
The department stays on the cutting edge of industry trends by partnering with local employers, like Ukiah's Thurston Auto Plaza and Fowler Auto Center. Alliances like these serve not only to strengthen course curriculum, but to connect graduates directly to in-demand career pathways. For students, that means getting from enrollment to outcome faster.
"My favorite part of the program is the organization of the classes [and] the fast-paced learning environment," says Ortiz, who also appreciates the program's flexibility, as someone who works full-time during the day.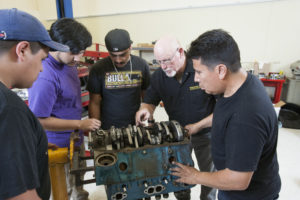 But for Boswell, it takes more than just modern curriculum and equipment to serve students – it takes real connection. The Automotive Tech program prides itself on small class sizes, individual student attention, and a close-knit "vibe" not unlike a real, working garage.
"We interact a lot with our students," says the instructor. "You get to know people really well when you work with them. It's impossible to be an auto student and not be known."
In recent years, Mendocino College Automotive Tech has taken that philosophy a step further, through an innovative partnership with the ESL program. By combining introductory English coursework with basic automotive repair classes, the College has uncovered a novel, undeniably clever way to combine adult basic skills and career education, while augmenting the effectiveness of both.
The class, comprised mostly of native Spanish-speakers, uses automotive terminology as a jumping-off point for broader connection and understanding. By working together in an environment where communication is of critical importance to safety, students build confidence not only in their English skills, but in their potential to advance in the workforce and community.
"It's probably my most fun class," says Boswell, who is especially moved by small "a-ha" moments, like when he hears his ESL students give the compulsory "All-Clear" in English before starting a vehicle or machine. "I end up learning so much… sometimes we argue the different terminology."
As long as demand persists, Boswell says, Mendocino College will continue to explore new ways to introduce students to opportunities in Automotive Technology. But right now, the half-century industry veteran couldn't be happier with the program's success.
"I'm just super-proud of their accomplishments," Boswell says about his graduates. "I've been in this business close to 50 years, and this is the thing I'm most proud of."