NFNRC – December 2019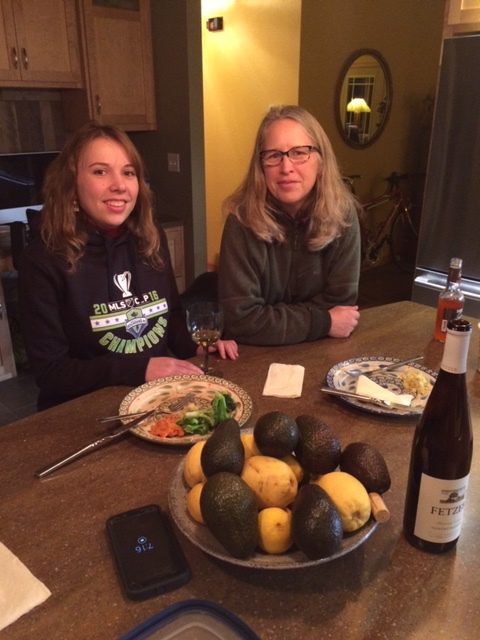 "My mom's done woodworking as long as I can remember, so I've always had that influence," says College of the Redwoods student Samantha Metcalfe.
Samantha was working as a social worker when "I decided that I wanted to have a career change." She had enjoyed her drafting classes in high school, and began to imagine it as a living.
Her mother, Kristen, had taken classes at CR years before, and helped worked on a student-built house in Fortuna. Kristen was remodeling her own home at the time, "so I took some classes, so at least I would have an idea of what they were doing to our house." Kristen would go on to build the skills to perform some of the remodeling work herself, and enjoyed her classes so much, she took more.
So, when Samantha went to work on her drafting degree, College of the Redwoods was a natural choice. And when she noticed an opening in the tiny house class, she signed up right away.
"I wanted to have some hands-on experience with the construction aspect, so I would know what I was talking about when I made plans," says Samantha. "It appealed to me because it seemed like a good way to get a lot of information really quickly."
When Samantha's mother found out, she was also intrigued, and decided to sign up for the class as well.
"Not only are you building it from the ground up like you would a residential house, but we're also putting in appliances," says Kristen. She notes that students will also have a chance to do some plumbing, sheetrocking, and possibly even electrical work. "You really get a full array of everything that goes into making a house."
Samantha is working part-time while she attends College of the Redwoods full-time, and what she's learned in the tiny house class is already giving her a career boost.
"I have a lot more confidence, especially as I've already started a drafting job," she says. "When my boss is talking to me about X,Y, and Z, I'm like, 'oh yeah, we did that in class. I know what you're talking about.'" For her, the hands-on skills she's learning in the tiny house class are invaluable. "It helps solidify all the information that we're learning in the construction theory class.
"It's one thing to hear about it, and it's a whole other thing to actually do it."
For Kristen, the tiny house class is opening doors to a whole new frontier. "It's giving me skills that I haven't done in the previous construction classes."
In the class, 10 out of the 12 students are women. While it can feel "a little bit more comfortable having more women in the tiny house class," according to Samantha, she feels that she isn't given any preferential treatment because of her gender.
"I don't really want to be treated any differently," she says.
"I don't feel being in those classes that I'm being pandered to," echoes Kristen. "I'm just another student. And that's what I like about it."