IB-CP Pathway Connects High School to Healthcare
January 2021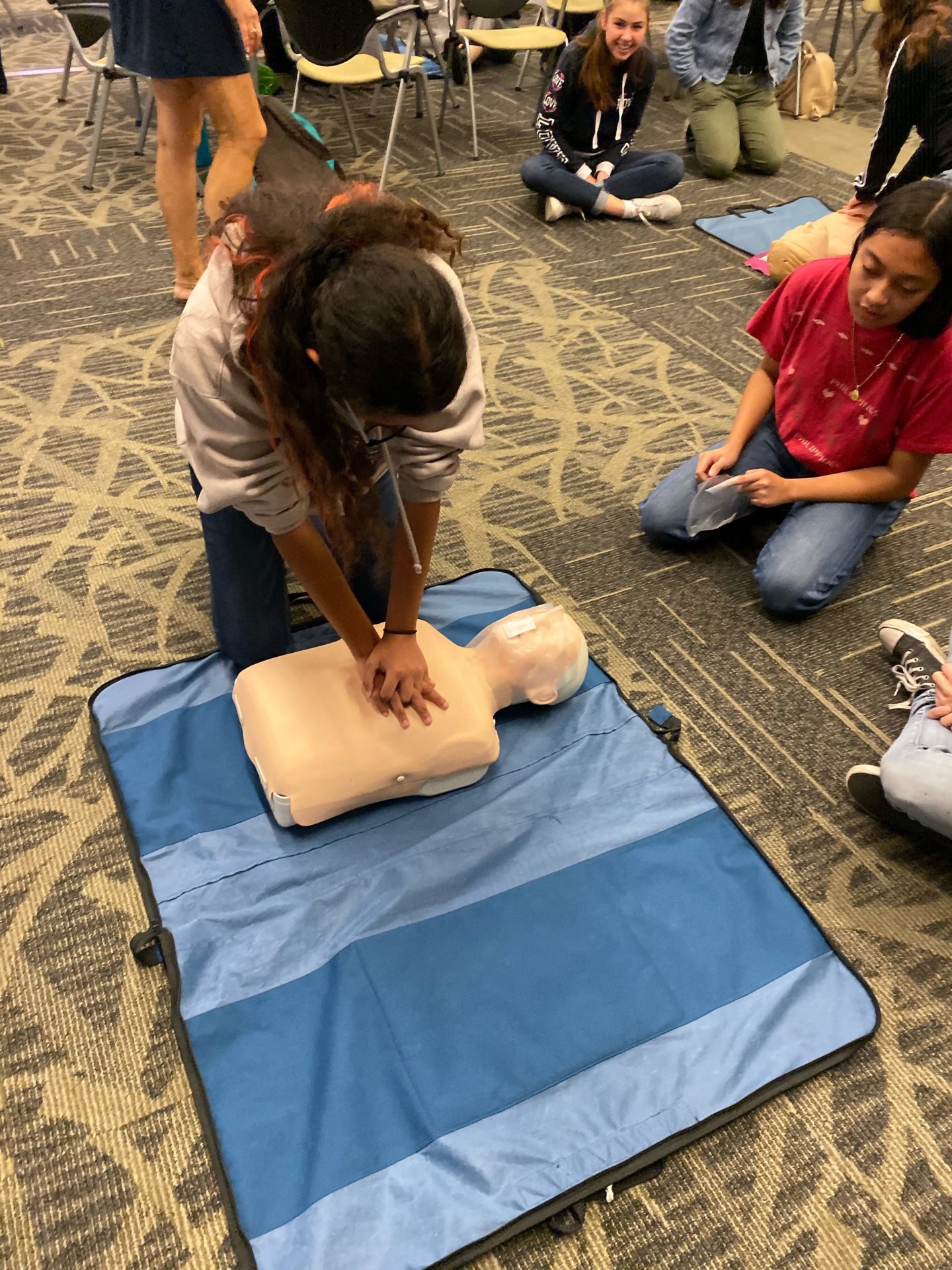 Good grades are one thing. A good education is something else. And while most every California high school student graduates with the transcript to apply to college, many lack practical skills to apply to life.
Enter the International Baccalaureate Career-related Programme (IB-CP), a dynamic set of curricula for high school students, grounded in hands-on learning. The program aims to produce well-rounded, well-prepared grads, and with the support of community college, K-12 and community partners, it's beginning to bridge the gap for students in the Sacramento region.
"Academically successful students were not taking any CTE," says Alicia Caddell, CTE Coordinator for Folsom-Cordova Unified School District. "They had no idea of the benefits of CTE programs.
"College and career. It's not either/or for those kids. It's both."
Two years ago, Cordova High School became the fifth California school – the first bearing "Title 1" status — to complete the IB-CP selection process successfully. With the help of Strong Workforce funds, and the support of an energetic faculty and community, the IB-CP Patient Care program is heading into year 3 with plenty of momentum.
"We want to prepare our students for careers in high demand," says Zandi Llanos, Teacher and Coordinator for the IB Diploma and Career Programme at Cordova High School. "The healthcare sector is a significant employer … a CTE pathway in the medical field is necessary for our Sacramento region."
The Patient Care program provides a challenging menu of CTE-focused courses for high-performing students considering a career as well as college. Starting in 10th grade, program participants supplement their usual high school curriculum with classes like "Personal & Professional Skills," leading to industry-specific courses in Patient Care.
What really sets the program apart, according to Llanos, is the hands-on aspect. Far from a typical high school day, an IB-CP student might experience a tour of a local medical facility, and even rub elbows with industry professionals through panels and guest speaking engagements.
"Students learn to use industry specific equipment and can earn healthcare industry certifications including CPR/First Aid and HIPAA," says Llanos. "This strengthens their industry knowledge and resume so that [they] complete the program ready to meet future needs."
While the program stresses real-world job skills throughout the school year, summer is the season for putting those skills to use. At Cordova High, the Patient Care program culminates in a summer preceptorship with a local employer, allowing students direct experience in a live, patient-present environment.
Once matched with a hospital or clinic, students spend four days of each week "on the job," working with the same facilities and equipment used by essential Sacramento-area health professionals. The remaining day is devoted to development of "soft skills" such as communication, teamwork, leadership and problem-solving.
Best of all, according to Caddell, the preceptorship climaxes with a research project and TED Talk, empowering the student not only to "walk the walk" in the healthcare industry, but to be part of its innovation.
"For a lot of kids, it's their first time in a professional environment," says the coordinator. "It [can] validate what they think they want to do, or sometimes it's: 'No way, I'm not going to do this.'
"My goal is career readiness. We're responsible to the labor market."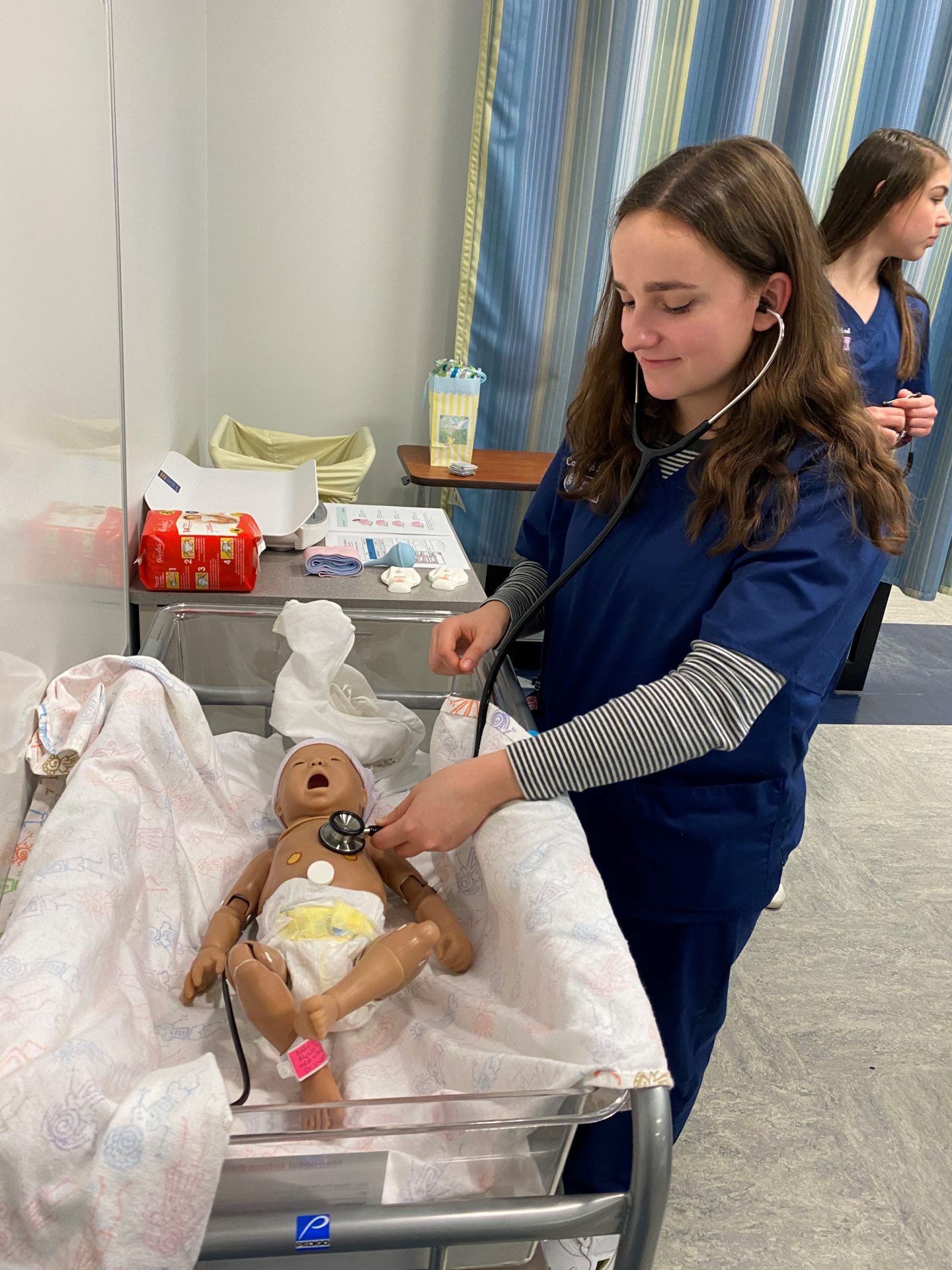 It's a considerable responsibility in the North Far North region, which is experiencing critical shortages of qualified health care workers from Stockton to Eureka. The need for patient care-focused professionals – like Personal Care Aides — is particularly urgent, with hospitals, physicians' offices and HMOs all pulling from the same overtaxed workforce.
Meanwhile, the average salary in these undermanned careers start around $49,000 – roughly double the living wage in the NFN region, according to the Bureau of Labor Statistics. And earning power only increases with experience, with the average annual wage in all health care professions weighing in at about $70,000.
"The IB-CP Patient Care Pathway has been very successful in offering a well-rounded education to the high school students who aspire to work in healthcare and the medical field," says Llanos.
It's all about giving students an opportunity "to develop leadership, teamwork, motivation, recognition and develop knowledge of careers in the healthcare industry," says Dr. Christopher Mahaffey, who believed in the CTE mission enough to pursue a special CTE credential to be able to teach the Patient Care 1 and 2 courses at Cordova High. Even better, according to the instructor, they get connected with employers, college programs and even CTE-focused student organizations like HOSA-Future Health Professionals.
Cordova High's pioneering program is waging war on the "either-or" fallacy of career education, in which students have traditionally been expected to choose between academic and career pathways. But with more and more brain power, not to mention funding, being dedicated to bolstering California's workforce at the ground level, the lines are beginning to blur.
Caddell tells the story of a top-notch high school student who got placed with a law firm, and only then realized a lack of "soft skills" that might make law school unnecessarily difficult. For the coordinator, it's an epiphany that the student "wouldn't get anywhere else."
IB-CP program grads take their next step in life with more than just essential career skills — they also get college credit. The capstone course completed in high school converts to a genuine college transcript, allowing students to skip their college intro course, and possibly more. "We want to create that bridge," says Caddell.
Thanks to the rigorous coursework and hands-on experience, IB-CP grads tend to hit the ground running, and the first Patient Care cohort at Cordova High is no exception. Llanos considers Cordova High's first graduating cohort not only an unmitigated success, but the perfect foundation for the future of K-12 career education.
"Our seniors have applied to universities and community colleges with the goal of earning professional work in healthcare, and some plan to work in entry-level positions while supporting themselves through college," says the instructor.
For students like Belen Trujillo, the program has been nothing short of a game-changer.
"The IB-CP has given my education a unique sense of interdisciplinarity," the Cordova High School senior told the IB Quarterly career education newsletter. "The awesome thing about IB-CP is that there is a place for everyone."
With three of the top 10 health industry employers – Dignity, Sutter and Kaiser – all within 11 miles of Cordova High School, the IB-CP program and the regional healthcare industry are a match made in CTE-heaven.
"Without [their support], we couldn't do any of this," says Caddell. "They want to hire our kids."