Woodland Community College's EMT Program
News Center – April 2020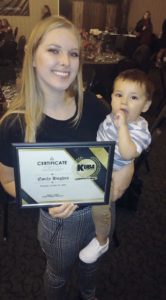 When a 15-year-old girl was bleeding out from a bullet wound, Woodland Community College grad Emily Hughes was there to save her.
Newly certified and just three years older than the patient she rescued, Hughes was only on the second day of her job as a standby medic. She was half an hour away from the end of her shift at the Gilroy Garlic Festival when she heard a strange noise, and time froze.
"It sounded like firecrackers," she recalls. "Everybody started sprinting from the other side of the tent over to us, saying, 'They're shooting at us — they're shooting at us!'"
Hughes hurried into the center of the chaos to help people evacuate until festival workers ordered everyone to get down and be quiet. In a moment of grim clarity, she took a moment to send a quick message:
"I texted my dad, and I said, 'Hey, there is an active shooter. If I don't make it, tell my son that I love him.'" At the time, her child was only about eight months old. When her father tried to call, Hughes couldn't answer, because an officer was shouting at her to get into her police car.
Inside, a girl dressed in a cheerleading uniform was bleeding over the backseat. Though terrified, Hughes' reflexes took over. As she put pressure on the wound, the officer drove them to a local high school where a helicopter was waiting to medevac.
"On the inside, I wanted to cry and run away," recalls Hughes. "But on the outside, I was 100 percent focused."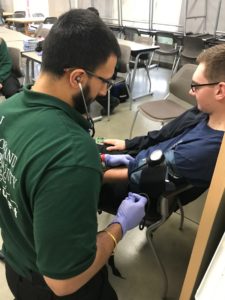 Upon arrival, Hughes helped roll the victim over and found the bullet exit wound. She applied the trauma dressing, and her patient was on her way to the hospital. Stunned, Hughes stayed back while officers congratulated her on a job well done.
The next day, Hughes was shaken, but okay. And best of all, she learned her patient was alive and recovering well. Later, Hughes received a Community Hero Award, an accolade she co-credits to her father, also a paramedic and her mentor, and Woodland Community College, where she received the hands-on training to become an everyday hero.
In the one-semester-long EMT class at Woodland, Hughes practiced working inside of a moving ambulance. So, when she steeled herself and staunched her patient's bleeding in the zooming police car that fateful day, it was second nature. Thanks to her college's participation in active shooter drills in partnership with local law enforcement, she was prepared when disaster struck.
"I'm not that good at school," admits Hughes. But Woodland's practical, skills-based training felt different. She attributes that change to her instructor, Program Director Lori Thomson, who made the class fun, hands-on, and anything but "death by PowerPoint."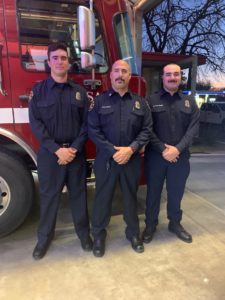 Now, after being in the field for less than a year, Hughes has landed a full-time position with American Medical Response (AMR) working on an ambulance. Her professor couldn't be prouder.
"I feel thankful that plans have been developed, and we can prepare our students to act in a safe manner as they set out to be of help to those who need it," says Thomson.
A seasoned instructor for 14 years who has worked in EMS for more than two decades, Thomson was instrumental in bringing back the Woodland EMT program three years ago. With the help of Strong Workforce funding, the program received a "cache of fabulous equipment" and support for an essential instructional assistant.
Strong Workforce funding also helps the program equip and maintain the ambulance donated by the local fire department, vital to the program's real-world training.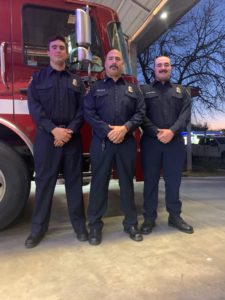 "We drive them around in the parking lot while they're caring for a patient in the back," says Thomson, who believes that practicing something until it becomes "muscle memory" ensures that students like Hughes will be able to respond automatically in the field.
Other practical training includes performing blood-checks on fellow classmates, simulating the administration of Narcan using a saline solution, and the students' favorite, giving Smarties in lieu of aspirin when practicing emergency heart attack care.
"It's beyond valuable to actually be able to do those things and have it be comfortable," explains the professor. "My dream as an EMT instructor has always been to make the classroom as real to life as possible."
The demanding program entails 200 hours and nine-and-a-half credits. After the intensive training, students find jobs with companies like ProTransport-1, Falck and AMR.
For students looking for hands-on paramedic training, the EMT program provides a robust foundation for career success.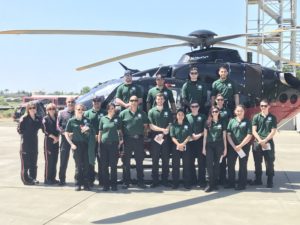 The EMT program is a massive boon for Yolo County, especially for local fire departments that depend on the College to help train their firefighters. One such student is Bo Salazar, who went from being a volunteer to a full-time engineer with the City of Colusa Fire Department.
Salazar was required to get EMT training to advance in his firefighting career and qualify for a pay raise. But beyond just meeting requirements, Salazar found the critical skills he needed to save lives.
"I've had a lot of medical training in the past, but nothing as intensive as it was at Woodland," says the first responder. He credits the in-depth training to instructor Thomson, who "was able to run us through the wringer." He says the EMT class prepared him to ensure the highest chances of survival for patients.
It wasn't easy. Due to a learning disability, Salazar had a difficult time in the classroom setting. At Woodland, he says, he found the support and experiential training he needed to ace his exams. Even when it came to unexpected "pop quizzes," he rose to the occasion. Like the day a student from a neighboring classroom barged in and shouted, "Is this an EMT class? We have a guy having seizures!"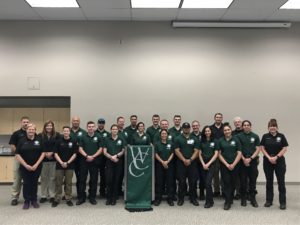 The emergency occurred during a class break, while the instructors were away. Salazar and one other student, who was also a certified responder, ran across the hall and started applying what they had learned.
"As soon as they [the instructors] came in, we had already taken his blood pressure, gotten his pulse rate, and started doing an assessment," recalls Salazar. Once the paramedics arrived, and everyone finally returned to class, Salazar will never forget what Thomson said:
"She called me an overachiever and started giving me a hard time!" he jokes. Countless emergency calls later, he remains "eternally grateful" to his favorite teacher for preparing him for the real world.
"As an instructor, you often have those students that you wish you could clone and fill your classroom with," shares Thomson. "Bo was definitely one of those students."
The feeling is mutual. According to the program grad, Thomson has not only helped him further his own career, but she also lit a spark for the further generations of Salazars. His oldest son also studied in Woodland's EMT program under Thomson, and now works with his father as a fellow engineer. Soon, they will both be joined by Salazar's youngest son, who is about to finish his firefighter training and run calls with them. Salazar couldn't be happier, and he is grateful to Woodland Community College.
"I found my calling, and I'm doing what I was meant to do in life."