Mendocino College PTA Program Expands for Long-Distance Commuters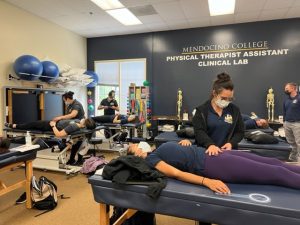 Sharon Hammond had been stuck in a "dead-end job" in home health care for 20+ years and wanted a more stimulating career for her brain and her bank account. So, she set her sights on Mendocino College's hybrid Physical Therapist Assistant (PTA) program and didn't let the weekly 158-mile commute or her learning disability get in the way of accelerating her career.
"I can finally say that I'm a professional at something in my life at 42 years old," beams the Mendocino alum. 
The intrepid student says she had to work hard for her degree and climb some "mental mountains," but in the end, she graduated, passed her state boards, and earned her license: "I wasn't the star student, but I did it!" Shortly afterward, Hammond landed her dream job at her student clinical placement site, a nursing home near her Eureka residence. Now, instead of a two-and-a-half to three-hour drive to class? She commutes just a few minutes to work each day … and earns more than double her old salary. 
It's "a Goliath step up" on the career ladder. Hammond says her success is thanks to PTA Program Director Sara Bogner, who "would literally Zoom with me every week to go over the topics I was struggling with. I would not be working at my nursing home today if it wasn't for Sara."
According to the program director, Hammond is a testament to the tenacity of Mendocino's PTA students. And she's one of many commuters who make the long trip and overnight stay for the two-day, in-person labs on campus every week.
"Sharon is a great example of how hybrid education can help students reach their educational goals," says the proud instructor. "We have had the privilege of having exceptional students from various locations in California, with people commuting up to five hours to attend labs on campus while also being able to complete online coursework from home."
Bogner helped establish Mendocino's PTA program, along with the sister program at Shasta College, in 2019 — just before the pandemic. While making the program hybrid was necessary at the onset, the format continues to be essential for students all over the region — and the state. The director says, "I had a call yesterday from an interested student in San Diego. They want to do a hybrid program so they can continue to work and do classes online."
Mendocino's PTA program is supported by Strong Workforce, which helps cover costs for faculty and hands-on learning equipment, from mobility supports like wheelchairs to ultrasound machines. The funding also provides textbooks to learners to help reduce student debt.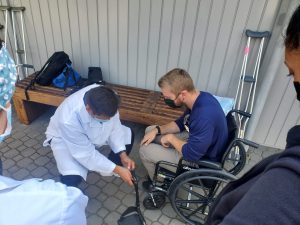 The only other PTA program in the region is located at Sacramento City College, which has an extensive waiting list. As Bogner says, "Our farthest commuter was from South Lake Tahoe, and she was able to graduate two years sooner than she would have if she had waited to go to Sac State."
In some semesters, Mendocino's program has had as many as six long-distance students. But the program also attracts plenty of commuters closer to campus. Bogner says, "People come from Vallejo, Santa Rosa, Clear Lake, all over Lake County, and from the coast, within an hour and a half range."
Online technology and clinical partnerships throughout California and with neighboring states make it possible to support students both near and far.
"We're helping the community meet the need for PTAs, and we're helping students complete the program who don't want to relocate," says Christy Smith, Dean of Career Education in the Mendocino-Lake Community College District. "It's a win-win for everybody."
A coordinator who works with both Shasta and Mendocino Colleges secured student discounts at local hotels, providing long-distance commuters with affordable lodging. And no matter the distance to campus, students can fulfill their clinical components close to home to help them network in their own communities.
"Our clinical partnerships continue to grow," says Bogner. "The more students we graduate and get jobs throughout the state, the more partnerships we're able to gain."
Many students like Hammond are hired by their clinical sites soon after graduation. Hammond's supervisor, Director of Rehabilitation Sheryl Keranen of Granada Rehabilitation and Wellness Center, is thankful that the college is helping them fill their local talent pipeline from afar.
"I'm definitely lucky to have Sharon," says Keranen. "She's super energetic and always kind and empathetic … which is really important for somebody who works in skilled nursing."
The employer says the need for PTAs and all medical professionals in rural communities is pressing. After the pandemic, many nursing homes lost employees due to caregiver burnout. That's why she says the hybrid PTA program in the Far North is essential: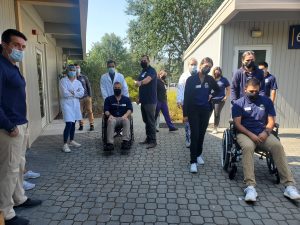 "A lot of people want to be able to earn those types of degrees and to work in their own communities," says Keranen. "I think it's excellent what Mendocino College is doing, and I think they will continue to grow."
In fact, the PTA program is networking with K12 schools throughout the region to recruit more long-distance commuters.
"Our goal is to do outreach for people three to four hours away who could drive to campus, spend a night or two, and then return to where they live," says Bogner. This spring, the director visited high schools in Arcata, Crescent City, and Del Norte, encouraging interested students to complete prerequisites at their local community colleges before applying. 
"My goal is to fill all the open spots in the PTA program at Mendocino College and Shasta College because then we can fill the job openings for Northern California," says Bogner. "It's so rewarding to see the students who have completed the program and are successful in their jobs."
According to happy grad Hammond, overcoming a learning disability was hard, but Mendocino College gave her the support she needed to go the distance. In the end, she used her long commute to listen to recorded lectures and says the drive was worth it to be in a field she loves.
"As long as you can make it in person for the two days you have to be on campus, you could be anywhere," says Hammond. 
As for the alum's most memorable commute? It happened last January when she drove to campus with her mother, dad, and brother so they could watch her receive her degree. 
"I had never done the graduation walk before," says Hammond. "My family is so proud of me."
August 2023