News Center – December 2019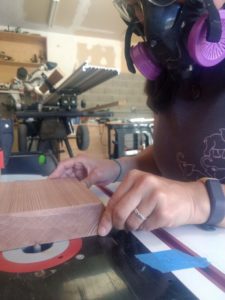 When Lauren Morgan-Outhisack realized that being an avian field biologist was for the birds, she decided to pursue a lifelong passion for woodworking instead.
It was time for a change, and she was ready to build a brand new career from the ground up. There was just one problem: she was intimidated by the "boys' club" reputation of hands-on, skilled positions.
"I hemmed and hawed for a while because I wasn't sure," says Morgan-Outhisack. "You hear stories about how accepting the trades are for women."
That's when opportunity knocked. On wood.
The moment she found the Construction Tech Program at College of the Redwoods, she knew she had found her home building homes. Not only was the program "really accepting and helpful," but it gave her the confidence she needed to remodel her career.
"It's very apparent to all of us here that women can do this work just the same as men," says CR Construction Professor Derek Glavich. "There's absolutely no difference in skill level, or approach, or anything like that."
According to Glavich, College of the Redwood's Construction Tech program is especially welcoming to women, given its experience-driven approach.
"To come to College of the Redwoods and learn how to build a house and learn the step-by-step…at a slower pace is very advantageous," says Glavich. In fact, by the time CR Construction Tech students earn their degrees, they have built not one, but two houses, getting the real-life experience they need to launch into a high-paying career.
Says Glavich: "They can say, 'I have built two houses. And I understand this process.'"
With most of her previous woodworking experience limited to hand tools, Morgan-Outhisack appreciated the gradual and experiential nature of the Construction Tech program.
"I had never really handled any power tools," she says. "In the College of the Redwoods program, you're building a house…so it gave me the confidence to use some of the tools."
Currently constructing their 44th house, College of the Redwoods students have been hammering away at homes since the 1970s. It's no wonder that, with such an extraordinary program, students come from every walk of life, and even all over the world to take classes at CR.
Every year, the sale of the student-built house is used to buy another lot. Drafting students design the structure, Construction students raise it from the ground, and Cabinetry and Wiring students apply the final touches. Later, a team of Solar Photovoltaic students will install energy panels.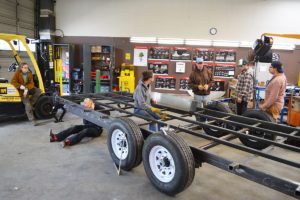 "It was cool, and kind of daunting," says Morgan-Outhisack, who participated in every step of the process, from scraping the lot, pouring the foundation, and putting up walls. "It was the first time I'd ever really built anything, and I knew that it was going to be somebody's future house."
With the help of Glavich, she found a job with a construction company run by two College of the Redwoods grads who were familiar with the program's quality because they had both attended themselves.
"They came to me and were like, we're looking to hire somebody," says Glavich. "And so I said, 'Lauren's the best one we've got!'"
Now Morgan-Outhisack is applying everything she learned in school to her job as an assistant carpenter, and loving every minute of it.
"I would encourage people to check out Construction Tech if they want a fresh start or to learn a new skill," she says. "I just think that people should be able to do whatever, as long as they're willing to put in the effort and work.
"They should go for whatever job that they think would bring them joy."
For Professor Glavich, stories like Morgan-Outhisack's are only the beginning.
"The number I see popping up is like nine percent… many in management," says Glavich about the preponderance of women in the construction trades. "So as far as women that are actually out pounding nails or plumbing or wiring, it's a very small number."
College of the Redwoods is looking to turn those numbers around. Through its "Women in Trades" event, the College is making an effort to connect women with workforce opportunities. "There are jobs available," says Glavich. "And there are women doing these jobs."
The latest event drew about 150 prospective professionals to tour the campus. Women in the woodshop demoed equipment and showed different techniques for building walls. The day culminated with a panel of eight women, who each shared their experiences in industry.
"The focus [of the event] is on how women are able to be successful in this industry," says Glavich. And with the booming demand and a lack of workers, women are increasingly becoming positioned for success in the field. "Every spec home builder I talk to says: 'I could build twice as many homes as I am now if I had enough qualified people to work for me."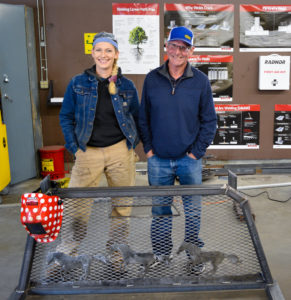 But Glavich sees the industry gap as a solution instead of a problem. "I think this is a prime opportunity to change things because a lot of those barriers are coming down right now."
At College of the Redwoods, women are cutting through those gender barriers with power tools as they build the College's first "tiny house." The class of 12 features 10 women, including a mother-daughter team. The project is funded through California's Strong Workforce Program, which helps purchase tools to innovate new processes and make the job site safe. Proceeds from the tiny home sale will go on to sustain next year's tiny house class.
"All people like to create," says Leonard Bechler, instructor of the predominantly female tiny house course. "I would have to say this high percentage is the result of all the instructors' efforts to degenderize the concept of construction."
The tiny house began in the Welding department's Fabrication Lab, where a custom 20-foot trailer was made out of steel donated by local industry.
"There was just nothing but a pile of metal on the shop floor here, and we built this beautiful trailer," says welding instructor Jerry Goodrow. Last semester, the "Fab Lab" team consisted of three men and three women.
The Fab Lab was recently created with Strong Workforce funding, which was instrumental in purchasing the machinery. "What we have here is first-rate equipment, and we're able to do things that maybe a lot of other schools wouldn't be able to do," relates Goodrow, who says the school treats the Fab Lab like a real-world work site.
The variety of machinery, including Miller, Lincoln, Esab, and Hobart welders, is making all the difference for students like Ally Brater, as they prepare to become industry-ready.
"It's about getting comfortable using different brands," says Brater. "It's really nice to get comfortable with most of the equipment that we will see actually out in the workforce and on job sites."
Brater was honored to be on the tiny house trailer building team, and excited to put her skills into practical use.
"The confidence that I gained as a welder has just soared," recalls Brater. "Also being able to share that confidence with other students that are interested in the Fab Lab, whether they be men or women."
Best of all, building the tiny house trailer is something that Brater is "very proud to put on my resume." When she looks for a job, she knows employers will value applicants who can "not only provide a good weld," but "apply it to an overall structural or production setting."
Brater is among the volunteers at the College's "Women in Welding" event, a weekend-long welding course especially for women. She spent the two days helping beginning students, and the "awesome" experience makes her think that she might become a welding instructor one day.
The Women in Welding event, supported by Strong Workforce Program funds, sold out within 20 hours of being posted on Facebook, and already, there's a waiting list of almost 40 women lined up for the next event.
"It was really nice for the students to come and be able to help me with that program, and it made the women in the class feel a lot more comfortable," says Goodrow.
Welders are in huge demand and short supply in the greater region, according to Goodrow, who gets telephone calls seeking qualified welders on a persistent basis. From aerospace to construction, Goodrow says, "if we're going to build infrastructure in this country, then welders are going to be very much in demand.
"I hope that, as a College, we can help fulfill that demand in the industry."