FLC's Experience-Focused ECE Program Forges Brighter Futures
News Center – November 2019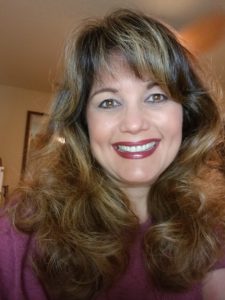 Imagine you're in charge of a class of preschoolers who are climbing, jumping, throwing foam chairs, and just having a riot of a time.
"I was at the end of my rope," says Margarita Rankin, who was teaching full-time while attending Folsom Lake College's Early Childhood Education (ECE) program to build career skills. While supervising her class on a particularly wild day, she had an "a-ha" moment – realizing the perfect application of her FLC studies.
"In my class, I learned about patience," says Rankin, who left her career in the "rat race" of sales and returned to school in her 50s to follow her calling in pre-K education. "I needed to have a paradigm shift."
Following the advice from her Folsom Lake College teachers, she began having "lessons" with her students about how to use chairs. Every day for a week, she gave a quick, five-minute demo, making the case that chairs are definitely not jungle gyms. Now, her students are not only using the chairs properly, they're raising their hands and proclaiming, "Miss Margarita! I'm sitting down!", earning a proud high-five from Rankin.
"Instead of belittling them," Rankin says, "let's teach them!"
Rankin credits much of her teaching style to the "FLC way" – tenets she learned and adapted in the ECE program. Ranking herself is an on-the-money example of how students are catapulting their careers through Folsom Lake College.
During her first semester, Rankin performed classroom observations at two preschools, as part of her coursework. By the end of the term, she had job offers from both schools, eventually choosing one for its Reggio Emilia-inspired philosophy. Just three months later, as she continued to earn ECE units at FLC, Rankin was promoted to a lead teacher in the classroom.
"I feel really fortunate," says Rankin, who hopes to open her own childhood education center one day, after finishing her degree. "My friends say, 'Margarita, I can't remember a time when I've seen you happier'."
Rankin is just one of many who have launched compassionate careers through FLC's award-winning Early Childhood Education department, which earned three Strong Workforce Stars from the California Community Colleges Chancellor's Office. Outcomes were especially strong in the ECE program itself, with 100 percent of graduates finding relevant careers in the field.
One secret to the program's success is its outstanding faculty members, who emphasize hands-on, practical experience in meeting the complex needs of young learners. Just ask former Folsom Lake College student and current faculty member Amber Sutton.
"What we do well is give students that tangible, practical knowledge and skills that they can move forward with," says Sutton. "It's not just a framework to understand the theory, but also the tools to apply it in their classrooms."
It's that applied learning that drew Sutton to the ECE program in the first place, and it's what fuels her passion to keep teaching today. At night, FLC students may be studying in the classroom. But by day, many like Rankin are already teaching in a classroom of their own, according to Sutton. From observation to documentation, curriculum, and best teaching practices, it's all about planning for childrens' needs and creating rich learning environments.
"We set students up for success when we give them assignments that are real-world and hands-on," says Sutton. "We help them learn those skills so they can apply them right away in the classroom."
"We're ECE people, so we have hands-on everything!" agrees full-time faculty member Marsha Peralta, one of Sutton's former mentors and current colleagues. At Folsom Lake College, the emphasis is on taking what students learn and applying it in a supervised early childhood facility. Though the school does not have its own lab, it works with a wide network of community partners to connect students with critical, real-life experience.
"Our faculty go over and above, to the Nth degree to do their best to help teachers find placements in mentor teacher supervised situations," says Peralta, who estimates that FLC faculty travel about 1,100 miles every semester to make sure they have placed students in quality programs.
For Sutton, nothing is more exciting than watching her students get that real-world training, and then use it to launch successful careers as teachers. She remembers the support she received as a Folsom Lake College student when she returned to school at 27, as a single mother of two young children. Now, she's paying it forward.
"I enjoy seeing my students succeed and grow as teachers," Sutton says. "As you help people change their lives and meet their goals [then] change the lives of their students, there really is a ripple effect in this world."
For Sutton, that is the true joy of education: changing one life at a time, with a bold, hands-on approach to teaching that will shape the workforce of tomorrow. Because to her, hands-on learning doesn't stop with FLC students — it's the foundation for preparing young learners to emerge into a rapidly changing world.
"We really need thinkers who are divergent and can think outside of the box."
These kinds of problem-solving, collaborative, and creative skills aren't learned by memorizing information or completing worksheets, according to Sutton.
"It's taught by hands-on, project-based learning, in which people apply concepts to ever-changing, moving situations."
This approach has established Folsom Lake College as a trailblazer, constantly evolving to incorporate cutting-edge breakthroughs in early childhood education. Recently, the department created a STEM/STEAM specialization that includes a "Making for Educators" class. Taught at the FLC Makerspace, the course helps educators infuse the "maker movement" into curriculum for young children.
The department also emphasizes professional development, and thanks to Strong Workforce Program funding, faculty can explore emerging fields like STEM/STEAM and the Maker Movement at ground-breaking conferences.
"Having opportunities to learn about these topics at places like the Stanford FabLearn Conference, Maker Faire Bay Area, and Maker Ed Sonoma bring to life philosophies of teaching and learning by key influencers and thinkers from the world over," says full-time faculty member Jennifer Kraemer.
"What's really valuable to us as instructors is that Strong Workforce allows us to go to conferences that are sometimes quite expensive," agrees Peralta, who believes the conferences allow her department to keep abreast of the latest research in ECE.
With faculty who are dedicated to their craft and continually developing their expertise, it's no wonder that students are able to absorb the latest, cutting-edge teaching practices and go on to excel in the field.
Students find rewarding work as assistant teachers, master teachers, and site supervisors, as well as kindergarten and elementary school teachers in private and public programs. Folsom Lake College students also benefit from the school's strong partnerships with the El Dorado County Office of Education, and local Head Start Programs.
"We're one of few colleges in our district that consistently offers both Infant and Toddler Development, and also Care and Education of Infants and Toddlers every semester," boasts Peralta. Both of these courses are required by Early Head Start Programs, where demand for infant and toddler teachers is booming.
Opportunities also exist in the field outside of teaching. Some grads go on to start careers as child life specialists, doulas, and lactation consultants. Others help children overcome adversity as social workers and psychological counselors.
"Early childhood is such a gift," says Amber Sutton. "It is such a precious moment in a child's life, and they will remind you why the world is magical."