Bear River Middle School Primes Ag-Powered Pathways
Sometimes, "cash cows" are, literally, cows.
For Taylor Bisby, the newest agriculture teacher at Bear River Middle School and cattle wrangler since she was 13, bovines have always paid the bills. It's how she managed to graduate from university 100-percent debt-free.
In high school, she raised cows and sold the calves for her college fund, proving to young learners today that it pays to farm. "I shared that last year with my students," says Bisby. "A lot of them were shocked!"
At Wheatland's Bear River Middle School, students are getting inspired by in-demand age career paths and gaining a head start. According to Bisby, the boost is just in time: "We have a huge workforce shortage," confides the Bear River teacher.
It's a pending disaster, particularly for the north half of the state. Agriculture is California's fifth-largest industry, according to the Centers of Excellence. In the Far North, jobs are projected to grow steadily by four percent, especially in crop production and supporting activities.
While many people think that ag is simply "getting on a tractor and plowing the fields," the instructor assures that its scope is much broader. As Bisby's "cash cows" prove, ag is also a hands-on career path that can take students directly to the workforce, through college and beyond.
"There are so many different things that you can do in ag," says the teacher. "As I tell all of my students: you'll have a job forever."
That's why, three years ago, the middle school committed to expanding its ag program. Thanks to Strong Workforce support, Bear River now has a shade house and farm store, and it is also building a new greenhouse. Course offerings have expanded to include horticulture, ag mechanics, floral design, animal exploration, and some cross-over with STEM classes.
According to ag instructor Shelli Stinson, the school is now equipped to help students grow strong roots for futures in the field.
"I've been teaching here for 20 years, but it's only been a class or two," explains Stinson. "The funding has really helped us catapult the agricultural program and develop some cool things to get the kids interested in ag."
The new CTE pathways in Ag Mechanics and Ornamental Horticulture provide meaningful hands-on experiences for budding agriculturalists. Students design floral arrangements and can even earn high school credit. And with practical ag projects affording opportunities to build planting boxes and more, Stinson says students can "jump right in" to an Intro to Mechanics course in high school "and be a little ahead of the game."
From using the new CAD router to make beautiful garden signs to producing plants in an actual greenhouse, the ag program provides virtually unlimited opportunities for ag careers to blossom.
"Having the facilities makes a huge difference because the kids are able to be hands-on," says Bisby.
The program also incorporates ag business into the curriculum, offering students a real nursery experience through plant sales. Learners grow and sell grafted vegetables, perennials, and even succulents and houseplants.
"The community loves them," beams Stinson, noting that favorites like tomatoes always sell out quickly. She says that students "do an amazing job producing."
As the teacher notes, there is a substantial local demand for plant propagation and nursery specialists. So, encouraging young green thumbs "will fill a void in the sector around here as well."
The program is essential, according to industry partner Austin Bishop, Operations Manager of the region's famous Bishop's Pumpkin Farm.
"We need to get kids interested in agriculture," says Bishop. For several years, middle schoolers have visited the farm to tend flower beds, help customers make arrangements, and lately, sell signs and floral designs.
"They get a little work experience at a young age in customer service and work on their horticultural skills," says the manager. "This is our way and the school's way to make sure that agriculture is still a part of our community."
According to the industry partner, students' experiences on the farm can lead to seasonal or part-time jobs once they reach high school. In fact, Bishop's Pumpkin Farm counts many Bear River alums among its ranks.
"Everything that Shelli [Stinson] has been doing, it's a foot in the door for those kids to continue and hopefully get hired on with us," says Bishop. "There are still plenty of careers in agriculture, even if your family doesn't own a farm."
Thanks to SWP support, the program has hired Bisby as a third ag teacher, plus a CTE coordinator and additional teacher's aides. Their hard work is yielding bumper results: out of about 325 students, 80 are enrolled in the ag program — roughly a quarter of the school.
"My job at the middle school level is to get the kids to fall in love with ag," says Stinson, who couldn't be prouder of Bear River's progress. As learners progress to high school, she says, "a substantial number of them are in age and have become FFA [Future Farmers of America] officers.
"They're doing great things."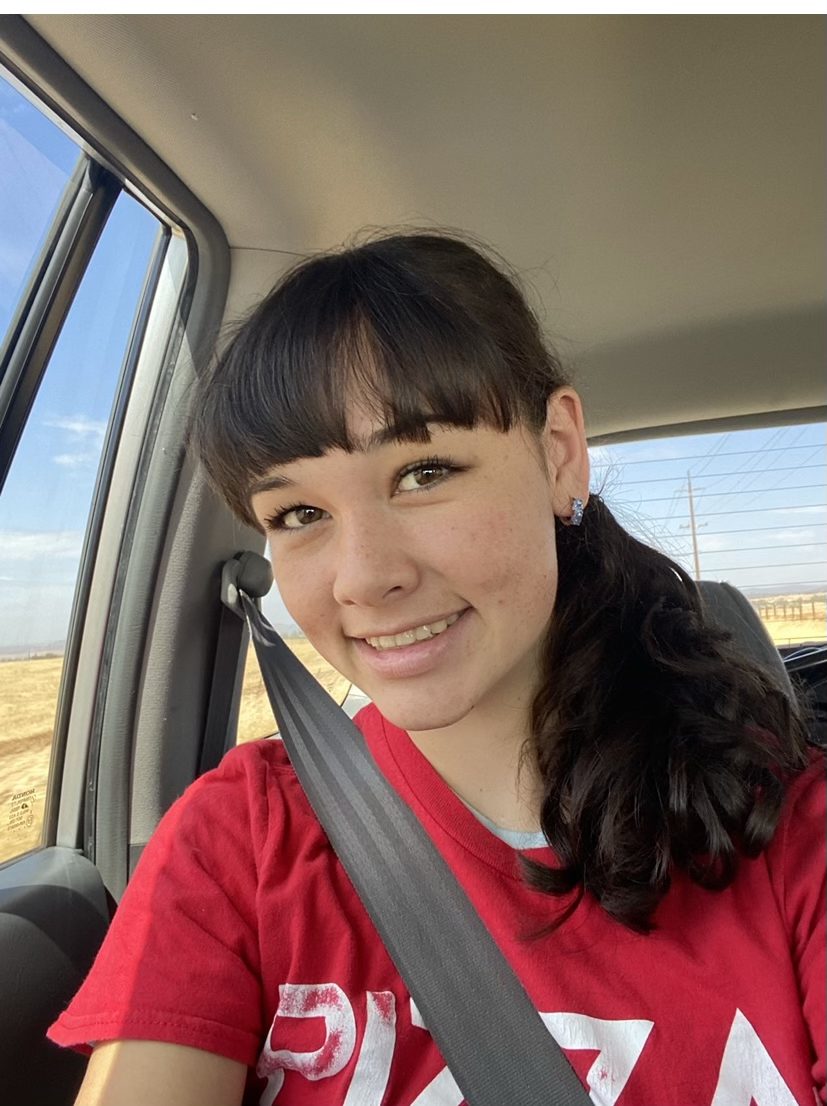 Thanks to the school's cooperation with Yuba College, Sierra College and California State University, Chico, Stinson knows students will have the opportunity to go far. Students like Kiana Walton, for example, a Bear River alum entering her junior year at Wheatland High School.
"Before agriculture classes, I didn't know where my food came from," shares Walton. "Horticulture really taught me how to do things on my own."
In fact, it was through Bear River ag that Walton found her voice.
"I was really, really shy," confides the current high schooler. But when she learned to grow plants through her school's new age classes in seventh grade, her confidence grew right along.
"I got introduced to FFA," Walton recalls. "I signed up for all these competitions and events, and it's opened a lot of opportunities for me."
The once-timid student found the spark to enter her research project on nutrition into the agriscience fair, and later she found a community with "Parli Pro" – FFA's version of a debate team for ag students. Events like these allowed Walton to give speeches, connect and compete, boosting her determination and broadening her horizons.
"We became this whole team, and we got to travel to different schools and meet new people," recalls Walton. "We went to nationals and state… That was a lot of fun."
Now at Wheatland High School, Walton has served as the FFA secretary for two years and counting. And while public speaking was once intimidating, it's since become her favorite challenge. Walton's current passion lies in kick-starting new Parli Pro competitions at her high school.
"To participate in the speaking competitions has taught me to become a better leader, a better person," says Walton.
Looking toward the future, Walton foresees a career combining agriculture and nutrition. She says that path was inspired by her middle school agriscience fair project, and especially Stinson, her favorite teacher.
"She was my biggest motivator, and she helped me whenever I needed it."
And though it's been a few years since leaving Bear River, Walton knows that her former middle school continues to be a place to grow strong roots in agriculture.
"The program just made me who I am."
Sources:
Agriculture, Water & Environmental Technologies (AgWET), Far North Region Workforce & Training Opportunity Profile 2020, http://coeccc.net/reports/Agriculture_Water_Environmental_Technologies_Far_North_Workforce_and_Training_Opportunity_Profile_2020