NFNRC – September 2019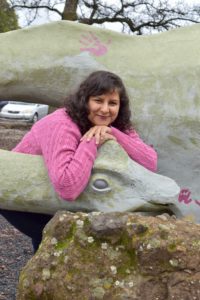 "I was struggling in every single general education class," recalls Maria Chavez, first-generation immigrant and alumna of Butte College's Early Childhood Education (ECE) program. As a Spanish-speaking student, she spent long hours not just studying, but translating her homework so she could understand it.
Chavez's story is common among Spanish-speaking immigrants who are trying to advance their careers and lives in community college. But at Butte College, Chavez found early childhood classes taught entirely in Spanish, which helped put her on the fast track to a rewarding career.
"When I took Child Development in Spanish with Irma [Gonzalez Cuadros], it was a relief," says Chavez, who has since graduated with three degrees: ECE, Child Development, and Social and Behavioral Science. " [It was] so much easier because I could understand everything and get the concepts."
Chavez is now a bilingual teacher for Butte College's Child Development Center, which she says feels less like a workplace, and more like a family.
"My motivation to apply for a job at Butte College was to be there for other students and Spanish speaking children and families."
Chavez started as a substitute teacher at the Center, guiding student success stories for two years before being hired full-time as an assistant teacher.
Maria is the only instructor at the Center who is fluent in Spanish, and that makes a tremendous difference for the many bilingual children receiving care.
"They react differently when they hear their language," says Chavez. "When I speak or sing in Spanish, they immediately turn and look at me."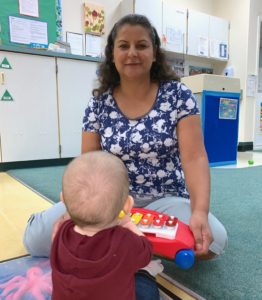 Chavez tells a poignant story of a bilingual child in the preschool class who had separation anxiety, which made for a tremendously difficult first few weeks of school.
"I used to get close to him and talk to him in Spanish, and one day he told me, 'You're brown — just like my mommy!'"
That experience lit a spark for Chavez. "I was the first person he could bond with," she says, recalling the powerful connection made possible by common understanding. Chavez continues to create these bonds, not only for students, but for her non-Spanish-speaking co-workers.
"Just last week, one of the other teachers used a few words in Spanish I taught her, and that helped a child to stop crying," Chavez says proudly. "He listened to her, and eventually, he went to sleep. She was so happy to see that!"
Another aspect of bilingual early childhood education that appeals to Chavez is the unique relationships that she develops with parents. "They have trust with me," she says. "We have something more in common, and that makes the relationship more special."
For Chavez, it is vital to work in a field where she feels rewarded. She loves the satisfaction of working with families to raise the future generation. And, she's grateful to have studied and to be working at Butte College, her home away from home:
"Butte College helped me to make my dream come true."
The Language of Learning…
Last school year, more than a million English learners studied in California public schools, accounting for nearly 20 percent of all students. The overwhelming majority spoke Spanish, according to the California Department of Education.

Out of more than 200 California school districts surveyed in 2016, 14 percent reported a shortage of bilingual teachers, according to the Learning Policy Institute. Instead, schools hired thousands of underqualified teachers.

California is #1 in the country in total job opportunities for preschool teachers, according to the U.S. Bureau of Labor Statistics.

California also ranks #1 in elementary school teaching positions, with salaries coming in at #3. 
Confident, Compassionate Careers…
Many jobs in the Early Childhood Education sector are Bright Outlook Occupations, according to O*Net Online, indicating that opportunities are expanding rapidly.
☀️ Sun icon denotes O-Net Bright Outlook Occupation.
☀️ Preschool Teachers: $34,600 (+10%)
☀️ Education Administrators for Preschool and Childcare Centers: $50,250 (+10%)
☀️ Elementary School Teachers: $80,830 (+7%)
☀️ Special Education Preschool Teachers: $43,270 (+12%)
☀️ Special Education Teachers, Kindergarten and Elementary: $78,850 (+7%)
Who's Hiring?
Head Start Programs

Colusa County Office of Education

E Center

Charis Youth Center

Butte County Office Of Education

KidZCommunity

Noah's Ark Preschool

Chico Oaks Preschool 

Conejo Valley Unified School District

Enchanted Play Infant & Preschool Center

Busy Bees Preschool

…and

more!