College of the Redwoods
February 2023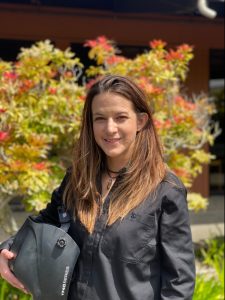 What can you create with 15 horseshoes and a welding torch?
While most students start with a wine rack or plant holder for this intro exercise, according to College of the Redwoods alum Amanda Cuttler, the real answer is anything — including a blazing-hot future.
Cuttler should know: She is celebrating a promotion to mechanical technician at Lawrence Livermore National Laboratory, a prestigious Bay Area science and tech institution that serves U.S. national security interests. In her free time, the CR alum is also welding a mechanical dragon that will actually breathe fire for the popular Burning Man festival! To hear Cuttler tell it, she's just putting the foundational skills she learned at College of the Redwoods to work … while proving that women can lead the way in industry and the arts.
"I'm among the few females in this field, and we hope to bring in more," says Cuttler. Looking back on her career trajectory, she is grateful to her alma mater for helping her come so far. 
Says Cuttler, "College of the Redwoods gave me the tools, skills, and confidence to be where I am now, to push myself, and to persist."
Originally, Cuttler was a photography student, but she wanted something more hands-on to spark her creativity. That's when she found the College of the Redwoods AS degree in welding. While the alum says it isn't always easy being a woman in the trades, at CR, she found a community that believed in her. She says, "It was really nice to be supported and so welcomed by my teachers and peers."
According to instructor Jerry Goodrow, Cuttler had the grit to go far. "Right from the beginning, she was a superstar in welding," beams the professor. "I'm very proud of her."
Cuttler credits her instructor with offering ample encouragement and one-on-one support. "Jerry was just amazing," says Cuttler. "To have someone pushing me the right amount to succeed and telling me that I could do it … He's probably the best teacher I've ever had."
She recalls that Goodrow treated all his students equally, regardless of gender. And according to her professor, it's time to welcome more women into the trades.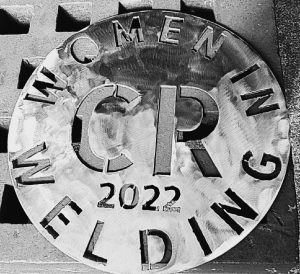 "To meet demands, employers are starting to figure out that women play a very important role in being skilled craftspeople in the welding industry," says Goodrow. "Breaking through that gender barrier is becoming easier and easier for professional women welders."
After graduation, Cuttler set out to forge a bold new career. She started in Las Vegas welding slot machines before joining AMC Fabrication, Inc., where she helped create the Disneyland Star Wars ride. When she returned to the Bay Area a few years later, she had five job offers lined up after just one week of applying. Her secret? Cuttler credits community college for opening the door.
"Having my degree showed that I could see something through and be proficient," says Cuttler. "If I didn't have that college background, then I probably wouldn't have gotten the offers and opportunities I did."
Cuttler fabricated parts for Tesla and bioscience companies in Fremont. When a coworker told her about Lawrence Livermore National Lab, she couldn't resist applying — and got in. She began as a precision sheet metal contractor and quickly progressed to laser welding, cutting exotic materials like cobalt, bronze, and zinc. Cuttler says, "It was so much fun to learn laser welding because it was another level I didn't know anything about."
Now, Cuttler has advanced to a mechanical technician, where she is developing her skills in machining and assembly. According to Kim R. Shelley, Senior Mechanical Technologist at the lab, "Amanda Cuttler uses her talent, skills and determination very effectively to achieve the goals she sets for herself."
Materials Engineering Manufacturing Supervisor, Jack L. Andrews, adds, "Amanda did very well in combining the skills she had with the challenges of the new work center. … [She] is going to take on all challenges with an amazing attitude."
It's the same "we can do it" ethos she displayed at College of the Redwoods, where she learned to hold her first welding torch. After coming so far, Cuttler couldn't be happier about her new career.
"I like that my job always challenges me while giving me the resources to excel," says Cuttler. "I also like working with geniuses, from physicists to nuclear engineers. … It's really inspiring to work here."
The technician is also paying forward the inclusivity she found at CR. At her job, she's participating in a women and engineering networking group and hopes to become a mentor for other women. 
Cuttler also returns regularly to her alma mater, helping Lawrence Livermore recruit from her fellow CR Corsairs. She hopes to inspire more students of all genders to join her in the industry.
"The lab is no different than any other place of employment," says Goodrow. "They're always looking for really good technicians."
As part of her recruitment efforts, the alum volunteers at the College of the Redwoods "Women in Welding" weekend event, introducing women to the trade. "Those events are always waitlisted," says Molly Blakemore, CR Director of Marketing and Communications. "People love to do them, and we've had mothers and daughters come together."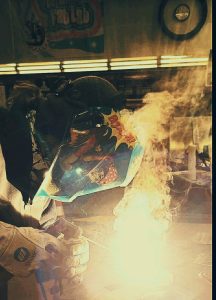 While the event paused the last few years due to the pandemic, the college fired it up again in October. "Amanda and my other alumnae volunteer on Saturday and Sunday to show these community members the welding world," says Goodrow. "About ninety percent of the participants have never welded in their lives, so when they leave here, they're proud of themselves."
Cuttler says that sparking confidence in other women welders was a rewarding experience and her first time teaching.
"It was wonderful to show them, 'Hey, hold your torch like this,' just like Jerry taught me," beams Cuttler. "Seeing them do it successfully was one of the best feelings ever."
Part of the magic was teaching in the school's brand new "Fab Lab," a fabrication laboratory that was still under construction while Cuttler was a student. "What they've done is extraordinary," says the alum. "The new lab puts a smile on my face because it shows students the possibilities of what they can do on a larger scale."
The 6,000-square-foot facility is a wide-open space with new state-of-the-art sheet metal benders, welders, fume extractors, and more for hands-on career technical education. Goodrow says, "Strong Workforce was instrumental in helping us get the proper equipment." 
Strong Workforce support was also crucial in refurbishing the regular welding classrooms and funding industry-standard storage units that keep materials from rusting in the foggy coastal environment, cutting down on prep and allowing students more time to focus on their craft.
Cuttler is excited about all the positive changes at the college and looks forward to encouraging women in the industry:
"At the College of the Redwoods, I've met very powerful, confident, strong women. With our forces combined, anything is possible."
February 2023