College Nursing Program Stresses Support, Persistence
Yuba College – January 2020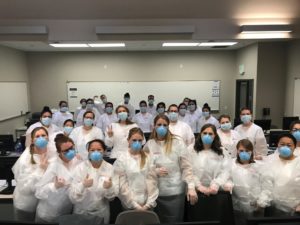 One of the basic fundamentals of nursing is the concept of triage: How, in high-stakes moments, to sort patients by medical priority and develop on-the-fly plans to treat them.
It's how busy emergency rooms manage high-volume surges, and in essence, it's the underlying philosophy that organizes the life of a nurse.
But what if the same philosophy were employed to support nursing students? Or, for that matter, any kind of student? Years ago, the thought occurred to Yuba College Director of Allied Health Clark Smith, and today, he believes it's what sets his award-winning Nursing program apart.
"Our goal is to keep attrition rates down," says the career nurse and educator, who began teaching at Yuba College more than 25 years ago. "We're identifying students who need early intervention, sort of like nursing and medicine [itself]."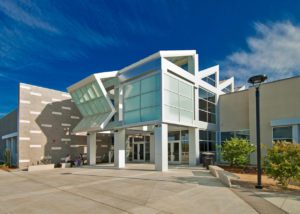 According to Smith, Yuba College's "support-first" ideology is a major factor in its ascendance from small-town safety school to one of Northern California's best-respected Registered Nursing programs. Starting with a merit-based, lottery-free enrollment process, and continuing with individualized support at every level, the program stresses clarity and persistence, while eliminating what Smith calls "gate-keeping."
"What's been great is being supportive of the students … not weeding out," he says. "It's a whole different attitude." While this "no-man-left-behind" ethos may defy the old ways of college-level nursing programs, it has been embraced in an evolving landscape of guided pathways and outcome-driven funding. The idea, says Smith, is to break down barriers to employment and academic persistence by streamlining degree paths, adapting or eliminating non-relevant curriculum, and especially, doing away with the dreaded "lottery."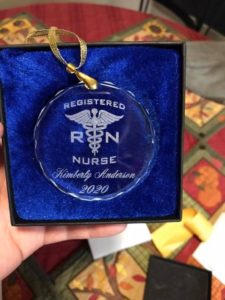 Since 2013, Yuba College has employed a non-lottery system to admit applicants, relying instead on a point-based system derived from TEAS (Test of Essential Academic Skills) scores and other merit-based factors. By eschewing the unpopular lottery experience, and offering an opportunity "to really work hard and improve their score," the system is designed to create an engaged, connected cohort of students, likely to persist to an associate degree.
"We're getting the best-of-the-best students," says Smith. "And we want to provide the best-quality [program] for them."
Yuba College's associate degree pathway in Registered Nursing requires just 38.5 units – nearly a dozen fewer credits than nearby two-year college programs. The department is working to pare that requirement down to 36 units, in order to boost matriculation in one of the state's most critically understaffed fields.
California's RN shortage is about more than just a lack of bodies. It's a bottleneck of education and training that institutions like Yuba College are rising up to address. In 2011, the Institute of Medicine published a report recommending that 80 percent of the RN workforce be staffed by bachelor-level professionals. Though most states, including California, have failed to reach that benchmark, there's no denying the national trend toward bachelor-level education.
There's pressure from the hospitals to go back and get the degree," says Smith.
And while the majority of associate degree program graduates find immediate employment in local hospitals, clinics, nursing homes, and community health centers, Smith says a growing number are heading to places like Chico State or UC Davis to complete their BSN degrees. Currently, Yuba College's nursing program maintains articulation agreements with four Northern California institutions, including Chico State. Next on the agenda is a concurrent enrollment agreement with Chico and Cal State Sacramento, which would allow Yuba College students to complete their bachelor's programs even faster.
"We're not fighting over resources," says Smith. "We work together with other schools instead of competing with them."
There's also the cost savings borne by fewer units and more direct connections to university-level programs.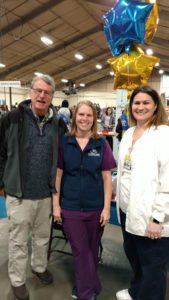 "We are low cost — under $5,800 — and partnered with many BSN schools so students can continue on," says Lynette Garcia, nursing professor and Assistant Director of Allied Health at Yuba College.
But the popularity of the BSN pathway doesn't mean that the associate degree is becoming obsolete. Quite the opposite, according to the director.
"We can't eliminate the associate degree," Smith assures. "Bachelor programs are not set up for entry level proficiency, so we still are very important."
Yuba College's location in the healthcare hub of greater Sacramento makes it the ideal partner not only for university BSN programs, but for local employers. The YC Registered Nursing program is a well-established pipeline to career opportunities in the region, with graduates often accepting employment with the very same entities that hosted their clinicals. Partner organizations include Dignity Health, Mercy General Hospital, Adventist Health / Rideout and Kaiser Permanente, among many other schools, agencies, and regional health centers.
"These sites provide a place for our students to complete their hands-on clinical hours, working in many different settings," says Garcia, in regard to the program's partner-driven focus.
So far, it's working. And so are 9 in 10 graduates of the Registered Nursing program. In 2018, Yuba College was recognized by the California Community Colleges Chancellor's Office with a prestigious (and rare) Strong Workforce Gold Star, honoring excellence in career education success. The accolade specifically referenced Yuba College's outstanding graduate employment rate (92%), earnings increases (118%), and regional living wage attainment (81%).
For Smith, those success stories stand as proof of that Yuba College's unique approach – from ensuring access, to collaborating with traditional competitors and truncating completion times – is paying off.
"Part of it is to have a high standard, but also to be very nurturing."
'Almost a calling'
For many, nursing is a labor of love. Often inspired by their own experiences with illnesses or sick family members, nurses are frequently motivated by a desire to help people, and to turn their compassion into a career.
"It sounds archaic, but it's almost a calling," says Yuba College Director of Allied Health Clark Smith.
With demand for nursing professionals skyrocketing in California and beyond, it's a well-compensated calling. Associate degree-level RNs are earning a living wage right out of school, while those with further education are seeing six-figure salaries.
[BADGE (salary icon)]: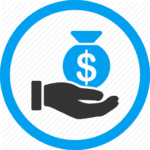 High stakes. Higher demand.
Opportunities are surging for nurses in California!
Licensed Vocational Nurse: $55,770 ⬆️11%
Registered Nurse: $104,410 ⬆️12%
Clinical Nurse Specialist: $104,410 ⬆️12%
Nurse Practitioner: $126,890 ⬆️26%
*Average median salaries according to U.S. Bureau of Labor Statistics.