Forest, Fish, and Fire at Feather River College
News Center – October 2019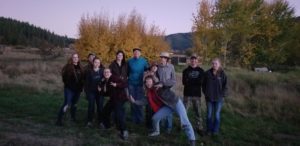 How do you catch a deer at Feather River College? It's easy… ish.
First, you head into the forest – just steps from the FRC Environmental Studies classrooms — to set up a net. For the next couple of weeks, you put out apples as bait. Finally, as dusk descends, you leap out of the bushes just as a remote-controlled net drops, and craftily attach a GPS collar before the skittery critter knows what's what.
Congratulations. You're now performing science.
It's just another day in the life of an Environmental Studies student at FRC, where real-life learning happens in the great outdoors. Sometimes, that entails deer-wrangling.
"It's quite the amazing hands-on experience for students," says Department Chair Dr. Darla DeRuiter.
They've found that the deer they track mainly stay on campus, which is situated on about 180 acres of mixed conifer forest, black oak woodlands, and montane chaparral nestled in the heart of the 1.2-million-acre Plumas National Forest. This marks the ninth year that DeRuiter's Intro to Wildlife class has been stalking stags in the name of science. But at FRC, it's much more than research; it's about stoking the passion for preservation.
"Our program is geared toward natural resources… so our tagline is, make conservation your career," says DeRuiter. "Understanding those natural resources and working toward caring for them in a way that will help them last in perpetuity is what we feel our role is for training students for the future."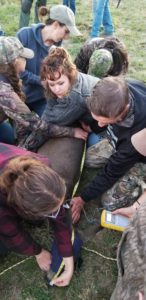 The heavily-forested FRC campus sits at the headwaters of the Feather River, which provides water for about 30 million Californians. Other crucial regional resources include timber, wildlife and more.
This year, the campus is focusing on fire safety and forest management, a pressing concern for a college surrounded by trees. The last time the area suffered a major fire was in 1946, before the Feather River College campus existed. Now, more than 70 years later, the forest is overstocked, in dire need of thinning to avoid extreme fire hazard.
"We have some parts of campus that are really thick," says De Ruiter, who estimates the number of trees per acre to exceed 600. In contrast, a healthy forest should have about 40 to 60 trees per acre.
The solution: to undertake a major tree-thinning project to make the campus fire-safe. Then, go a step further by including an innovative curriculum that allows students to gain hands-on fire-safety skills in the process.
Feather River students have just finished investigating wildlife, archeology, and botany impacts on the project area set for a controlled burn, as part of a planning grant from the California Environmental Quality Act (CEQA). Now, the college is gearing up to implement a thinning and pile-burning, using Strong Workforce funds to develop a revolutionary curriculum for fuel reduction and prescribed fires.
"Eventually, we'll do an underburning on campus in perpetuity so we can have a more fire-safe campus," says DeRuiter. Not only will this project improve forest health, but students in the budding fire safety programs will be able to participate first-hand, developing real-life skills they can use to make the region more secure.
Just this month, Feather River College became one of the first institutions of higher education in the entire nation to receive Firewise status, another effort supported by Strong Workforce. A designation from the National Fire Protection Association, the Firewise USA® program promotes wildfire safety and education, encouraging communities to take action collaboratively to prevent losses from fires.
"We really see ourselves as a leader in training student leaders, for them to spread out from FRC in the future and be able to help other communities reduce the risk of wildfire," says DeRuiter.
With endeavors like these, the Feather River College campus becomes an outdoor classroom, fully equipped with naturally grown learning facilities. Just ask Ryan Thoni, an ichthyologist ("fish scientist," for the land-lubber), life-long fisherman, and 2018 FRC Alumnus of the Year. Now, he's back as an associate faculty member in the Environmental Studies Department, and nobody knows FRC like he does.
"The location is so conducive to outdoor education and experiential learning right here on campus," says Thoni. "Just a quick drive away, we have access to every natural resource at our fingertips."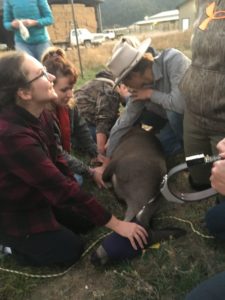 Thoni explains that because the school is located inside an old-growth forest, he can walk his class 50 feet away to study massive, 150-foot-tall sugar pines. They can do an age core on a tree and count back 120 years… and they're only halfway through the trunk. Field trips are not only available, but practically unavoidable, as students can study wildlife — like Dr. DeRuiter's deer — right on campus.
"Here is where you come for an experience of learning," says Thoni, who admits he had a hard time sitting through traditional classes as a young adult. As a senior in high school, he discovered FRC's hands-on environmental studies program in his favorite area to go camping and fishing.
When the young Thoni realized that Feather River College was the only community college in the state with a real live fish hatchery, his inner fisherman couldn't resist, and he enrolled. He became the president and co-founder of FRC's Environmental Studies Club, and he has been in love with the College ever since.
"I had a couple of amazing teachers," remembers Thoni. "They were so knowledgeable, they should be teaching research level I at a UC Davis–type of university."
One zoology instructor made a particular impact when he invited Thoni and the class out on his long-term study of migratory waterfowl. Students would catch loons, take blood samples, and engage in hands-on research. That's where Thoni's passion for science took flight: "They taught us that research and science can be a living and a profession, and a good one at that."
Upon graduation, Thoni was hired "right off the bat" by one of his instructors, who worked in the California Department of Fish and Game Afterward, Thoni transferred to UC Davis, hiked 1,500 miles of the Appalachian trail, and eventually earned his Ph.D. But his heart was still at Feather River, so he focused his doctoral studies in evolutionary biology. "I figured that would be a good way to teach back at Feather River College."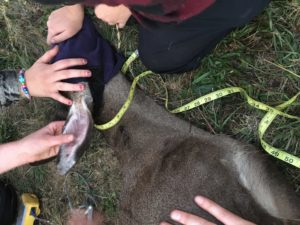 Thoni returned to Quincy in 2017 and has been sharing his passion for wildlife and the outdoors ever since at FRC.
In his spare time, he has been doing international research to study fish biodiversity in the Himalayas. He has also been the lead on a National Geographic grant in Kyrgyzstan and Tajikistan.
"One thing we discovered in Kyrgyzstan is a species of catfish that hasn't been seen to science in 100 years," says Thoni, who has also discovered several new species of fish in the course of his work, including the first endemic species of fish known from Bhutan. "The first step in conserving a species is knowing what's there.
"It's setting the foundation for future conservation work to be done."
He's also giving his students a broad foundation in conservation, often using his field work to enhance lectures.
"I'll bring in the only specimens in the world from Butan or Tajikistan into my class and get them all jazzed about it," says Thoni, who says he is proud to be following in the footsteps of the professors who inspired him as a student.
"Being engaged in research is one of the best ways to actually take pride in it," says Thoni. "When you're part of it, you really get amped about it."