Woodland Community College Makerspace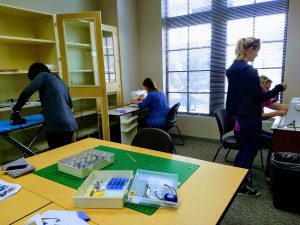 These days, there's a lot more to check out at the Woodland Community College library than just books.
The WCC Makerspace gives students direct access to 3D printers, virtual reality equipment, sewing machines, musical instruments, and facilities for unique activities like scrapbooking. Located within the library, the upgraded interactive studio provides students — and the community — with creative freedom in the form of a fiber-arts-focused makerspace. 
"We'll do workshops, we'll do one-on-ones. We'll do whatever works for students," explains WCC librarian Dena Martin. "We're very flexible because we just want people coming in and having fun and using it." 
The Strong Workforce-funded Makerspace is becoming a game-changer for students and the community alike. Combining creative exploration with in-demand career skills, the space includes equipment for sewing, knitting, crocheting, photography, music, and more. For those with a passion for performing arts, there is even a historical clothing collection, added in collaboration with the Woodland Community College History Department.  
"We've had students from all different sciences coming in to make little objects and things like that with [the 3D printers]," says Jennifer Morrissey, adjunct librarian at WCC. "We also have musical instruments [and] music classes here." 
The library-located Makerspace is not only a creative refuge for students… it's a crown jewel for the community. As the facility evolves to cover more creative and career pursuits, Woodland Community College is inviting community members to create, explore, and learn via workshops hosted throughout the year. These programs offer one-on-one and group instruction in skills such as knitting, sewing, sticker- and button-making, embroidery, and more. Attendees are even welcome to give feedback or suggest other workshops if they're interested in a particular skill. 
The one-of-a-kind space also provides students with a valuable opportunity to sharpen their "soft skills" — essential for career-seekers entering the workforce. These skills include learning to network within the campus community, finding creative solutions, practicing leadership skills, and managing time efficiently. Meanwhile, students gain worthwhile hard skills to boost their resumes, learning the ins and outs of things like 3D printing, project management and career-relevant software.
"A lot of students aren't comfortable with computers," explains Martin. "So, if we have a workshop, those students get left behind. In one-on-ones, we can meet them where they are." 
The Makerspace offers a unique resource for faculty teaching programs at Woodland Community College. Customized teaching tools and workshops are available, with instructors given leeway to create one-of-a-kind courses. Martin says she often collaborates with instructors to tailor activities specific to their classes. She has worked to help create materials such as 3D-printed timelines for history courses, ECE teaching aids for early childhood education students, and virtual reality experiences for business courses. 
"[The makerspace] allowed my class to take a break from the repetitive actions of the semester," says Manuel Fernando Rios, instructor in the Fine Arts program. Rios says he's used the resources in the Makerspace with his students to create small block prints for rubber stamps. 
"This process was great because it emphasized the strength of the line weight in a composition, which is covered in class," continues the instructor. "[The librarians] gave a brief explanation of the process as well as a demo which was very informative and easy to follow. My students then proceeded to create their own small block prints, each print being as unique as each student's personality." 
That creative spirit has proved contagious. Once students get a taste of the potential for self-guided skill-building, they're often inspired to take it upon themselves to create more.
"The thing that surprised me most about the experience is the fact that many of my students have gone back on their own time and continued making prints," says Rios. "Giving students a creative outlet to unwind and problem solve through the Arts, I believe, is essential for a healthy and nurturing institution." 
By incorporating the makerspace into his course, Rios is introducing a new set of students to the future-focused facility, which Martin notes is vital to the space's success. "Last fall we were doing really well, and last spring, it just dropped," reflects Martin, who attributes part of the drop to the rise in online classes. "We definitely need to try to get more students in."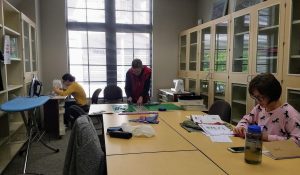 Both Martin and Morrissey work persistently to ensure that this creativity never runs dry. To that end, Martin helps facilitate additional unique activities through the makerspace — including escape rooms, both held in-person and online. 
"I have done a couple of just generic ones that I found online and are just more for fun, but we did one for a music instructor that we used as a way to review the coursework," Martin explains about the educational escape rooms. "We also had a microbiology teacher, where we created the escape room in-person. [She] created all the content to practice content … and highlight what might be on a test." 
There's no escaping the Makerspace's creative potential, even for departments that are not typically "hands-on." Through host workshops, community programs, escape rooms and more, the space has the resources and flexibility to provide for nearly every course on campus. 
That flexibility is the result of a collaborative, campus-wide approach to the space's design, which was developed with input from the librarians, students, faculty, and the college community. 
"When we were trying to figure out what to do with the … funds that we got, we were trying to come up with ideas on things that we thought people would enjoy working on or learning," explains Morrissey. 
"It's just nice to get everybody's input on what to bring to the Makerspace."
Going forward, Strong Workforce funding will be used to maintain the current activities offered on WCC's campus. This includes one-on-one and group workshops, public classes, and keeping supplies stocked. Meanwhile, leaders will keep an eye out for new opportunities possible within the space. 
"We will continue to get input to improve and grow the Makerspace as resources allow," says Martin.
And though the Makerspace strives to help skill-seekers pursue any program or passion, the common thread between those who use the space is a strong sense of community. 
"It really does enhance the experience here at the college, just by having those things available for them to use," says Morrissey. "It enhances the classes that we have … it definitely enhances the campus." 
August 2023