American River College Grads Racing to In-Demand Careers
NFNRC News Center – January 2019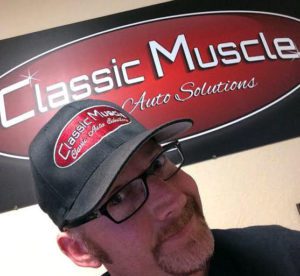 "American River College's Automotive Programs and their internship program are the very reason I ended up with my dream job," says Brandon Kelley, Owner of Classic Muscle Auto Shop. Located in Rancho Cordova and serving the Bay Area, Sacramento, and Reno, Kelley's shop restores and repairs hot rods and classic cars, preserving America's automobile history.
The ARC grad "lives and breathes all things automotive," having owned his first classic car three years before he could legally drive it. Through ARC's Automotive Technology program, he found the skills he needed to succeed in the industry, building on a versatile skill set that now amounts to 30 years' experience in welding, electrical wiring, racing, and more. Customers gush about Kelley's quality workmanship and his close attention to detail, something that he says started with his American River College instructors.
"Ben French, Rocky Carlisle and John McCormack were all equally instrumental in making my experience at ARC above and beyond what is to be expected from any learning institution," says Kelley. "I highly recommend ARC's programs for any aspiring student.
"They will point you in the right direction, and their curriculum will stick with you in your future."
When it comes to specialty automotive markets, "We're seeing a rejuvenation," says French, Co-Chair of ARC's Automotive Department. According to the instructor, the demand for qualified technicians is high across all areas of the sector.
"The automotive industry, in general, is experiencing the greatest workforce shortage that perhaps it's ever had," says French.
The latest reports from the U.S. Bureau of Labor Statistics agree. With many career professionals in the industry reaching retirement age, employers are scrambling to find qualified replacements. Demand is especially high for Automotive Engineers, Body Specialists and Service Techs, with opportunities in each specialization expanding more quickly than the national average.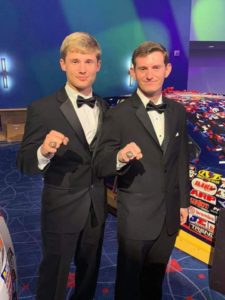 In response, ARC's Automotive Technology program, which opened its doors in the early 1960s, is focusing more than ever on versatility. The department currently offers 19 certificate and degree pathways, such as heavy diesel and auto collision, leading directly to in-demand careers. For over 30 years, ARC's curriculum has lined up with ASE national standards, allowing students freedom to take their skills anywhere. Even better? Those certifications often count toward industry experience requirements, opening further doors to employment and advancement.
With about 350 students and multiple class sections running mornings, afternoons, evenings, and weekends, the program employs four full-time faculty, as well as 20
adjunct instructors — all experts in the field. Adjuncts come from all corners of the automotive industry, with instructors bearing experience at Toyota, BMW, the Bureau of Automotive Repair, the California Air Resources Board, and more.
"Students get to learn from all of these different perspectives," says French. "It makes them more well-rounded technicians."
When it comes to launching students into competitive jobs, ARC's Automotive Technology program continues to deliver. The College's Work Experience program allows students to earn real-life skills while making crucial industry connections.
"We recommend that students take advantage of the Work Experience class and start working in the industry as soon as they feel that they're ready," says French.
Many students jumpstart their careers with internships in the automotive industry, with employers like Bill McAnally Racing, The Sports Car Club of America, and even local shops that build race car engines.
In fact, the motorsports component of the program is a significant draw for students, who learn critical skills to help fuel local industry.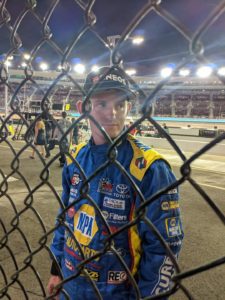 "Most of us gearheads, we're excited about racing," French admits. "With Strong Workforce local funding, we were finally able to tool up and develop an automotive motorsports part of the program."
Grads who revved up their careers through the motorsports side of the program include two-time championship winner Christopher Bouchard. He works at Bill McAnally Racing and was part of the winning 2019 ARCA West Series (formerly the NASCAR K&N Pro Series) team. His team also took home the Road Course Stock Cars
championship the year prior.
"American River College has one of the best automotive programs in the area," says Bouchard, who was a part of the College's very first motorsports class. In fact, he says, that's where he began to learn how racing vehicles work — their setups, and even some driving techniques.
"It was perfect for me because it gave a no-pressure environment to learn and experiment on race cars," says Bouchard. "Whereas at the track, that's probably the most pressure-filled environment out there."
At ARC, Bouchard took advantage of the many industry-standard tools available, including shock, spring, and chassis dynos, multiple sets of scales, and even a "full-on" racing simulator.
"Racing encompasses multiple skills such as automotive, fabrication, and setup knowledge," Bouchard explains. "American River College has programs that cover all of those."
That comprehensive approach explains why triumphant racing teams across the region include ARC grads, from amateur Earnhardts to Sportsman Class Champions at Sacramento Raceway Park.
"You can take a student from this class and put them on a NASCAR West team, and they will be an asset to that team," says Bouchard, who knows he helped his team achieve victory with the skills he gained from the College. "I'm thankful for Ben French for starting the motorsports class at ARC. It's the best class out here!"
In the past, professionals had to know somebody in the motorsports industry to land a job, according to French. However, demand across the automotive industry is rising at such a fast rate that this once-exclusive segment now needs all the help it can get.
"On the motorsports side of the industry, they also have that talent drain," explains French.
With quality automotive training, French notes that students can open doors to numerous career pathways, from motorsports to working with auto parts to car dealerships.
"Overall, there's just a huge need for technicians at all these different levels," says French, who regularly fields calls from local employers asking, "Hey, can you send us some good students to interview?"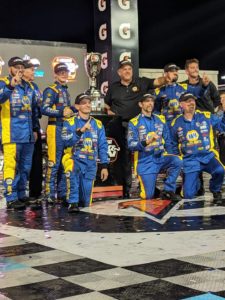 Local demand has long shaped ARC's mission to prepare automotive technicians for immediate employment. Collaborative efforts started 20 years ago, when the College partnered with the Greater Sacramento New Car Dealers Association. Through this union, the program was able to purchase tools and equipment that it continues to loan out to more than a dozen local high school auto programs.
Most recently, the school has taken synergistic resource-sharing even further, with the debut of a mobile laboratory. The unique facility, built on a trailer complete with a lift, compressed air, and electricity, provides everything auto tech students need… even on-the-go.
"We're trying to leverage the training and expertise we developed and share that with our sister schools in the region," says French. "The lab will allow me to do trainings at other sites that don't have an auto shop."
Supported by regional Strong Workforce funds, the mobile lab is a powerful way for North Far North schools to share resources.
"Say one of our partner colleges wants to do a segment on electric vehicles, but they don't have any," posits French. "I could go drop off some electric vehicles and specialty tools … The lab will give them the resources to do that."
Automotive Technology is always changing, and American River College is dedicated to not only staying ahead of that curve, but making sure the program continues to benefit the greater community. For grads like Bouchard, it's the program's commitment to industry-aligned education that has made all the difference.
"When you are a part of racing, you're there to win," says Bouchard, who sees his ARC education as his first victory. "It feels amazing to be where I am so quickly. I never thought I'd be in the position I am now, and ARC played a big factor in it."
"If you want to be in the automotive or racing industry, go to ARC."