E-Blast November 2022
As a subscriber, you will receive this E-Blast to your inbox every month. The goal of the E-Blast is to keep everyone in the NFN Regional Consortium up-to-date on news, events and other activities happening both in our region and the state. If you would like something placed into the E-blast and/or NFNRC Calendar, please send the information to dempseysh@butte.edu (please submit by 5pm on the first Monday of the month to be included in that month's newsletter).
News
NFN Careers website -Feedback Request
The North Far North Regional Consortium (NFNRC) is excited to share the Beta launch of our North Far North Careers website. The site showcases occupations in the region's priority industries and aligned career technical education programs offered at area community colleges.
We are reaching out to you today to ask for your perspectives on the website and the information presented there. The feedback you provide will help inform future development activities and ensure program data are accurate and reflective of the range of programs offered at area community colleges.
We invite you to explore the site and then complete a short survey about your experience. Respondents who provide their contact information will be entered into an Amazon gift card drawing. The survey should only take about 10 minutes to complete. Links to an FAQ, the website, and survey are below.
Project FAQ (com/nfncareers)
Responses are requested by no later than December 2, 2022.
For answers to other frequently asked questions about the website, please see the About page at https://northstatecareers.org/about/. For other questions or to learn more about the project, feel free to reach out directly to Erin Carter at ecarter@wested.org.
National Student Clearinghouse Research Center's Regular Updates on Higher Education Enrollment
The First Look released by the Clearinghouse shows a significant increase in enrollment in fall 2022 in dual enrollment (students who are under 18), up 9.8% from Fall 2021. The increase is notable and significant given how the First Look finds that college enrollments continued to decline as a whole.
In recent semesters, enrollments in dual enrollment have tracked quite similarly to postsecondary enrollments as a whole – often down, though not down by nearly as much as postsecondary enrollments as a whole. The Fall 2022 First Look's finding of dual enrollment growth of 9.8% from Fall 2021, if confirmed as additional data comes in, will likely wipe out a large swath of the enrollment declines experienced during COVID in dual enrollment students.
In addition, the Clearinghouse credits dual enrollment for significantly blunting the declines in enrollment in two-year institutions. According to the First Look, "Declines at community colleges have slowed substantially to 0.4 percent over last fall, driven entirely by the growth of both dual-enrolled high school students (+11.5%) and 18- to 20-year-old students (+1.4%)."
The latest data continues to show the growing importance of college in high school programs to the higher education sector, and community colleges in particular, and therefore how important it is that policy and practice be properly aligned to support student access and success.
Community Economic Resilience Fund (CERF): Planning Phase Awards Announcement
Last week, the Community Economic Resilience Fund Program (CERF) announced the first round of awards for the CERF Planning Phase. The announcement includes 11 of the 13 CERF regions. Awardees were selected through a competitive bidding process based on their readiness and commitment to conduct inclusive planning processes that engage various community groups, including voices that have been traditionally left out of economic planning.
LAEP October Newsletter
LAEP Highlight: CASFAA Conference 2022
Representatives from participating UC, CSU and CCC campuses gathered for a panel discussion on LAEP implementation in the 2022-23 AY. Rachel Mason, California State University Chico; Dr. Bobbi Makani, San Jose State University, Lilibeth Rodriguez, San Diego Community College District; and Laura Trax, University of California San Diego provided helpful best practices for other participating institutions:
Develop a campus-wide workgroup and meet regularly
Establish the LAEP Coordinator as a centralized point-of-contact for LAEP on your campus
Collaborate with other campuses to share job descriptions, employer contacts, etc.
Send suggestions and feedback to CSAC at laep@csac.ca.gov
Do you have a LAEP success story or best practice to share? Each month, the LAEP team will share LAEP Highlights with the mailing list. Please email laep@csac.ca.gov to submit a highlight for the newsletter.
November Webinar:  LAEP Data Reporting in WebGrants – Please join us for our next webinar on Tuesday, November 29th, 2022:  2:00 p.m. – 3:00 p.m.  Register for this webina
LAEP Drop-in Q&A – The LAEP team holds weekly drop-in Q&A hours. The upcoming times and Zoom link are below. Do you have questions? We have answers! Do you have suggestions? We want to hear them! Just want to hear what others have to say about the program? Come on by! These sessions are informal and are not recorded. Open to all and no registration is required. Don't forget to add this to your calendar if you're interested!
LAEP Drop-in Q&A Hours
Wednesday, 11/9  (1 p.m. – 2 p.m.)           Wednesday, 11/16 (10 a.m. – 11 a.m.)          Monday, 11/21 (3 p.m. – 4 p.m.)
Tuesday, 11/29 (11 a.m. – 12 p.m.)               Thursday, 12/15 (2 p.m. – 3 p.m.)
Join here:  CSAC's LAEP Meeting Room (**Note this is a new meeting room beginning 11/1**)
https://csac-ca-gov.zoom.us/j/773667154              Meeting ID: 773 667 1544
One tap mobile  +16694449171, US  Meeting ID: 773 667 1544
Chancellor's Office
California State Plan for Career Technical Education Public Comment Period

The California Workforce Pathways Joint Advisory Committee (CWPJAC), in collaboration with the State Board of Education, the California Department of Education (CDE), and the California Community Colleges Chancellor's Office (Chancellor's Office), invites you to participate in a public review of the Draft California State Plan for Career and Technical Education (CTE). This strategic plan and call to action sets forth a student-centered vision for the future of high-quality CTE in the State of California.
Please follow California Workforce Pathways – General Information (CA Dept of Education) to review the Draft California State Plan for Career Technical Education and submit comments.
The public comment period will be open until Thursday, November 17, 2022, at 5:00 p.m. Pacific time. During the open public comment period, written comments can be submitted to the California Department of Education, by email at CTESP2022@cde.ca.gov. In your public comment email, please provide the following information:
First Name
Last Name
E-mail
Organization you represent and job title, if applicable
The specific page number and section on which the comment is being made must be stated.
Once the public comment period closes, the CDE and the Chancellor's Office will compile the comments and provide a final draft of the California State Plan for Career Technical Education at a future CWPJAC meeting for approval.
We look forward to your participation in this public review process.
NEW! CCAP Agreement Submission Process
We are happy to announce the new CCAP agreement submission process is now available to submit your CCAP documents. The new process was designed to assist colleges/college districts in submitting CCAP documents in a more streamlined way. With the new process you will be able to complete the CCAP agreement form, upload your CCAP documents and receive an automatic acknowledgment of receipt along with a pdf copy of the form and documents you submitted. We hope this process will assist you in your daily work.
To submit your 2022 CCAP agreement documents, please use the Fall 2022 Alchemer CCAP link below and review important details regarding the new process.
Fall 2022 Alchemer CCAP Agreement Submission Link | CCAP Agreement Submission Link

Use the Fall 2022 link to submit any new fully executed Fall 2022 CCAP agreements, updated appendix or an amendment to a CCAP partnership agreement
SAMPLE pdf Survey is attached for your reference. Please note, the pdf is to be used as a reference only and is not to be submitted. Questions are set up with logic to show groups of questions based on a previous answer.

CCAP Agreement User Guide PowerPoint and Recording Link | User Guide PowerPoint Recording Link

After clicking on the link, select the play button in the middle of the page to start the User Guide PowerPoint and Recording

 Link to Accessible Transcript of the User Guide PowerPoint and Recording | CCAP Agreement Submission User Guide Transcript
Spring 2023 Alchemer Link Details
Future Alchemer Link Details

New links will be sent to CCAP Program Contacts every May for the following academic year
Should you have any questions regarding the new process and/or need technical assistance, please send an email to ccapp@CCCCO.edu.
CCCAOE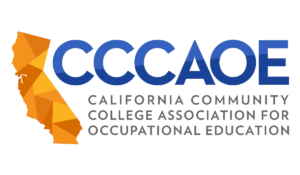 UPDATES!
CCCAOE Leadership 1.0 wants to give you a boost as you head into the new year!  Plus let's face it, at this point in the semester, San Diego is calling.  The dates are January 10-13, 2023.  More information on Leadership 1.0.  Register and book a room.
Want to learn more about how the election could impact education? Purpose Politics: Election Edition is your chance with both pre- and post-election options that are included in your membership.  Please RSVP so the appropriate Bandwidth is available.  Flyer
Events
Law Enforcement Seminar November 17th
Connecting Law Enforcement to Students
Representing
FOLSOM POLICE DEPARTMENT,  ELK GROVE POLICE DEPARTMENT, ROSEVILLE POLICE DEPARTMENT,
SACRAMENTO COUNTY SHERIFF'S OFFICE, TRACY POLICE DEPARTMENT,
WEST SAC POLICE DEPARTMENT LOS RIOS POLICE DEPARTMENT, SAC STATE POLICE DEPARTMENT
November 17, 2022 at 5:30 pm
American River College Student Center
4700 College Oak Drive, Sacramento Ca 95841
Appetizers will be available
Informational Flyer
Virtual Event on Inclusive Healthcare Apprenticeships
Join Us November 16 for a Virtual Event on Inclusive Healthcare Apprenticeships
Healthcare workers care for all of us during some of the toughest chapters in our lives. California is investing in this industry by creating more earn-and-learn pathways into these essential careers.
Join us November 16 from 12:30-2:00 pm PST during the 8th annual National Apprenticeship Week and learn about the innovative investments our state has made, including over $230M this year into apprenticeship specifically, along with $1.8B into developing the healthcare workforce!
Register Today !
https://dir-ca-gov.zoom.us/webinar/register/WN_jFZvIkJgQnuJ67ORKR-9Eg#/registration
CERF Economic Diversification Pilot Projects Framework: Public Comment Period and Listening Sessions
The Community Economic Resilience Fund Program (CERF) team has released the Economic Diversification Pilot Projects Framework for public comment. The Framework outlines a plan for economic diversification pilot projects – projects that align with the values of the CERF program and that demonstrate potential uses of CERF implementation funds – and includes information about funding amount, timeline, eligibility, grant requirements, project criteria, and more.
The Framework can be found on the Employment Development Department Workforce Services Branch website. EDD will accept all public comments submitted by Wednesday, December 7, 2022. Submit all comments to WSBCERF@edd.ca.gov. Please include "Economic Diversification Pilot Public Comments" in the email subject line.
The public comment period will be accompanied by three listening sessions to share an overview of the Framework and to collect feedback. The CERF team will host listening sessions in Northern California, Central and Inland California, and Southern California.
CERF Economic Diversification Pilot Projects Framework Listening Session Registration
After registering, you will receive a confirmation email with more details.
---
Northern California Listening Session 
Wednesday, November 16 | 10 a.m.-11 a.m.
CERF Regions: Redwood Coast, North State, Sacramento, and Bay Area
Registration Link: https://governorca.zoom.us/meeting/register/tZYlduCtqzIrEtCZ87UoQp5fw533APuL24G2
If you have any questions, please email Fabiha Zaman, Fabiha.Zaman@OPR.CA.GOV.
Defining and Measuring Progress: Aligning Data and Measures to Outputs and Outcomes of Logic Models
Join REL West for a webinar November 17, 2022 at 9:00 am on how to link data and measurement to logic model components in order to ensure alignment between activities, outputs, and measures. Presenters will share a process for how to do this as well as an example of how an organization used the process in their work.
As a result of this webinar, participants will:
-Have a greater understanding of the purpose of logic models.
-Have a greater understanding about how to effectively link data and measurement to each logic model component.
Who should attend:
State education agency staff, local education agency staff, and community-based and non-profit organizations who want to use logic models to ensure programmatic activity leads to specific and identified outcomes that can be evaluated.
https://wested.zoom.us/webinar/register/WN_c29GeZalRc2bd3hXc9lntA
CHICOSTART COMMUNITY ORGANIZER FOR GLOBAL ENTREPRENEURSHIP WEEK NOV 14-20, 2022
Chico, CA – NOVEMBER 10, 2022:  Chicostart will mark Global Entrepreneurship Week (GEW) on November 14-20 by hosting workshops for entrepreneurs, startups and small businesses throughout the North State. Chicostart has also partnered their local iHUB2 (Inclusive Innovation Hub Program) to bring visibility to their small business webinars during GEW.
GEW is an international movement, powered by the Global Entrepreneurship Network with support from the Ewing Marion Kauffman Foundation, dedicated to making it possible for anyone, anywhere to start and scale a company. Each November, GEW celebrates and empowers millions of entrepreneurs in every country and community around the world.
A number of activities will take place through Chicostart November 15th, 16th and 17th. These events will be hosted in a hybrid or virtual only format.  Attendees may register for "in person" or attend virtually.