E-Blast August 2022
As a subscriber, you will receive this E-Blast to your inbox every month. The goal of the E-Blast is to keep everyone in the NFN Regional Consortium up-to-date on news, events and other activities happening both in our region and the state. If you would like something placed into the E-blast and/or NFNRC Calendar, please send the information to dempseysh@butte.edu (please submit by 5pm on the first Monday of the month to be included in that month's newsletter).
News
TESI (Tech-career Exploration Summer Institute) cohort in Humboldt County!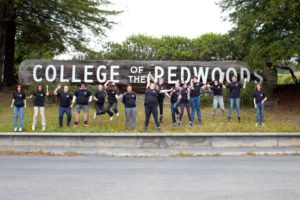 The NFN Region celebrates the first ever TESI (Tech-career Exploration Summer Institute) cohort in Humboldt County!  Thanks to Amy Murphy, Clay McGlauhlin (College of the Redwoods), Tanya Trump (HCOE) and the local businesses for rallying to expand this program from Butte College into Humboldt County.  Linda Fischer, Becca Mortimer, and I (Butte College) are so happy to see this program grow, and we hope students in other Counties will soon get the same opportunity.  High Fives to all of you!  Please read on for details, student quotes from the students.
In June/July 2022, Humboldt County Office of Education (HCOE) in partnership with College of the Redwoods (CR) piloted the Technology Exploration Summer Institute (TESI) modeled after Butte College's TESI program which was created in 2021. The program provided 16 Humboldt County students, representing 10 different high schools, the opportunity to explore career fields in Information and Communication Technologies (ICT). The 3 week program included seven days in the classroom learning: Introduction to ICT, IT Concepts and Terminology, Infrastructure, Application and Software, Software Development, Database Fundamentals, and Security; taught by a CR CIS instructor Clay McGlaughlin. In addition to classroom instruction, TESI students visited six different industry partner sites and connected remotely for mentoring by IBM professionals. Following completion of the program, students were offered the opportunity to take the CompTIA IT Fundamentals+ (ITF+) certification exam.
Videos from the Superintendent's speech and student presentations here!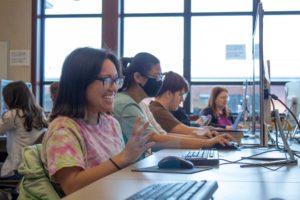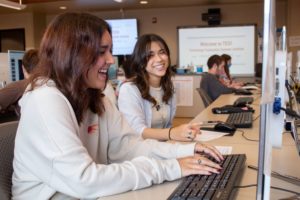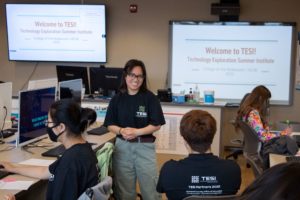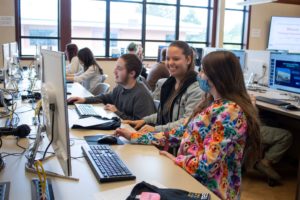 Submitted by: -Wendy Porter Assistant Director Employer Partnerships Butte College-wporter@shastacollege.edu
REL West Announcement: New Video Collection on Student and Trauma-Informed Practice

As we launch a new school year, we recognize that many educators and students are still recovering from the social and emotional impact of the COVID-19 pandemic. One request we often hear from our partners is for resources to help students manage trauma and build resilience. In response to this need, REL West has assembled a free video collection, Addressing Trauma and Fostering Resilience, where experts provide actionable strategies for understanding youth behaviors and employing trauma-informed practices.
Read our blog post and watch the videos to learn more about:
Relationship-building skills that support healing from trauma
Suicide prevention strategies
Listening to youth voices to strengthen change efforts
Trauma-informed approaches to creating safe and supportive school environments
HESI program was a HUGE success
Health-Careers Exploration Summer Institute (HESI).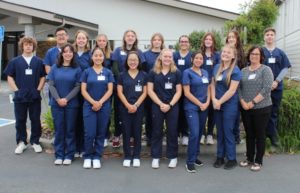 Sixteen Humboldt County students spent three weeks in class and at hospital rotations gaining hands-on experiences as they explored various careers in healthcare.  The students received a warm welcome from the staff at St. Josephs. The staff generously donated their time to help this next generation of medical professionals explore the many facets of healthcare.  They brought patient centered care to life for the students. This intensive summer program provides a unique opportunity for high school students that is different from the day to-day classroom environment. These students have a vested interest in healthcare, they want to pursue a career where they can help others and give back to their communities. The students were well prepared for this program by the medical health and science pathways (HASPI) offered at their high schools.  The preparation they received made their experience in the program more meaningful. Students started their day as early as 6:30 am at hospital rotations, classroom work after a full day at the hospital, and then nightly homework, five days a week. The program is completely free for the students, they just need to apply and have references from teachers, interview, and work hard!  
Building Bridges: Creating Higher Education-Employer Partnerships that Work for Students

July 11, 2022 Webinar Recording, Research Brief and Presentation
Webinar Recording: https://californiacompetes.org/webinars/building-bridges-creating-higher-education-employer-partnerships-that-work-for-students
Research Brief: https://californiacompetes.org/publications/highered-employer-partnerships
Slides: https://californiacompetes.org/assets/general-files/Bridging-Bridges-Webinar-Slides.pdf
If you are interested in learning more about the Industrial Biotechnology program created and led by James DeKloe at Solano Community College, click here for materials shared by him as follow-up to our discussion.
The U.S. child care system is broken
The Treasury Department has deemed it a market failure, and a shortage of providers is keeping parents from returning to the workforce. Dozens of states have gotten creative as they try to fix the system.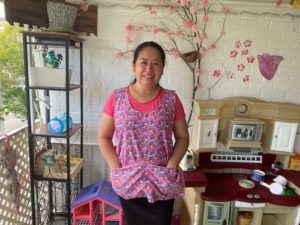 What if the enrollment decline is really an enrollment shift?
Here is a question for you. What if the decline in college enrollment is really a shift towards noncredit workforce training? (1) If it was, we would not know.
Why? Because there is not a national data collection that allows us to understand the extent to which students are enrolling in noncredit courses offered by universities and colleges; Yet.
Having this information would help us greatly, as it has in Illinois. Their college system appears to be a national leader, and just ahead of the 38 other states with data (2), where its annual and systemic data collection allows them to know that 90,344 students enrolled in noncredit in 2021 fiscal year, that the median age of noncredit students was 33.8, that 40.5% of noncredit offerings were for workforce training; or that 40.2% of noncredit courses were offered online (3).
Contrary to the opinion of some, this is not just a community college issue. In comments about the proposed data collection submitted by Stony Brook University, for example, in the 2020-21 year they had over 6,500 noncredit activities with approximately 66,000 student registrations. Compare that to the 34,000 students enrolled in for-credit courses and you can start to imagine the impact noncredit enrollment could have on our understanding of how students are learning at universities and colleges (4).
At this moment, the Office of Management and Budget is reviewing a proposal by the U.S. Department of Education's Institute of Education Sciences to collect this data for all colleges and universities across the country who receive federal student aid money (4).
So, it rests in their hands.
We will either have the data that helps understand if students are transitioning to shorter duration noncredit education options at universities and colleges or they will make the decision to know nothing.
OMB has the ability to allow the U. S. Department of Education to take the action necessary to implement this collection so we are no longer left in the dark, acting with imperfect information.
Sources:
(1) National Student Clearinghouse: https://lnkd.in/etSS8udz
(2) Coffey Consulting, LLC paper on noncredit: https://lnkd.in/ebygDx5w
(3) Illinois Community College Board annual report https://lnkd.in/eKBXtcVi
(4) For both references see appendices A and E from https://lnkd.in/eqSwtXhn
Lumina Foundation Inside Higher Ed The Chronicle of Higher Education National Center for Education Statistics (NCES)
State can fight fire with prescribed fire by funding jobs in the field

It is now accepted that prescribed fire is needed to conserve and restore biodiversity, prevent catastrophic fires, stabilize carbon and promote public health and safety. To address the pace and scale of prescribed fire that is needed, we must invest in careers in prescribed fire
Events
Upcoming Webinar's Register Now!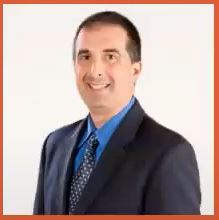 The North Far North Regional Consortium (NFN) presents Dr. Robert Eyler of Economic Forensics and Analytics to discuss the California economy with a specific focus on the Far North Counties of the Regional Consortium.  Topics such as rising interest rates, labor force trends and potential labor supply issues lingering through the 2020s are presented with both potential solutions, but also things to watch concerning strategic planning.  Housing markets and migration patterns, as well as where the state and regional economies are on a return to work help shape the outlook for these counties to 2025 and beyond.
---
"NFN North Counties: What Does the Recovery and Recession Roller Coaster Mean for This Region?"
When: Oct 18, 2022 8:00 AM Pacific Time                      Register here:
---
"NFN Far North Counties: What Does Recovery and Recession Mean for Rural California?"
When: Oct 20, 2022 8:00 AM Pacific Time                     Register Here:
---
Note: There will be 2 webinars.  You will need to register for both if you plan to attend both.
After registering, you will receive a confirmation email containing information about joining the webinar.
Apply Today - CASCADE III
NOW ACCEPTING APPLICATIONS FOR PARTICIPANTS IN:
FACULTY EXTERNSHIP/STUDENT INTERNSHIP OPPORTUNITY (PAID)
El Camino Community College is leading a project to place community college student interns and faculty externs with U.S. Department of Defense (DoD) Small Business Innovation and Research (SBIR) firms to assist them with cybersecurity readiness/compliance. This project will team students and faculty from the information communications technology (ICT) discipline to work with SBIR firms. Twenty (20) student interns coached by ten (10) faculty from community colleges across California will be matched with ten (10) SBIR firms. Student internships and faculty externship stipends are funded by a The U.S. Department of Defense Office of Local Defense Community Cooperation (OLDCC) grant through the California Governor's Office of Planning and Research (OPR). The Foundation for California Community Colleges (FCCC) acts as the employer of record and handles all the payroll and workers compensation for the student interns.
Seeking ten (10) colleges to place 2 student interns and 1 faculty extern at California defense manufacturing and innovation firms.

Open to Full-Time and Adjunct California Community College Faculty

Each college selected to participate will receive stipends plus travel
Student wages will be 100% subsidized by the Foundation for California Community Colleges (FCCC)
Students are encouraged to enroll in college work experience programs to earn college credit
APPLY TODAY AT: https://forms.gle/nLz6Qo8W9DwCqW5p6
For more information, please contact:
Jose Anaya, Project Director • Dean, Community Advancement • janaya@elcamino.edu • 310-225-8265
Alan Braggins, Project Coordinator • abraggin@sbccd.edu • 909-387-1696
NFN Fall 2022 ACUE-Inclusive Teaching for Equitable Learning-beginning September 26, 2022

The North Far North Regional Consortium (NFN) is excited to offer faculty the opportunity to participate in the professional development course Inclusive Teaching for Equitable Learning (ITEL) offered by the Association of College and University Educators (ACUE).
​ACUE's courses address a comprehensive set of evidence-based teaching practices shown to promote student success. In ACUE's ITEL micro credential course, faculty learn teaching practices for developing students' sense of belonging, ensuring course materials are accessible, developing appreciation for diverse viewpoints, understanding how diversity aids in innovation, and setting expectations for productive dialogue.
Beginning on September 26, 2022, the course consists of five modules that are nearly completely asynchronous, completing on average in 6-7 weeks. Average time commitment in completing the course is 2-3 hours per week. Upon completion of this course you will earn a digital badge which can be added to curriculum vitae, used in online teaching portfolios, and displayed on LinkedIn profiles or webpages as a sign of your achievement.
The course's five modules support faculty in:​
Managing the Impact of Bias​
Reducing Microaggressions in Learning Environments​
Addressing Imposter Phenomenon and Stereotype Threat​
Creating Inclusive Learning Environments​
Designing Equity-centered Courses
ACUE courses prepare educators to use research-based techniques shown to help students succeed. To learn more about ACUE's Inclusive Teaching for Equitable Learning course please watch this short video: https://www.youtube.com/watch?v=HCz0LekQVpk
THERE ARE LIMITED SLOTS AVAILABLE FOR THIS COURSE SO PLEASE APPLY TODAY!
If you are committed to your professional learning and participating in this course, please complete and submit the form below by end of day Friday, September 9, 2022. You will receive a follow-up email with further directions on how to complete your registration.
Complete the APPLICATION here.                           Flyer            Course Schedule
This application is comprised of three short sections, and should take approximately five minutes to complete:
Section 1: Applicant Information
Section 2: Course Selection & ACUE Experience
Section 3: Application Short Answer Questions
Chancellor's Office
Important updates to the Student Success Metrics Cohort View, the Guided Pathways Dashboard, and Student Equity and Achievement Program data

Student Success Metrics that will be released to the field August 5th
---
Integration of the Guided Pathways Metrics into the Student Success Metrics Cohort View
The maturation of the long-awaited cohort view portion of the Student Success Metrics has brought the ability to examine short- and long-term outcomes for students starting each academic year, regardless of term, across cohorts of varying length, including outcomes in students' first year of attendance. This has created an opportunity to align the early momentum metrics in the Guided Pathways dashboard with the Student Success Metrics and release them to the field sooner than would have been otherwise possible. Previously, the Guided Pathways dashboard's metrics focused solely on outcomes for students who began in a fall term, creating divergence between the more appropriate and inclusive full academic year cohorts used for the Student Success Metrics.
As part of an updated release of the Student Success Metrics, the first year/momentum metrics from the Guided Pathways dashboard have been incorporated into the Cohort View of the Student Success Metrics. Going forward, this will more authentically align the Guided Pathways/first year momentum metrics with the reality of when our students begin their college journey and improve the timeliness of the delivery of these metrics, making them available with the update of the Student Success Metrics each spring rather than as a separate, later release.
CCCAOE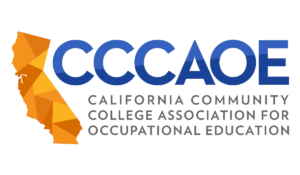 FALL 2022 CCCAOE CONFERENCE
---
The in-person conference will kick off on Wednesday, October 5, 2022, at 8:30 am at the Omni Rancho Las Palmas. There will be 3 full conference days with powerful keynote
 presentations and plenary sessions. The conference will wrap up on Friday, October 7, 2022, by noon. There will be pre-conference sessions on Tuesday, October 4, 2022.
The
virtual conference
 will run from 
October 25 – 27
 and 
November 1 – 3, 2022
.
---